As Colorado schools reopened, many agreed that education should not return to normal. One school took that to heart.
A common refrain during last year's school lockdown was that when the classrooms opened, school shouldn't return to "normal," a system that perpetuated inequities. It had to be fundamentally different.
Schools are open, and many, at first glance, look and feel largely the same.
But in the summer of 2020, Kyle Gamba, after 10 years of leading schools in Denver Public Schools and in Mexico, took the not-returning-to-normal to heart. He reimagined a new school, one that was radically different from any school he's ever taught in or led.
La Luz, Spanish for "the light," opened this fall.
"Being small and flexible, co-creating authentic learning experiences with our families and actually learning in the community feels like the antidote to some very outdated practices in education," Gamba said. "We need to do school differently."
La Luz is not a return to normal.  It's a micro-school, that's a super tiny school with about 12 students in its first year, sixth grade only. There are a handful of other micro-schools in Colorado.
It's also a bilingual "unschool." That's a school that prioritizes hands-on experiential learning, relationship building and character development over pure academics. In his experience as an educator, Gamba saw inequity not just in academic performance but in access to deep relationships, shared experiences and self-discovery. In DPS, he saw a district of 90,000 students largely sitting in classrooms to learn. No one was really using the community as a classroom.
"We know that by giving authentic experiences in the community, kids are actually learning," Gamba said. 
In short, La Luz is trying to radically change the way middle schoolers are educated. Gamba said in scores of discussions with parents of the years, not a single one has ever said their goal is for their children to excel only in academics.
"At the end of the day we want our kids to be good people, good humans, so why are we not focusing more on that?"
'Does anybody know what a quetzal is?'
About a dozen kids are peering up at the dragon Quetzalcoatl at the Museo de las Americas' "Smoking Mirrors: Visual Histories of Identity, Resistance and Resilience." exhibit. It's suspended in the air above them, wearing a feathered coat of blue, green, purple and pink, made of clay and PVC pipe, a creation of artist Emanuel Martinez.
Tour guide Alicia "Karma" Sisneros tells them about the Mesoamerican deity Quetzalcoatl's cosmic conflicts in the creation of a series of suns and earths, and how the quetzal bird is Guatemala's national bird.
"It's your country's bird that's on the flag!" Sisneros exclaimed to a student whose family is from Guatemala. Many of the kids have never heard of the bird so Jubitza Figueroa, La Luz's educational counselor, shows them a picture on her phone.
Sisneros explains why there are marigolds on the altar of an exhibit featuring the Virgin de Guadalupe and how corn is indigenous to Mexico. Figueroa takes a moment to explain what the word "indigenous" means to the sixth-graders, as well as "mestizo" and other words that are new to them.
At each stop, Sisneros connects the stories behind the art to the kids' own Latino identities. She tells them to appreciate their heritage and culture.
"You don't need to change for anybody. Period. You guys are all beautiful from whatever culture you come from," she said.
Helping middle schoolers understand who they are is one objective of La Luz, and that's a different type of history than Alondra Mendez, 11, said she's ever had.
"It feels like I'm connected in a way since I'm part of the community," she said. "It feels like my history is getting out and not just being tossed aside, you know? … the straight-up history, not the remade, white-washed type history.  I think it makes me feel like me as a person is getting voiced."
La Luz's trio of educators said knowing their own history is crucial in figuring out who these middle schoolers are, helping them develop into confident, independent adults.
Being here at the museum to learn, rather than from a book is another critical part of the new school.
Community partnerships with organizations like the Museo de la Americas, which delivers cultural programs to adults and children across the region, are an essential part of La Luz. Parents and students have a role in designing the curriculum. In meetings to develop the school, parents wanted their children to learn how to manage money, learn about good nutrition and more. Those lessons are coming.
So far, Gamba and the school's two teachers have designed an intensive set of classes in the mountains, in museums, at the Denver Zoo, and in theaters that let kids ask questions directly of the experts and learn actively.
Lead teacher Alfredo Cervantes said the human connection is so important to youth now especially after the lockdown phase of the pandemic. Engagement is much higher with learning outside the classroom, he said. He recalls one student, a lover of animals, who didn't have a lot of confidence, wasn't that outspoken. During the weeks-long intensive session at the zoo on conservation, the boy came alive.
This kind of learning spoke to Cervantes. When he was in school, if there wasn't a reason for him to do a lesson, he'd just memorize it for the sake of a test and that was the end of it.
"I needed to actually be doing something, you know building it, instead of reading about somebody building it or reading about how somebody else built it," said Cervantes, who went on to get degrees in molecular biology and medical science.
Eleven-year-old Andrea Cota-Gutierrez said a big change from her old traditional school where she said it was simply, "going into a room, sitting in a room and being there for like hours."
It was hard to just sit there so she'd fidget and get in trouble for not quietly listening to the teacher. Here it's different.
"They understand that we are fidgety," she said. "We're not at that age to stand still and not fidget."
If a student needs a break to wake up a little, they can do that. Little things like that help students learn to understand themselves, and it builds confidence, said educational counselor Figueroa.
At La Luz, academic subjects aren't siloed.
For example, in a lesson on how robots may take over the restaurant and fast food industries, they used math and had deep conversations about the ethics of the matter. In a traditional school, said Figueroa, "it's just let's crank out these equations, and then later, maybe, we'll talk about ethics."
The school's two bilingual teachers — Figueroa and Alfredo Cervantes —  are more like mentors. In middle school, kids face a flood of emotions. But that's rarely discussed in regular schools. Figueroa helps kids learn to name the emotions they're feeling, to understand how emotions can be overlapping, and how they can change from day to day. And she's transparent about her own mental health obstacles. She lets them know her life is not perfect, that she has struggles.
"Little by little, they're also understanding that 'oh, this is a safe space' so I can engage in these hard conversations, I can understand my own emotions because Jubitza and Alfredo will understand as well," said Figueroa.
How Alfredo Cervantes was hired at La Luz says a lot about the school's distinct approach to involving families.
Cervantes was pretty happy as a Denver sixth-grade science teacher. But his curiosity peaked when Gamba told him where the school would be.  
"I'm like, ahhhh, southwest Denver, that's where I'm from," said Cervantes with a smile. He said to his knowledge, there aren't expeditionary schools in the heavily Latino part of the city.
"They've tended to be on the other side of I-25," he said.
Gamba told Cervantes that families would play a big role in the school – helping direct what kids learn.  That got him more interested. A lot of schools say that, but he said, they aren't skilled at making parents feel welcome when they show up at the school. Gamba asked him to come into an interview in front of – seven or eight families – who would ultimately be choosing the teacher they liked.
Cervantes decided to bring his own family to the interview, which he said would "make or break the deal."
"It was awesome, I felt like I could actually be me. I didn't have to sell myself, I could be me," he said.
The families chose him and Figueroa.
Filling the gaps to ease the transition to high school
In the middle of the pandemic, trying to convince families to put their most precious resource into a school that didn't exist was challenging, said Gamba. "But there were a group of brave families who saw that their kids weren't thriving in traditional elementary school for a variety of reasons."
At the beginning of the year, the sixth-graders spent weeks hiking– in the natural parts of their neighborhoods and the mountains — and getting to know one another. Over that span they hiked more than 100 miles and according to parents, kids collectively lost more than 75 pounds. It's been Juaquin Varela's favorite activity so far. He said at his old school he didn't feel comfortable talking. La Luz is different.
"I feel more open … I feel comfortable talking, I feel comfortable with nature."
His classmate Andrea Cota-Gutierrez also learned things about herself on the hikes and the stay in a mountain hut.
"I learned that no matter how much your mind says 'I can't do it' you can change that into a positive inner monologue and say yes I can because your body is meant for that physical activity," she said.
The goal is to work on reading, writing, and researching skills through authentic projects but students who are below level in reading have access to tutoring. The school currently relies on Khan Academy for math, an online program. But these students will need to transition into high schools one day, high schools that are largely heavily focused on academic standards, deep content knowledge and test scores. School founder Gamba does worry about that. 
"When they do go back to what might be a more traditional high school, I am concerned that they may or may not have all of the skills that have maybe been hammered into kids in a traditional middle school. Authentic learning needs to come through the projects," he said. "But we need to be ready to fill in gaps and make sure that all our kids have the skills necessary to be successful in high school and beyond."
So far, families, especially those with children who are searching for a more hands-on experience, are pleased. Several students said one big change their parents notice in them is how they answer the perennial question "what did you learn in school today?" The students say they used to not say anything.
"But here I tell her all the details and everything we learn and she says I'm more proud of what we learn," said Eliza Flores, 11.
The school's leaders hope to expand the middle school by one grade next year. Gamba and the current students will be making presentations at elementary schools in the area. He said the difficulty in getting people to embrace a new concept, even though everyone says school needs to change, is that everyone in the country has more or less had the same type of schooling.
"I think it's really hard to convince the 99 percent of us that live here in the United States that went through sixth grade that sixth grade could and should look differently."
The school's trio of leaders hope the skills they'll learn at La Luz are for the long haul, that is, life.  Figueroa expects in a couple of years they'll see a big change in the quiet, introverted, confused-with-life students. She's already seen a big change in the student's self-perceptions.
"Ultimately you can't have successful students if they don't feel they can be successful individuals aside from academia," she said. "By the end of it, I hope they become little radical individuals … rather than waiting until they're given the permission to think for themselves."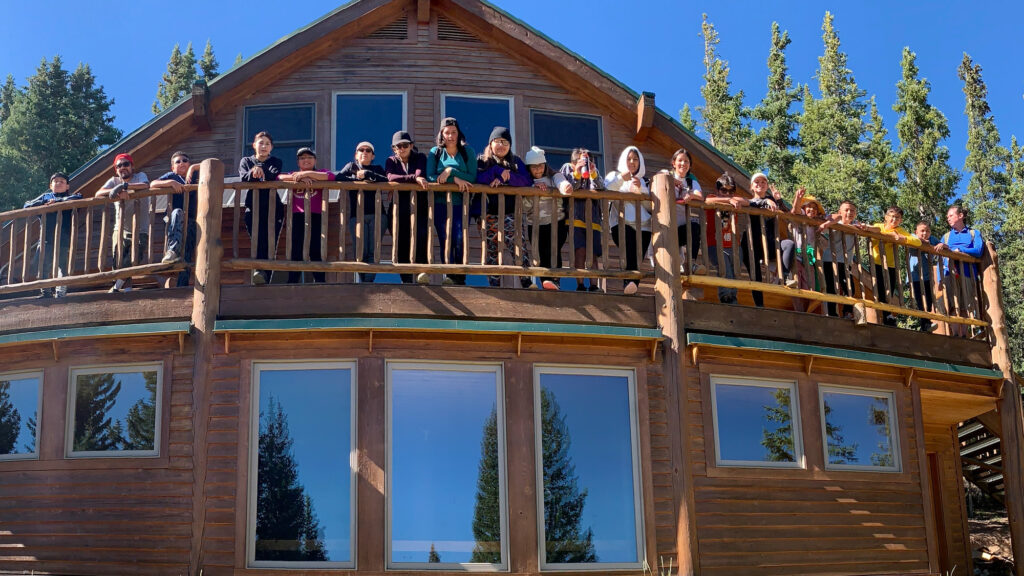 You care.
You want to know what is really going on these days, especially in Colorado. We can help you keep up.  The Lookout is a free, daily email newsletter with news and happenings from all over Colorado. Sign up here and we will see you in the morning!