Boulder County firefighters lost crucial early minutes because they couldn't find the start of the Marshall fire
Firefighters and a sheriff's deputy managed to reach the scene of what would become the most destructive fire in Colorado history within four minutes of the initial call.
But then they couldn't find it.
"I don't see any smoke or flames at this point," a firefighter reported to Boulder County dispatchers. "But we'll need Xcel here ASAP." 
Fire crews were distracted, at least for a time, by what they believed was a power line dangling across Marshall Road. And while they focused their attention on that, the fire, somewhere nearby but unseen by them, was gathering momentum in the hurricane-force winds.
Much remains unknown about the initial response to what would become the Marshall Fire. But an examination of the dispatch tapes from that day shows first responders struggling to find the flames. 
Crews were quick to respond to where they were told to go, getting there in four minutes, but another 11 minutes passed before they finally saw and were able to attack the flames. By then, said Mountain View Fire and Rescue Chief Dave Beebe, it was too late.
"There's just nothing you can do, you can't even run fast enough to chase it," Beebe said.
A day later, about 1,000 homes and businesses, mostly in Superior and Louisville, had been damaged or destroyed. It will likely be years before the lives of the people who lived and work there can return to normal.
Those 15 minutes, between notification and finding the fire, were a small but critical portion of a chaotic and historically destructive day in Boulder County that began when a graveyard-shift meteorologist made an educated guess that Dec. 30 had a chance to be unusually windy.
This is the story of the start of the response to the Marshall fire.
'It wasn't a slam dunk wind event'
High winds had been brewing in Colorado before the fire. Warnings were in effect several days before Dec. 30, the day of the fire, but only for mountain locations. 
Then, just after 3 a.m. on Dec. 30, the evidence started to line up, and a forecaster at the National Weather Service in Boulder made the call to extend the warning into the Denver metro area.
"Biggest headache tonight has been trying to figure out high wind potential, in and near the foothills," the forecaster wrote in an online discussion posted at 3:02 a.m. "Confidence in all this isn't high, however, I can't ignore what I'm seeing, so will issue a high wind warning."
The forecaster's ambivalence carried over into the morning shift.
"It wasn't a slam dunk high wind event," said Jennifer Stark, meteorologist in charge at the Boulder office. "But ingredients were really coming together, and once we saw the latest model runs that forecaster on the midnight shift, put out that warning. And we were expecting wind gusts up around 90 miles an hour."
Before the day was over winds would gust up to 115 mph at one location.
The warning, however, was not technically a "red flag" warning, which is specific to fire danger, and requires three elements: strong winds, cured fuels and relative humidities less than 15% for three hours or longer.
"So we had two of the ingredients," said Stark. "We had the fuels that were cured and dry, and we had the very strong winds, but the relative humidities were actually a forecast to be in the lower 20 percents. So we did not go with the red flag warning."
The lack of a red flag warning was a surprise to Philip Higuera, Professor of Fire Ecology at the University of Montana, Missoula, who is currently a visiting fellow at CU Boulder. He said there should be objective criteria for red flag warnings, but it should be revisited in an era of climate change.
"One of the things that we're seeing broadly in the fire world is that the systems that we have in place are largely developed based on our past experiences," said Higuera. "We're increasingly seeing examples where those systems are either less applicable or no longer applicable under the conditions we're experiencing now, in a world that's changing rapidly."
Still, the warning that was issued discussed the danger of a possible fire spreading rapidly, given months of drought in the region combined with the winds.
'I'm going to need additional units'
By mid-morning, the wind prediction was coming true. And it was creating chaos in Boulder County.
A Fed Ex truck blew off a road. A building north of town blew apart. Power lines were being reported down. And starting just after 10 a.m., two brush fires offered a hint of what was to come.
The first was at 10:10 a.m. at 5057 Broadway, the intersection of Broadway and North Foothills Highway. But within about four minutes, fire crews were on that fire, and it was under control so quickly that commanders on the scene decided to turn additional trucks around. They weren't needed.
Then at 10:27 a.m. another fire blew up, just to the north of the Broadway fire. This one, at the intersection of Middle Fork Road and North Foothills Highway, worried firefighters.
---
---
Wind was ripping from west to east. Firefighters said a structure was being blown apart, and hitting power lines. Within minutes, dispatchers called out firefighters from at least five agencies. As they arrived, they saw flames that had grown to eight-feet high just seven minutes after the first report. That fire was racing to the east and threatening homes.
And it wasn't even close to what was about to begin.
At 11:06 a.m. a call from Boulder County dispatch went out for a new fire, at South Foothills Highway and Marshall Road. The dispatcher told crews there were reports of smoke and a downed power line, according to a review of archived recordings from Broadcastify.
Listen to the Boulder County dispatch call
Three minutes later, at 11:09 a.m. a call came into Boulder County dispatch, probably from a sheriff's deputy. The deputy could not find the fire.
By 11:10 a.m., fire crews reached the location, but they too saw neither smoke nor flames. They instead focused their attention on what they believed was a power line dangling across Marshall Road. 
A minute later, the crews request that law enforcement be called out to shut down the intersection because the line is "hanging down low enough that it can touch a vehicle or trucks and people are attempting to go underneath it."
Another 10 minutes pass before the crews finally notify dispatchers they have spotted the fire.
"We do have a small fire it's just south of Marshall Road, Highway 93," according to the radio traffic at 11:21 a.m. "We're extinguishing it now, I'll get back to you here in a few minutes."
Just three minutes later the fire crew calls back to dispatch: the fire was already beyond their control. 
"The fire is gonna be moving obviously in an eastern direction. We are at Marshall Road, just south of, just south of Marshall Road on Highway 93. Fire's moving through the property, and it's gonna be moving into some homes. I'm going to need additional units."
To the east was nothing but dry grass, and the towns of Superior and Louisville, home to about 45,000 people. At 11:44 a.m., 38 minutes after the first call to report the fire, the commander on the scene requested a reverse 911 call to evacuate residents within two miles of the fire to the east.
Forecasters at the National Weather Service office in Boulder were watching their prediction play out in real-time. 
"We could see the smoke and the flames moving across the ridge," said Stark, who knew immediately that it was bad. "Because we knew the winds were gusting 110 miles an hour at times. And we knew the density of the population and the homes in that area."
A 'pretty good response time' was not enough with high winds
At the time, the fire chief of Mountain View Fire and Rescue, Dave Beebe, was on his way back to Colorado from Oregon, where he was visiting his grandchildren over the holidays.
The drive amid the chaotic situation back in Colorado was nerve-racking. 
"Extremely frustrating," Beebe said.
Beebe said that the department is still dealing with the aftermath, and has not started an after-action report. He was unfamiliar with the exact dispatch times until CPR shared the information with him, but he said the response was fast, it took fire crews four minutes to get where dispatch told them to go.
"That's not a bad response time at all," Beebe said. "Considering that's how long you gotta walk to get to your truck and get all that stuff on and they get out the door and the travel time. So that's actually a pretty good response time."
Beebe said he didn't know why it took so long to find the fire once crews were there, but that's not uncommon. A report comes into dispatch from a citizen who may give inaccurate directions. His crews will then search around where they were sent to find the fire.
"It's completely possible that they went to the dispatch location, found nothing and then searched the area and then found it," Beebe said.
The 15 minutes between dispatch and firefighting was significantly slower than for two other fires that morning.  Firefighters got to the Broadway and Foothills Highway fire within four minutes. The fire at Middle Fork Road, just north of that, was found within five minutes, according to a review of dispatch tapes. Both fires were contained in a matter of hours, neither resulted in widespread structure damage.
By the time the Marshall Fire started, the winds were getting even stronger, and that made a pretty good response time not enough to slow it down.
Joe Weir is an extension fire ecologist at Oklahoma State University and has been a volunteer firefighter for 23 years in the small town of Orlando, Okla. where he lives. He says so much focus is on drought when it comes to fire risk that wind is sometimes overlooked as the driving force behind hugely destructive events.
"Moisture plays a big role, whether ignition will occur or not," said Weir. "But if you don't have anything to push it, an ignition can occur and we can get there in 15 minutes, even an hour, you can extinguish that fire, because it's not traveling very fast at all.
"When you throw those wind events in there, that's where you usually get those large fires."
Much remains unknown about the start of the fire
The Boulder Office of Emergency Management declined to release the initial call reporting the fire.
Boulder Sheriff Joe Pelle said earlier this week that his investigators, along with the FBI, are just beginning what is likely to be a long inquiry into the cause. At least one search warrant has been served on a compound near the fire's origin, and investigators have been seen digging and searching for evidence. 
Pelle said Xcel Energy has been cooperating with his investigation, and, on Jan. 1, said his deputies had not found a power line down near the fire's origin.
"As of yesterday evening, we have found no credible evidence of a power line down in that area," Pelle said on New Year's Day. "We did find evidence of telecom lines down in that area which could have caused reports of downed lines but which could not have caused the fire."
It is not known who owns any "telecom" lines found down in the area. Both Xfinity and Lumen, formerly known as Centurylink, said they had crews search the area and found their lines intact.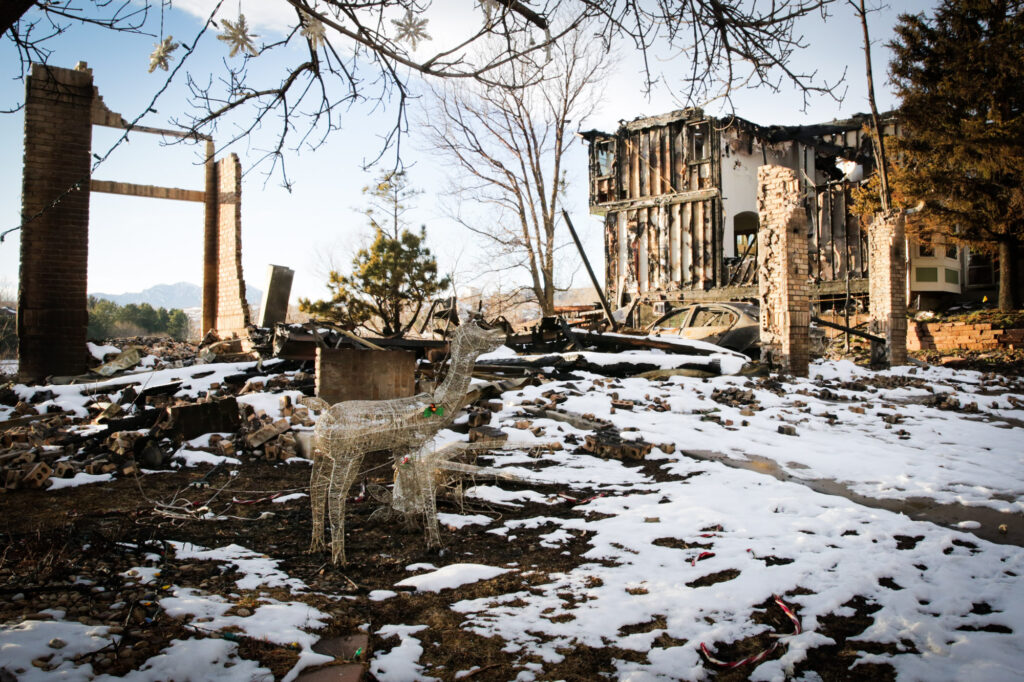 You care.
You want to know what is really going on these days, especially in Colorado. We can help you keep up.  The Lookout is a free, daily email newsletter with news and happenings from all over Colorado. Sign up here and we will see you in the morning!