I made a podcast about RTD. Here are some curious things I found along the way
I spent a long time making Ghost Train, CPR's new four-part podcast on the Regional Transportation District's massive rail expansion across the Denver region. There was just a lot of ground to cover! 
And along the way, I picked up a few insightful, goofy, weird pieces of RTD and Denver transit ephemera that, if you're a nerd like me, you might enjoy. 
The Tupperware pods and other zany ideas
If you've heard episode one of Ghost Train, you should remember these. 
In the early 1970s, RTD dreamed up a personal rapid transit system. Small pods would shuttle passengers around the city on elevated tracks. That clearly didn't work out — but it progressed far enough that RTD actually created a test track north of Interstate 70 near Watkins. 
Even as late as the 1980s, RTD was talking about systems that would make real "futuristic scenes of science fiction." 
Read more about RTD's brief personal rapid transit flirtation on the Denver Public Library's website and other lost rail dreams on this classic Streetsblog Denver post.
A horse used to pull — and ride — this Englewood streetcar
I mean, how great is that!? 
The horse-pulled streetcar operated on Broadway, which later became an important electric streetcar line between Englewood and Denver. It was one of the most densely packed corridors in the metro. Part of the road — along with neighboring, once-quiet Lincoln — were turned into one-way thoroughfares in the 1960s designed to get drivers in and out of downtown as quickly as possible. 
This picture of a hollowed out downtown in the '70s
You may have seen this before; it makes the rounds on social media every so often. I thought about it often while making this show because I think it says a lot about the decades before FasTracks. Growth had shifted to car-dependent suburbs, but downtown was still a big employment center. So whole blocks were cleared for "urban renewal" and to create space for downtown commuters' cars. All of RTD's train lines helped reverse that trend and build up downtown again — especially around Union Station. 
This sweet RTD television ad from 1983
"Sometimes you have to drive," says Gus the chef, and then, as he boards a bus: "Sometimes you don't." 
The accessibility protests in the late 1970's
This is not weird, but it is an important chapter in RTD's history and worth a mention here. People in wheelchairs surrounded a bus at one of Denver's busiest intersections in July 1978, and kept it locked in place for 24 hours. The protesters eventually won — forcing RTD to make its buses wheelchair accessible. Westword wrote up a good history of the movement a few years ago.
This unopened RTD luggage tag
Dare I open it? Probably not.
The opening of RTD's first light rail in 1994 appears to have been a very big deal
It was a slog to get there, with plenty of hopeful and juicy headlines along the way.
But the city threw a dang party when the first line finally opened in 1994.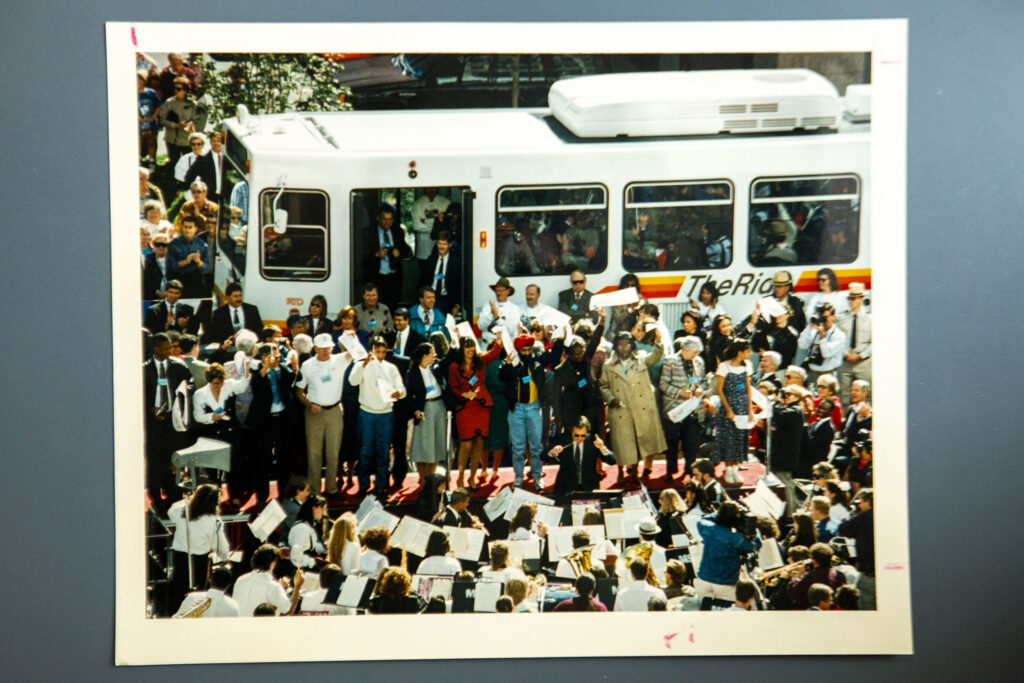 And RTD produced some interesting safety materials for kids — it had been decades since rail transit had been in Denver after all.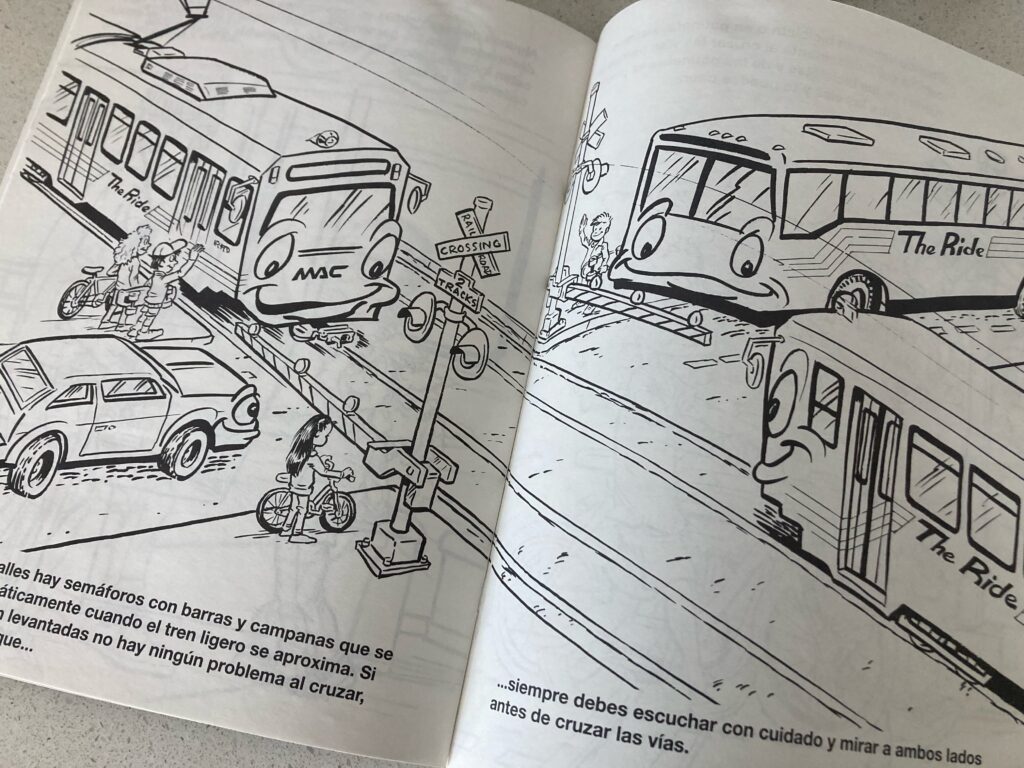 RTD considered running a ski bus to Loveland
I found this while digging through a box at the Denver Public Library's central branch. Clear Creek County, in the mountains along I-70 west of Denver, was considering joining RTD in the early 2000s. A bus would've run to Loveland Ski Area.
That didn't pan out. But CDOT's Snowstang serves Loveland now. And RTD does run a bus to Eldora Mountain Resort west of Boulder. 
---
Do you have some interesting piece of Denver transportation history hidden in your closet? Tweet it, and tag me, @nbminor.
And listen to Ghost Train — the story of how one polluted, traffic-choked city went all in on trains, and what happened when that plan jumped the track — here, or wherever you get your podcasts.
You care.
You want to know what is really going on these days, especially in Colorado. We can help you keep up.  The Lookout is a free, daily email newsletter with news and happenings from all over Colorado. Sign up here and we will see you in the morning!