The Local 303: Colorado artists we're featuring for March 2022
We are taking some time this month to honor some of the women who inspire the music scene across Colorado. Mainstays Lolita, Bluebook, and Bellhoss return to the Local 303, bringing new songs to the airwaves. We're also sharing new voices to our community like Snow Bastello and Teresa Suydam. Other singer-songwriters include Cous, Carlitta Ann, and PHIE. Boulder rock band Mellowpunk (with lead singer Madeline McClure) bring that indie edge, as does the DIY act Dead Boyfriend. Former Paper Bird band member Carleigh Aikins released her debut solo album, and also Texas transplant Luckiee B brings the sultry R&B. This is the Women's History Month edition of The Local 303.

bellhoss
Hometown: Denver 

Formed: 2017

Latest Release: A visual EP called Hiding, released July 2021

Pronouns: Becky Hostetler: she/her, Sarah Ault: she/they, Nirantha Balagopal: she/they, Michael Everett: he/him, Neil McCormick: he/him

About: Hailing from Southern California, Becky Hostetler created bellhoss in 2017 after relocating to Denver, Colorado. She began as a solo artist and eventually grew to collaborate with other people, bands, producers, and more. With a sound reminiscent of Waxahatchee, ALVVAYS, and Soccer Mommy, bellhoss sits in a purgatory between folk and DIY punk, writing songs for herself and for people who keep secrets.

bellhoss has shared the stage with the likes of Ratboys, Post Animal, Girlpool, Stef Chura, Molly Burch, Esmé Patterson, Kiltro, Strange Ranger, Adam Faucett, Angelo de Augustine, Many Rooms, and more. Despite the relative newness of the project, Hostetler has already managed to tour extensively around the western US, from Phoenix to LA to Honolulu. Although plans to drive east were canceled due to COVID-19, she has big plans to head that way as soon as it is safe.

The geraniums EP, bellhoss' highly anticipated debut release, came out in summer of 2019. It was immediately preceded by a music video for the EP's single (geraniums #2)which was filmed in local bar, Ft. Greene, and included a dance number and more flamingoes than anyone thought possible. Both projects are a testament to the community Hostetler has cultivated over the past several years, as well as the team she assembled throughout the creation of this release. The EP itself was recorded and mixed by Malena Roberts, who also played bass and sang backup vocals. Payden Widner mastered the EP while playing guitar with the group.

"From the vocal-harmonic Irish folk feel of "Geraniums #1" to the bare intimacy of "Heart Apart," Geraniums offers a soundtrack to both the golden hour sheen of June afternoons and the somber summer nights which follow. But the bread and butter of the record is Hostetler's direct, unpolished "everyman" vocal. It's raw, driving beauty allows Geraniums to flourish." — Kevin Johnston, Bandwagon Magazine

Throughout the chaos COVID-19 has created throughout 2020, Hostetler has been staying busy and creative. She is collaborated on a short film with Shelby Rahe to the sound of songs written during the stay-at-home orders throughout the pandemic, called Hiding, released in July of 2021. The EP Hiding was recorded and mixed by Michael Everett, and mastered by Corban Roberts. Additionally, bellhoss is working with producer Joe Reinhart, owner of Headroom Studios and guitarist for Hop Along, on another release. 

bellhoss specializes in puppy birthday parties (alongside run-of-the-mill sad dog birthday clowns) and government acronyms.

Musicians That Inspire: Waxahatchee, Soccer Mommy, Cat Power, Midwife

What's next for your music project in 2022: We have an EP that's almost ready to go, and we're working on some music video concepts for it. We're also playing at the new Skylark on April 30, for Clementine Was Right's album release.

Website: http://www.bellhoss.com

Get Social: Facebook, Twitter, Instagram, TikTok
---
Bluebook
Hometown: Everyone calls Denver their hometown now, but Jess grew up in Liberal, KS. Hayley grew up in Fort Collins. Julie grew up in Colorado Springs. Anna grew up in Olympia, WA. 
Formed: Julie formed Bluebook as a solo project in 2004 and began playing as Bluebook again in 2014. Jess joined Bluebook in 2016, Hayley joined in 2019, and Anna joined in 2021.
Latest Release: Bluebook released The Astronaut's Wife in 2018, and will release Optimistic Voices in February 2022. "Shake Shake" is our newest single, released on Indie 102.3 Friday, November 5, 2021.
Pronouns: She, her, hers  
About: Enigmatic, otherworldly, and thoroughly affecting, Bluebook is the haunting apocalyptic lounge project of Julie Davis, Jess Parsons, Hayley Helmericks, and Anna Morsett. NPR describes Davis' music as offering, "beautifully structured dynamics and captivating sonic twists," The Westword describes their most recent release, The Astronaut's Wife, one of the best of 2018, calling it "a jewel," and The Denver Post Reverb says Davis "gives haunting, holy voice to some of the darkest spots of imagination."  
Musicians That Inspire: Radiohead, Sylvan Esso, Peter Gabriel, Bon Iver, Ahmad Jamal Trio, Tears for Fears 
Do you feel like lockdown has shaped you as a musician/band? If so, how? Lockdown gave me the time to write that I hadn't been able to find in the last few years. Then, in January of 2021, even though we didn't have any shows scheduled, we started getting together once a week as a band and arranging the six new songs I had written that fall. It felt like we were playing in a vacuum, in a positive way--we were just enjoying each other and letting the songs develop without the pressure of shows looming.    
What's next?: We're hosting a show with some very special guests at the Hi-dive on February 12, 2022, including a full "sonic loom" light and textile installation, to celebrate the release of our first LP, Optimistic Voices. 
Website: thisisbluebook.com
---
Carleigh Aikins
Hometown: Formerly I resided in Denver, and Evergreen CO respectively. I currently live in Toronto ON Canada

Formed: January 2019

Latest Release: Debut full-length album Junk Jewelry, out Dec. 3, 2021

Pronouns: She/Her

About: Former member of Colorado's Paper Bird (2014-2017), whose self-titled album was produced in Nashville by John Oates (Hall & Oates) and David Kalmusky (Kieth Urban, Journey, Carrie Underwood) and released on Thirty Tigers. The band toured extensively with acts such as Nathaniel Rateliff and the Night Sweats, The Infamous Stringdusters, supported Hall & Oates at Red Rocks, and their songs were performed with the Colorado Symphony at Chautauqua, among many other milestones. Aikins joined the band after touring the world with Canadian act Bahamas.

She appears on Bahamas' Certified Canadian Gold Record Barchords (including single "Lost in the Light," with 140 million streams on Spotify alone) as well as Bahamas is Afie, Bahamas iTunes Sessions and iTunes Festival London Live recordings. She toured as part of the live-line up supporting acts such as Robert Plant, Michael Kiwanuka, Calexico, City and Colour and sharing stages with Neil Young, Willie Nelson, and guesting on Jack Johnson's sets (she can be heard on the From Here To Now To You Live Jack Johnson album) while making appearances at Royal Albert Hall, the final season of The Colbert Report and Conan O'Brien shows.

Aikins has also been a collaborator, session and live vocalist for many acts including The Weather Station, Royal Wood, Hannah Georgas, Dan Mangan, Patrick Watson, Macy Gray, Rich Aucoin, Donovan Woods, Jason Collett, La Force ft. Feist, Leif Vollebek, and has appeared with Lucius, The Weakerthans, Shakey Graves and toured small venues in America as a trio with Josiah Johnson and Jon Russel of The Head and the Heart (and made appearances with the band in some of North America's most legendary venues).

She is a member of the Toronto super-group Dwayne Gretzky who have performed at the Air Canada Centre, supported the Rolling Stones, executed various successful livestreams during the pandemic including 8 hours of 99 live songs. Known best for her uncanny interpretations of Janis Joplin, Aikins performs the greatest songs of all time to sold out crowds with Dwayne Gretzky.

Junk Jewelry is her eclectic debut solo record, and she worked with producers Marcus Paquin (Arcade Fire, the National), Don Kerr (Bahamas, Ron Sexsmith) and it features contributions from Brad Barr (The Barr Brothers), Drew Jurecka (Dua Lipa), Jay McCarrol (Nirvanna The Band, The Show) and members of Patrick Watson, Zeus, The Mynabirds and Paper Bird among others.

Musicians That Inspire: Feist, Chaka Khan, En Vogue, Robyn, Kate Bush, Bonnie Raitt, Dolly Parton, Tina Turner, Joan Armatrading, Joni Mitchell, Bette Midler,  Whitney Houston, Aretha Franklin,  Janis Joplin, Fleetwood Mac, Sade, Brittany Howard, Emily King, Yola, Lucius, Big Thief and Adrianne Lenker, Maddison Cunningham, Begonia, The Weather Station, Weyes Blood, Jenny Lewis, U.S Girls, Pheobe Bridgers, Sylvan Esso, Dirty Projectors, La Force, Land of Talk, Julia Jacklin, Natalie Prass

What's next for your music project in 2022: Vinyl Release coming soon and shows throughout Ontario to promote the release through the summer. I produced and art directed the music video for the song "Good Book" out soon, as well as a live-off-the-floor piano recording and video of the song "Letting You Go" (written by former Paper Bird member Genevieve Patterson).

Website: www.carleighaikins.com

Get Social: Instagram (music), Instagram (painting), Facebook, Twitter
---
Carlitta Ann
Hometown: Norfolk, VA, currently living and making music in Englewood, CO

Formed: 2016

Latest Release: "Panties feat. Jonny Dee, prod. by Memery"

Pronouns: She/Her  

About: Carlitta Ann is a Virginian singer/songwriter based in Denver, CO. She enjoys harmony stacks, artisanal snacks, and nonsense. She currently sings backup for local rockstar Kayla Marque, and is a member of Adjustment Period (R&B) as well as 4th Corner (disco; new releases coming soon EEP!!). Her most recent single "Take Two" with Delstra came purely from chance when she saw he was looking for collaborators in Disclosure's discord server. As a matter of fact, most of her releases this year will be with people she met from Disclosure's discord server, including new single "Panties" (featuring Jonny Dee and produced by Memery).

Musicians That Inspire: Missy Elliott, Millie Jackson, Jazmine Sullivan, Mariah Carey, Stevie Wonder, LaShun Pace, Big Maybelle, Action Bronson, Black Thought, MF Doom, and OF COURSE Beyonce.

What's next for your music project in 2022: Currently working on a solo album, and a host of singles with bands Adjustment Period and 4th Corner.

Website: Not yet, but soon.

Get Social: Instagram (BUT BE WARNED: I am not a brand. I am a person that enjoys chaos and that is what's reflected there.)
---
Cous
Hometown: Denver, CO

Formed: 2019

Latest Release: "Hazy Daisies" (Single), out Oct. 28, 2021

Pronouns: She/her

About: Cous is the contrivance of singer-songwriter Cassie Wilson. Finding roots in the Colorado Rocky Mountains, her Americana sound combines smooth acoustics with lyrical lessons of the past to make for a thoughtful yet easy listening experience. 

Musicians That Inspire: Brittany Howard, Brandi Carlile, Fleet Foxes, Adrianne Lenker, The Wonderfool, Skinshape, Michael Nau, The Avett Brothers

What's next for your music project in 2022: I'm currently working on my debut record which will be released later this year! I have some local and touring shows on the horizon as well - follow me on socials to keep up!

Website: www.cousmusic.com 

Get Social: Instagram, Facebook
---
Dead Boyfriend
Hometown: Denver,CO

Formed: 2018

Latest Release: Heaven Sent, December 2021

Pronouns: she/her

About: Hi! I'm Ashley Nova, and I started Dead Boyfriend back in 2018 when I decided to start recording music by myself in my bedroom. I've always been inspired by songwriters who write or compose music in an unusual way, or weave songs together into a cohesive concept. I'm fascinated by unique storytelling and abstract lyricism, so I decided to give it a go and make music by myself! Since then, all of the music I've released so far has been written and recorded by me in my bedroom! I'm heavily influenced by the emo and punk music I listened to as a teenager, but now I've gotten very much into the folk, singer songwriter, and indie rock genres. I'm trying my best to combine those influences into an interesting new sound! In late 2020 I formed a band, and we are currently working on writing a new concept record about nostalgia and suburban life, aiming to tell the stories of different people living in a fictional town. I'm super excited to release these new songs! This time I'm writing in collaboration with our drummer Haleigh and our guitarist Jamie. Dead Boyfriend's main goal is to bring a breath of fresh air to the indie music scene and inspire people with our music!

Musicians That Inspire: The band that inspired me to pick up a bass guitar and learn to play was My Chemical Romance. I listened to them ALOT as a teenager and loved their passion and conceptual writing style. Bikini Kill, Sleater Kinney, The Pixies, and Neutral Milk Hotel were other bands that made me fall in love with music in my teenage years. Nowadays I'm very inspired by female singer songwriters like Fiona Apple, Amanda Palmer/The Dresden Dolls, and Regina Spektor, as well as folk artists like Jordaan Mason and the Horse Museum and The Decemberists.

What's next for your music project in 2022: Our conceptual folk rock record Battle Of Carthage that we are currently in the process of preparing to record for. It will be our first professionally recorded/mixed album, and we'll be doing some exciting stuff for it!!

Website: https://deadboyfriend666.carrd.co/ 

Get Social: Instagram, Bandcamp, Spotify
---
Lolita
Hometown: Aurora, Colorado

Formed: 2019

Latest Release: "I'm Not Waiting" (Single), Self-release, Feb. 22, 2022

Pronouns: She/Her

About: Lolita is a rising artist who burst onto the streaming scene in 2018. Lolita combines a variety of compositional elements to form her unique and authentic sound. To date, Lolita has six singles in her online discography, amassing hundreds of thousands of streams on Spotify alone. With a growing number of listeners and followers, there is no denying the fact that Lolita has developed a dedicated following of loyal fans who will be eager to hear her upcoming releases.

Musicians That Inspire: Residente, J Cole, Amy Winehouse, OutKast, Missy Elliott, Tupac, Selena, Bob Marley, Kendrick Lamar, Celia Cruz, Doja Cat, JID, Kanye West…

What's next for your music project in 2022: New music & more live performances!

Website: http://lolitamc.com

Get Social: YouTube, TikTok, Instagram, Facebook, Twitter, Twitch, Choose Your Platform
---
Luckiee B
Hometown: Denver

Formed: 2014

Latest Release: "Cellular phone" - available now on SoundCloud and soon on all major platforms.

Pronouns: She/Her

About: Luckiee B a Neo-Soul, Hip Hop Artist from San Antonio, TX, currently residing in Denver, CO. Her smooth raspy voice, hypnotizing melodies and clever lyrics never fail to resonate. From curating her own events focusing on shining light to the positivity that the Hip-hop Community can bring to working with major producers, and landing gigs that have led her to open up for artists like Bone Thugz and Harmony, Do or Die and for verified trap rappers, like Southside Hoodlum. Luckiee B is climbing her way up The Mile High City next! 

Musicians That Inspire: Erykah Badu, The Fugees, Alicia Keys, Donna Summers, Bob Marley, J Dilla. 

What's next for your music project in 2022: This year, I'm looking to make connections in Colorado! I'd love to curate a band, there's nothing like the magic live music brings. Create a solid online presence and to find a producer that sees the vision to stick with.

Website: https://linktr.ee/luckieeb

Get Social: Instagram
---
Mellowpunk
Hometown: Boulder, CO

Formed: Around January 2019

Latest Release: "VILGAX!!!!!" (Single), Oct. 31, 2021

Pronouns: Madeline McClure (She/her), Devin Noth (He/him), Sage Garrett (He/him), Ethan Minard (He/him), Jacob Paulson (He/him)

About: Mellowpunk is an indie band originating from Boulder, CO, made up of five friends who met while attending The University Of Colorado. It started with Devin Noth creating their first EP in his first Boulder apartment with the help from Jacob Paulson of BLUSH and Dafna. He met the guitarist Sage Garrett after hearing Sage practicing guitar in the apartment above him. Devin, Sage, and Jacob then booked their first show to force them to find more band mates to play with. They then met the drummer Ethan Minard through a mutual college course and made the first instance of Mellowpunk. When the pandemic started, the band decided to extend their future release of an EP to their debut album, and welcomed their lead singer Madeline McClure into the band. After a year of devotion to its completion, the album was ready for release. Mellowpunk fired Jacob Paulson at the start of the pandemic and then begged him to come back a year later. Mellowpunk is currently working on shows mainly around the Colorado area and finishing their second LP.

Musicians That Inspire: Alvvays, Tame Impala, Hippo Campus, The Marías, Grimes, BETWEEN FRIENDS, The Japanese House, Mitski, King Gizzard &The Lizard Wizard, Glass Beach

What's Next For Your Music in 2022: Mellowpunk will be releasing their second LP during 2022, as well as playing more shows around the Colorado area and the rest of the US.

Website: https://mellowpunk.com

Get Social: Instagram, Twitter, TikTok, Facebook

---
PHIE
Hometown: Grew up in Denver and Evergreen, currently living in Littleton

Formed: 2017

Latest Release: "Wildflowers" (Single), out Dec. 3, 2021

Pronouns: She/her

About: PHIE is an indie artist hailing from Denver, Colorado. The 25 year old singer-songwriter uses emotional vocal delivery and cinematic production to tell vulnerable stories from her life, ranging from love and loss to addiction and self-discovery. Her first single "Reckless" debuted on 93.3 radio and was quick to capture the hearts of locals, reminiscent of artists like Lana Del Rey and Mazzy Star. Her song "Rage" was soon to follow and became a fan favorite. "While I love to connect with humans," PHIE says, "I can be quite reclusive. If I'm working on a song, I'll sit at my computer producing and writing for days- I'll forget to eat or sleep. Otherwise, I spend a lot of time in the woods. Tree-friends are nice. I'll make believe, write stories, think and not think. I write music because it's what I need to hear and feel, so when that resonates with someone else, it's a wonderful feeling."

Musicians That Inspire: Growing up, I was heavily influenced by Lana Del Rey, A Fine Frenzy, Alanis Morissette, Taylor Swift, Joni Mitchell, and a lot of the 90's/early 2000's pop artists. For my adult life, Mazzy Star, AURORA, and Winehouse are some of my favorites. Currently been on a Stevie Wonder and jazz kick. I haven't wanted to listen to anything similar to my style for the last year… except AURORA. 

What's next for your music project in 2022: I personally think my best music is unreleased. I have albums and albums worth of songs, and the hardest part has been finding the right producers and collaborators to help bring them to life. I'm getting the the point where I might just record a live album myself. I have an exciting opportunity to record at a famous studio come springtime, so we'll see what happens. It'll give my music a whole different sound. In the meantime, I've been making trips to LA writing for people. I just surprised myself with an R&B-esque song I'm obsessed with! 

Website: sophiewilsonmusic.com (I'm notoriously bad at marketing myself and updating socials. I know it's supposed to be essential, but the more the world is consumed with technology, the more I want to avoid it. Instagram is the only platform I use that is guaranteed to be up to date with shows and releases and what not.)

Get Social: Instagram, Facebook, YouTube, Spotify, TikTok
---
Snow Bastello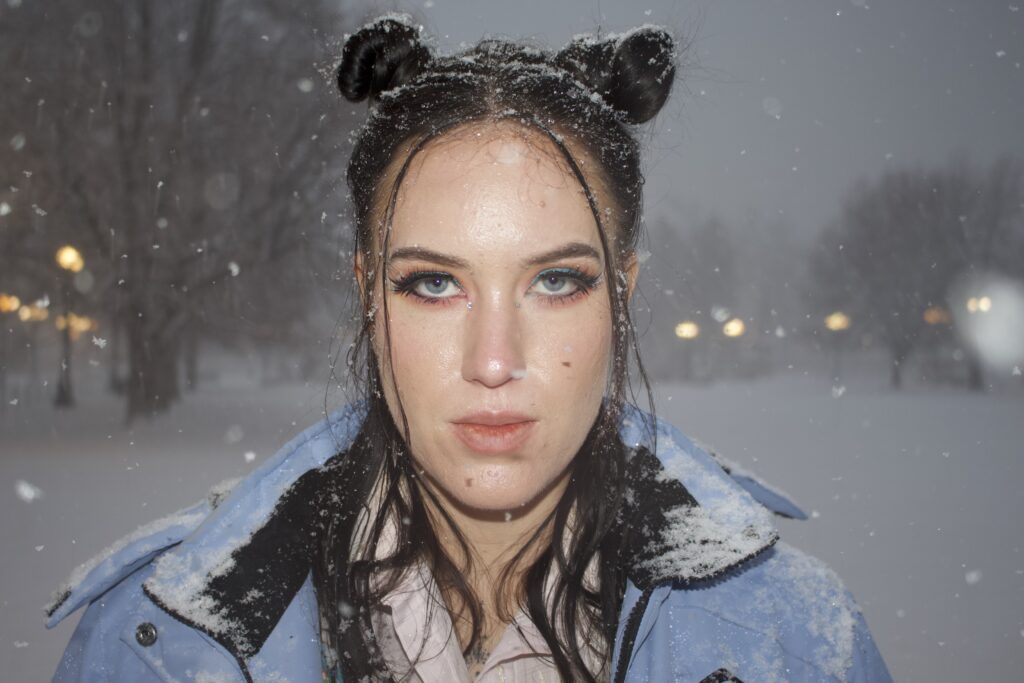 Hometown: Denver, CO

Formed: 2020

Latest Release: "Love's Like Water (feat. Sreeja)," debut single, out Feb. 3, 2022
 
Pronouns: She/her & They/them

About: Snow Bastello is a Denver-based producer, vocalist, and DJ. Snow is a recent graduate of the University of Colorado Denver for Music Business. Starting off her career as a pop singer/songwriter she has transitioned into creating and producing electronic music that incorporates pop songwriting and organic and world instrumentation.

Musicians That Inspire: Odesza, Flume, CloZee, Greyson Chance, TENDER, Maddy O'Neil, Glass Animals, Jon Bellion, RUFUS DU SOL, and Lane 8.

What's next for your music project in 2022: I'm currently working on a five-song EP to follow my single "Love's Like Water." It will be inspirational, beautiful, and incorporate a lot of my heart and soul in a similar way that my debut single did. It's a bit of a fusion between world, future bass, and pop music with the intent to engage and uplift listeners.

Website: https://snowbastellomusic.wixsite.com/my-site

Get Social: Instagram, Facebook
---
Teresa Suydam
Hometown: I live in Arvada, and I make/record music in Denver

Formed: I launched my solo artist project in 2020. Previously, my main project was with Emma Mayes & the HIP. 

Latest Release: Love Me EP (January 28th, 2022) Tracks: Offer Up Yourself, Do It Right, You're A Goddess, and Edge of Love. Do It Right has won a Quarter Finalist Award, and Offer Up Yourself got me into Hometown for the Holidays 2021 last year.

Pronouns: She/they

About: Teresa Suydam is a BIPOC pop musician and artist from Denver, CO. They pull from a unique blend of inspirations, notably anime, K-pop, and video game scores, to create a rare musicality. Teresa enjoys creating a music culture that is inclusive and lifts up other artists. 

Musicians That Inspire: Blackpink, BTS, Ruby Ibarra, Regina Spektor, and Panic! At the Disco.

What's next for your music project in 2022: I'm a nominee for the 2022 Native American Music Awards (NAMA). The awards ceremony happens in April, and it's my first year being a nominee for one of my music videos. I'm currently in the studio with another song that's a different genre from my previous releases, and I've been co-writing and co-producing a number of songs that will be done this year. Many more releases to come in 2022.

Website: teresasuydam.com

Get Social: Spotify, Apple Music, Instagram, Twitter, Facebook, Bandcamp

You made it!
You love learning about new music and the Denver music scene. We have a weekly newsletter for you -- Inside Track. Sign up here to stay in the know about the hottest Colorado concerts and how you can score tickets!