The Local 303: Colorado artists we're featuring for Latin Heritage Month September 2022
September's Local 303 kicks off Latin Heritage Month with twelve Latin acts to have on your radar from across the state.

Representing Northern Colorado in Greeley and Fort Collins is hip-hop duo UNLMTDATA, a group that releases music by the season; and down south in Colorado Springs we have Estephanyart who gives us moody electro pop. Former Pueblo indie folk singer-songwriter Desirae Garcia, who once dazzled in ensemble The Haunted Windchimes and in/planes now lives on Maui and recently signed to a label with a solo album out later this year that we will sneak peek for you!

Denver legends 2MX2 and iZCALLi both have new music out that is too good not to share. On the flipside, we also spotlight some artists that have recently relocated to the mile high like Houston's Gio Chamba and Fruta Brutal who is originally from Ecuador.

We also welcome back local rock bands Immigrant's Child and Julian St. Nightmare who both formed in 2018. Plus garage rockers The Mañanas which have dazzled two years in a row at The Underground Music Showcase. Ritmo Cascabel just released an EP and represent the cumbia sound of Denver. Our newest featured artist is the debut single by Soy Celesté, going solo from punk group Tulips.

For more Latin music exploration, listen weekly to Especial on Wednesday nights at 10 p.m. and an encore re-airing on Sunday's at 6 p.m. The program focuses on new, independent, and local Latin music, with a mix of rock, hip-hop, pop, and traditional styles from around the Americas.

Join us for our in-person gathering, the Local 303 Meetup on Monday September 26th from 6:30-9 p.m. at Larimer Lounge with a special performance from one of this month's artists! The event is 21+ and open to the public.

Are you a Colorado musician who wants to be featured in the Local 303? Send us your music.

Meet September's picks:
2MX2
Hometown: Denver, CO

Formed: 2MX2 was formed in 2012. The current members & configuration of the band came together in 2019.

Latest Release: "Panadero" (Single), Self-released), Aug. 12, 2022

Pronouns: Lolita: She/Her, O1: He/Him, Juice: He/Him, DMDTheProducer: He/Him, Kenny O: He/Him

About: 2MX2 is a Latin Urban band from Denver Colorado. They're well known for their modern renditions of traditional Latin music. They make music on topics such as immigration, health, education reform, and other important matters of our times. The band consists of members Owen Trujillo aka O1 who was born in Zacatecas Mexico, & Denver natives, Juice ET Hugo, Lolita, DMD and Kenny O.

What Music Inspires You From Your Latin Culture: Traditional cumbia music from the 60s, 70s, and 80s. We also love Puerto Rican artist Residente, cumbia group La Sonora Dinamita, Cuban-American singer Celia Cruz, Mexican-American singer Selena Quintanilla, & many more.

Plans for the rest of 2022: Release five new songs before the end of the year. Incorporate live drums by the goat Kenny O into our new releases.

Website: 2mx2.com

Get Social: Facebook, TikTok, Instagram, YouTube
---
Desirae Garcia
Hometown: I graduated from high school in Colorado Springs, and then moved and spent more than a decade playing music and touring with a home base in Pueblo. Currently living on Maui.

Formed: I have played in the band the Haunted windchimes and in/planes starting back in 2007, but I didn't release my first Solo EP until 2013.

Latest Release: My last official release was Dying to break your heart, released in 2018, but I did a sneak peak release of this newest full length album "Lengthy Sunny Spells" this past February. We have since snuck it back off of the digital streaming airwaves and plan to release it this coming November! More News on that soon.

Pronouns: She/Her

About: I got my musical start playing with Colorado Folk Americana band "the Haunted windchimes" and have since played in a few other projects. In 2019 I found myself Living On Maui, and exploring who I am as a solo artist. I still find myself dipping into the Folk Indie vibes as I lean into who I am minus the security blanket of band accompaniment and audiences. This Latest album tells some of my story while honestly oversharing (a strong suit of mine, for better or worse!) and while leaning on myself fully, for the first time.

What Inspires Your Music: Of course I'm inspired by other songwriters like Jeff Tweedy, Neil Young, Valerie June, Molly Burch (as of late) and so many more, but really my music inspiration comes from life around me. How the world and people affect me, and I guess also how I affect it/them in return.

What's Next For You: I have signed on with a team who wants to help me release this album and the next, and hope to be playing some shows and festivals again starting next summer season, all the while I'm transitioning into motherhood! Surely this will make for plenty of heartstring singin' along the way. I'm ready to share some music with you all.

Get Social: Instagram, Facebook
---
Estephanyart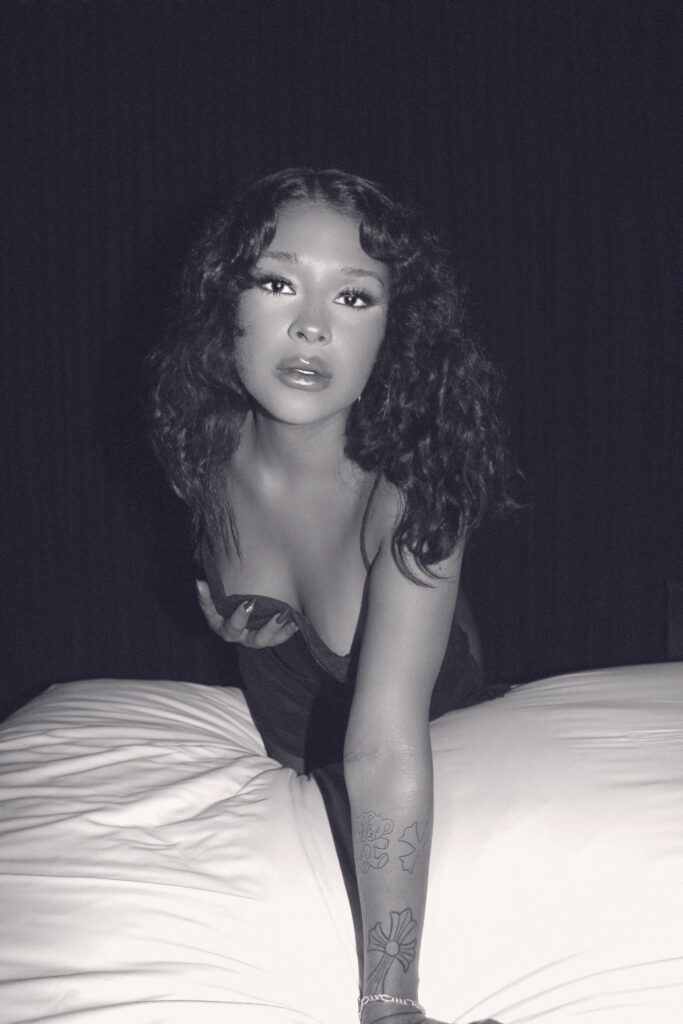 Hometown: Colorado Springs, CO 

Formed: Juarez, Mexico

Latest Release: "interstate 24" available on SoundCloud, dropping an album this fall! 

Pronouns: She/Her

About: I'm 24 years old from Colorado Springs, I love all things art as you can tell from my name Estephanyart! I love life and getting to experience and also sharing my art and making the most out of my journey! I'm very spiritual and what I mean by that is I really listen to myself and the things I want and also am very mindful when it comes to the things that happen in my life. Happiness is a choice and I feel self love is the biggest thing that has gotten me to share everything I want to with the world and feel confident and proud of Estephany while doing it.

What Music Inspires You From Your Latin Culture: Shakira is my #1 inspiration in Latin culture, shout out my mom for showing me the best music growing up but I remember being like 4 and listening to "Donde Están Los Ladrones" the album by Shakira and it changed my life. I got myself a a copy of the CD. Other Latin culture artists that inspire me are Gloria Trevi, she is a rockstar, for real. IVY QUEEN! The hardest ever! That woman is a real inspiration. Her music, her attitude, her lyrics are so, her! It is beautiful to see Latina women express themselves to the fullest! 

Plans for the rest of 2022: I'm dropping an album this fall! I'm so excited, last year I dropped around 15 EP's total, this year I'm working on an official album. I plan on doing more shows so make sure you follow me and stay up to date on upcoming performances.

Website: Estephanyart.com

Get Social: Instagram, Spotify, SoundCloud
---
Fruta Brutal
Hometown: Quito, Ecuador now in Denver, CO

Formed: 2018

Latest Release: "Cultura Vampira" (Single), Soundbreaker Records, Aug. 26, 2022

Pronouns: He, Him, His, El

About: Fruta Brutal is the result of Martín Better Longo's search for a musical identity as an Ecuadorian who emigrated to the United States at a very young age. During his college years, spent in the bustling New Orleans music scene and traveling throughout South America, Martín was exposed to music that would inspire his bilingual Indie Latin Rock Pop repertoire, as well as his stage name, Fruta Brutal.

A tribute to the musical movements that arise in response to times of authoritarian oppression, the name "Fruta Brutal" evokes cultural fruits that ripen in brutal conditions, emblematic of the resilience of the Tropicália movement in Brazil and the rock movement in Argentina, among others. Since moving to Denver, Colorado in 2020, Martin has been working on Fruta Brutal's debut album with Grammy Award-winning New Orleans-based producer, Mack Major.

Fruta Brutal's debut album, which includes singles "Digitality" and "Cultura Vampira," will be released with Soundbreaker Records. Fruta Brutal performs live as a quartet with Leo Muñoz from Los Jaguares on percussion, Matt Cantor on bass, Michel Stahli on drums, and composer, Martín Better Longo on guitar and lead vocals.

What Music Inspires You From Your Latin Culture: Caetano Veloso, Bad Bunny, Rosalía, C. Tangana, Jorge Drexler, Luis Alberto Spinetta, Gustavo Cerati

Plans for the rest of 2022: Debut Album will be released with Soundbreaker Records either in the Winter of 2022 or Spring of 2023!

Website: https://www.frutabrutal.com/ 

Get Social: Facebook, Instagram
---
Gio Chamba
Hometown: Houston, TX now in Denver, CO 

Formed: 2014

Latest Release: "Prisma" with Nakury (Costa Rica) & Principe Q (Selena's nephew) from Corpus Christi.

Pronouns: he/him

About: Gio Chamba is the musical project of Giovanny Alejandro, a first-generation Mexican American who was raised in both Houston, Texas and Monterrey, Mexico. The project started in 2014 when Gio wanted to create music inspired by all of the Cumbia, Rock and Hip Hop he had heard growing up but with an electronic twist. He drew inspiration from artists like Los Destellos, Santana, Celso Piña, Mano Negra, Los Mirlos, Tiro de Gracia, Control Machete, Calle 13 as well as from Latin American, electronic cumbia artists such as El Remolón, Dengue Dengue Dengue, Tribilin Sound and more. Gio incorporates his guitar melodies which are inspired by psychedelic rock, with vicious raps and tropical vocal melodies over heavy bass, percussion driven dance beats, to make an original blend of Cumbia, Rock, Hip Hop and electronic dance music.

In 2015, Gio met the energetic percussionist Coffee Guzman and they began working together after hitting it off right away. Their first show together was at Houston's biggest festival at the time named "Free Press Summer Fest". Gio and Coffee would go on to open up for acts such as Los Lonely Boys, A.B. Quintanilla and the Kumbia Allstars, Dengue Dengue Dengue, Natalia Lafourcade (twice), Ozomatli and Chicano Batman. They have also performed at festivals with acts such as Khruangbin, Leon Bridges, Diplo, CHVRCHES, Rae Sremmurd and more.

By 2017 they performed for the NFL Event "Super Bowl Live" in Houston Texas to a crowd of thousands and have become a Houston staple ever since. They continued to release music together with co-producer and fellow friend, Principe Q aka Svani Quintanilla, son of A.B. Quintanilla. 2018 to early 2020 was a busy time for Gio and Coffee, playing shows every weekend and releasing singles. They have performed all over Texas as well as Los Angeles, New York, Chicago, Kansas City, Miami and Puerto Rico.

When the pandemic shut down began in March 2020, Gio focused his attention on recording and releasing music from home and since then has released over 22+ songs. In early 2021 Gio moved to Colorado to set up roots with his growing family, and since then has been focusing on building a fan base online in the state but most importantly Denver. The first official Gio Chamba show in Denver will be Sept. 2nd at Hi-Dive with Ritmo Cascabel and Los Narwhals.

What Music Inspires You From Your Latin Culture: I could go on forever on this subject! There is so much music from Latin America that inspires me not just for my own music, but in life as well. I find myself listening a lot to Brazilian Tropicalia/Bossa, and then I go to Peruvian music like Los Destellos, Los Mirlos, Manzanita y Su Conjunto, then when I want rock, I go to Chile's Los Prisioneros, early Santana or Mexico's Caifanes. I also like Cuban and Puerto Rican music a lot, artists like Los Zafiros, Joe Cuba, La Lupe and Hector Lavoe. Since I'm a cumbiero at heart, I love Colombia's Andres Landero, Calixto Ochoa, Lisandro Meza, Frente Cumbiero, Ghetto Kumbé, CERO39 and many more. The latest wave of Latin music also inspires me too like Hip Hop and reggaeton, artists like Calle 13 (Residente), Eladio Carrion, El Alpha, Bad Bunny of course and many more. I love all Latin music, even the ones I didn't mention.

Plans for the rest of 2022: I plan to release a few new collaborations, a couple of singles and keep working on an album while focusing on joining and building community in Denver. I am really excited to meet a lot of different artists, connect with other music lovers like myself and make all of Denver dance to my electronic cumbias.

Website: Gio Chamba Official Site

Get Social: TikTok, Instagram, Facebook
---
Immigrant's Child
Hometown: Thornton, CO

Formed: November 2018

Latest Release: Silk + Gold EP

Pronouns: They/Them

About: To present our heritage, our culture, and most importantly ourselves. That has become the driving idea for Immigrant's Child. Made up of members Keeana Martinez (Vocals), Josiah Martinez (Bass), Mario Martinez (Guitar), and most recently Colin Hill (Drums). Described as post rock, indie, and alternative there is no shortage of influences to the diverse sound we have built for ourselves.

What Music Inspires You From Your Latin Culture: We draw inspiration from so many Latin artists! Some of the following artists have been key in shaping our sound: Los Mesoneros (Venezuela), Bad Bunny (Puerto Rico), PXNDX (Mexico), Jose Jose (Mexico), Ambar Lucid (Dominican/Mexican), The Mars Volta (Mexico/Puerto Rico).

Plans for the rest of 2022: We spent time in July recording and are excited to be releasing new music this fall! We're looking forward to getting an EP release party planned soon! Upcoming shows include: Sept. 9th - Westword Music Showcase @ Larimer Lounge (FREE), Oct. 28th- Enigma Bazaar supporting Dollhouse Thieves.

Website: https://immigrantschild.bandcamp.com/releases

Get Social: Instagram, Spotify, Apple Music
---
iZCALLi
Hometown: Mexico City, based in Denver, CO

Formed: 2005

Latest Release: "Unglued" from iZCALLi's newest album iZCALLi:REBIRTH

Pronouns: They/them

About: iZCALLi makes the kind of music you leave home to: melancholy folk phrases lashed to driving beats that pin the pedal to the floor — that Molotov of nostalgia and exhilaration, the immigrant song. It's a feeling iZCALLi — named for the Mexican birthplace of member-siblings Miguel (lead guitar/vocals) and Brenda Avina (bass) and the Nahuatl word for rebirth — knows well. Born on both sides of the border (drummer Luiggy Ramirez hails from Colorado). iZCALLi has, over the course of six LPs and hundreds of shows, swigged its evolving sound from both wells of tradition, from Latin-tinged echoes to punching rock to filthy blues, in English and in Español. The result is a loyal flock of fans of every color, from every background, the music of the melting pot, which is deeply American and knows no frontiers, the kind of music that makes you leave home and return. Exhilarating live shows that celebrate tradition and kin, that unite what you find with what you left behind, and open the heart, so you know you are home.

What Music Inspires You From Your Latin Culture: We are extremely proud of our Mexican heritage and we let it show in as many ways as we can. Drawing from traditional Latin sounds such as cumbia, huapango, salsa and folk as well as Mexico's rich rock n roll culture. But for us it's more than representing our culture by a genre, style or sound and more about an energy, work ethic and authenticity that is ingrained in the way we were raised. Being Mexican, Hispanic, Latino or just BIPOC artists you face so many disparities that require resiliency and dedication to overcome, a lot of the drive to be able to do that comes from our culture.

Plans for the rest of 2022: iZCALLi is proud to be headlining the Sunnyside Music Festival at Chaffee Park Saturday September 10th; RETIFEST is back for its 7th year Sunday September 11th 10am at the Mile High Flea Market. This is a Latin Alternative Music Festival curated by iZCALLi; iZCALLi is headed out to the Midwest headlining the Latino Heritage Festival in Des Moines, IA on September 25th; we are in planning mode for LA POSADA our end of the year bash, stay tuned and last, we are working on releasing more content and singles from our newest album REBIRTH this fall.

Website: www.izcallirock.com

Get Social: Facebook, Instagram, YouTube
---
Julian St. Nightmare
Hometown: Denver, CO

Formed: 2018

Latest Release: October 2021, but are currently working on more recordings

Pronouns: they/them

About: Julian St. Nightmare is a dark yet dancey five piece band from Denver Colorado. We began jamming and playing together in 2018, and really began solidifying our sound and the direction we wanted to go in 2020 after COVID lockdown. All five of us have uniquely different tastes in music, which helps contribute to our sound. Some of our influences include post punk, dark wave, industrial, and shoegaze, and we're all lovers of 80's music. More than anything, our goal with the band is to have fun and to play music that gets us and others dancing!

What music inspires you from your Latin culture? Los Bunkers, Caifanes, Lenora Post Punk, La Union

Plans for the rest of 2022: We will be playing The Rocky Mountain Ripper on Thursday September 8th at the Crypt, and we will also be playing The Westword Music Showcase on Friday September 9th at Matchbox. We're so excited to be a part of these two festivals in one weekend and we're lucky to be a part of such a cool music community! We also have something exciting coming for Halloween time, so stay tuned. Beyond that, we are planning on taking some time as a band to really focus on recording some of the many songs we have written in these upcoming months.

Get Social: Instagram
---
The Mañanas
Hometown: Denver, Colorado

Formed: 2019

Latest Release: "Lightheaded Ways," Soundbreaker Records, Jul. 22, 2022

Pronouns: They/them

About: The Mañanas are a power pop/garage rock project hailing from Denver, Colorado. After years of songwriting on his own, lead singer & songwriter  Brandon Unpingco teamed up with producer Danny Pauta in 2019 to lay down the foundation of the musical project that today is known as The Mañanas. Packed with fun choruses, jangly guitars, and low-yet-also-hi-fi production, Patiently, the project's debut single, was released in April 2020. The Mañanas released their debut album, Cheers, in February 2021. The EP contains features from Ecuadorian artists Nockah and Agustín Rodas and Denver musician Civil Engineer.
 
In 2021, Aaron Wey from Civil Engineer and Neoma joined The Mañanas on lead guitar and bass respectively. Together they were able to capture their live band sound that will be showcased in the upcoming album. This sound and production can be appreciated in singles released in 2022. The Mañanas have returned to their roots and will be continuing as a power duo for their live performances and music moving forward. 

What Music Inspires You From Your Latin Culture: We've been incorporating covers from classic Latin bands of the 60's to our live set. The reaction the songs get live is so impactful, it's like seeing people react to a classic story they've never heard. 

Plans for the rest of 2022: We will be rolling out singles as we finish them to lead up to our album's release. We're really back to our band motto of "nothing matters"; enjoying the process and feeling it out.

Website: https://soundbreakerrecords.com/artist/the-mananas/

Get Social: Instagram, Mailing List, Spotify, Facebook
---
Ritmo Cascabel
Hometown: Denver, CO

Formed: We were formed in the winter of 2019.

Latest Release: Ritmo Cascabel full EP 2022

Pronouns: He/him they/them

About: We are a psychodelic Cumbia band who fusions many genres including rock and roll/ Latin beats.
What Music Inspires You From Your Latin Culture: We love all kinds of music but mainly Chicha, Cumbia, Salsa, Merengue 
Plans for the rest of 2022: We got a few festivals this summer as well as recording time in Mexico City and a fall tour on the West Coast
Website: Ritmocascabel.com
---
Soy Celesté
Hometown: San Antonio, TX now in Denver, CO

Formed: January 2022

Latest Release: July 22, 2022 Single "Unwinding Your Lies"  and September 9, 2022 Debut EP "Unwinding"

Pronouns: She/Her/Ella

About: Soy Celesté is a solo music project by Celesté Martinez, who is a Queer Chicana rocking out on occupied Ute, Chyenne and Arapaho lands also referred to as Denver, Colorado. She sees music as a multi-faceted medium of self-expression and healing. Through songwriting Celesté shares about her lived experiences and intersecting identities. Her sound is emotionally charged and experiments with a variety of styles and genres. 

Throughout her life Celesté's explored an eclectic variety of instruments including piano, percussion, guitar, jarana and so much more. She minored in vocal performance during college and now interweaves her classical training into her creative process. In 2014, she taught music at El Centro Arte para La Paz in Suchitoto, El Salvador, which significantly influences her relationship to music to this day including Spanglish lyrics and rhythmic patterns that are more common to Latin America.

Her debut single "Unwinding Your Lies" is the title track of Soy Celesté upcoming EP "Unwinding," which is set to be released on Friday, September 9, 2022. 

What Music Inspires You From Your Latin Culture: As a Chicana, Celesté embraces the complexity of being Mestiza, both indigenous of Cherokee and Mexica lineages and of Spanish descent, while being politically active in our Colorado community. Seeing other Latin artists express themselves through music inspires Celesté to unapologetically share her story and use her voice to amplify awareness or critiques on pressing social issues. Some of those who she draws a great amount of inspiration from include: Alice Bag, FEA, Mercedes Sosa, Lido Pimienta, Le Dame Blanche, San Cha, and Selena.

Plans for the rest of 2022:Soy Celesté debut EP "Unwinding" will be released on Friday, September 9th. There will be an EP Release show later in September with other Denver solo artists. For all the details be sure to follow Soy Celesté on Instagram @soyceleste_music. She plans to continue to perform throughout the fall to promote this first EP in Denver and beyond! Soy Celesté is also beginning to develop a band to expand her sound and perform with her new bandmates at upcoming shows. She will also be recording a single and two other EP projects that Soy Celesté plans to release in 2023.

Website: http://soyceleste.bandcamp.com

Get Social: Instagram, Facebook, YouTube
---
Unlmtdata
Hometown: Greeley/Ft.Collins 

Formed: 2018

Latest Release: UNLMTDATA THE SIMES CARTER EDITION 

Pronouns: he/him

About: We're a rap duo that has a unique sound reflective of Colorado. We aim to use heavy synth and a retro approach with contemporary lyrics. Our music is released as seasons, not albums. So season one was titled "hindsight is 2020" and we are currently in our second season of music titled "the 2ND WAV." We are independent and aim to start taking our music out of Colorado as we continue to grow our brand.

What Music Inspires You From Your Latin Culture: Snow the product, NB Ridaz , Santana, ATAK1, the original ills , baby bash, Mc magic, kid frost

Plans for the rest of 2022: We are planning two out of state shows right now and we plan to bring our website and merchandise online as well as release "unlmtdata the simes Carter edition" which features three songs produced by simes Carter and drop about 5 more tracks to complete the "2nd WAV."

Be sure to like our Artist Pages @ALIE And @Kanon Lebron. Stay Tuned for the latest Show updates as well as new Music releases!!! We are excited about all the New content and Merch Headed your way!!!

Get Social: Apple Music, Instagram, TikTok, Twitter, Spotify, YouTube
---
You made it!
You love learning about new music and the Denver music scene. We have a weekly newsletter for you -- Inside Track. Sign up here to stay in the know about the hottest Colorado concerts and how you can score tickets!