In Johnstown, a dinner theater pushed through the pandemic and kept going. Now they're hoping to build on that community
At a recent performance of Rodgers and Hammerstein's Cinderella at the Candlelight Dinner Playhouse in Johnstown, the plates moved quickly as the show went on. For the staff and performers at the playhouse, it's helping patrons back to a sense of normalcy as the pandemic eases that keeps them going — along with the community they are building.
"It's probably the best paying job. especially in dinner theater. I started here in — I did Christmas of 2014 and I think this is my 15th show," said Annie Dwyer, who played the stepmother in Cinderella at a recent performance. "So there's a love here that people are wonderful."
But things haven't always been so certain. For owner and Executive Producer Dave Clark, building the playhouse was difficult – he had no theater experience when he started the project – but the pandemic offered new challenges. 
"I can tell you that when the pandemic hit, and everyone who was struggling, we were too, we were shut down for quite a long period," Clark said. "We were able to come up with some outdoor concerts during that summer of 2020 that, allowed us a little bit of opportunity to have patrons here and keep our people working."
Clark attributes the theater's survival to the hardworking staff, the support of the audience, and good communication. 
"When people started coming back, we spent a lot of time talking to them while they were having dinner and after the show and so on, and universally, they were saying, 'Thank you for being here. Thank you for providing this opportunity. And thank you for your staff,'" Clark said. "I mean, we got that all the time. So they understood it was a situation not many of us had control over, but they appreciated us working through it and continuing to stay open."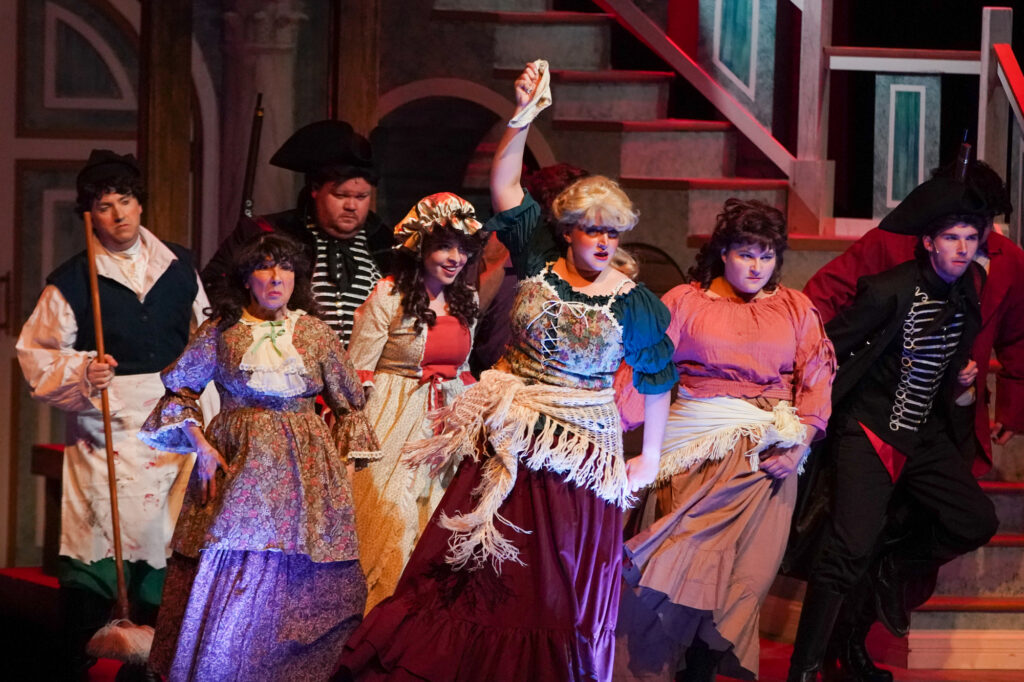 Clark noted the design and up-to-date mechanical systems of the facility made it easier to adhere to health guidelines. Now, Candlelight Dinner Playhouse is reaping those benefits. The summer ended with many sold-out shows of Cinderella. And now as the theater heads into its 15th season with a robust lineup new to the Candlelight, it's also getting a new artistic director, Kate Vallee, who has directed and choreographed shows at Candlelight since 2017.
"I've been around the building and I've been in that rehearsal process. And so it's a natural progression to be stepping into this leadership role." Vallee said. "I have a passion for our theater industry because it can make us better people. It can make us a better society and we can celebrate together and, or we can question humanity, and to me coming out of the pandemic, what a celebration to be able to get back to that." 
To find success, Candlelight has focused on 'family-friendly' programming that audiences and actors have responded to. And their place in Northern Colorado has opened up a whole new base of customers hungry for their unique brand of storytelling. 
"There was a period in time where we were the only show open in Colorado. And I was one of four performers in that show and it just hit me like a ton of bricks, how ridiculously fortunate I am to be up here and sharing my art in this time," said Sara Kowalski, who played Gabrielle in Cinderella and will play Judy Haynes in the upcoming Candlelight Holiday show White Christmas. "And it feels so important to be giving people an escape, giving them some fun, giving them new things to go home and talk about in the car ride home. So I'm just very, very fortunate and very grateful."
Candlelight opens its 15th season with a swashbuckling action/adventure musical, The Scarlet Pimpernel. Scott Hurst, who sometimes works in the box office and describes himself as the resident baritone, is in the show. He said the chance to serve a different type of theater patron in Johnstown is fulfilling.
"So we're just changing lives and bringing theater here to Northern Colorado …. It means everything. I sort of view this place as an actor's refuge. You know, to be a working actor is not something you get to hear every day," Hurst said. "My job is just to affect at least one person in the audience, but I know that the work we do here is so important because you don't even have to ask them at intermission, they offer up how much they're enjoying the show and the experience."
Clark said the theater has carved out a truly community-wide role, providing a service to people who come to see a show in Johnstown. Coming out of the pandemic, he hopes to further that mission even more. "We're thriving. We're excited about bringing this live theater to people. We want to be a positive part of our community and help people lift their lives for just a few hours when they come and see us."
The Scarlet Pimpernel plays at Candlelight Dinner Playhouse in Johnstown through November 6th followed by Irving Berlin's White Christmas
You care.
You want to know what is really going on these days, especially in Colorado. We can help you keep up.  The Lookout is a free, daily email newsletter with news and happenings from all over Colorado. Sign up here and we will see you in the morning!