Rural Coloradans fear merger between King Soopers and Safeway will close stores and raise prices
Updated 3:20 p.m., Tuesday, April 11, 2023
Grocery store mergers have a bad rap in Sharon Ketchum's family. 
Ketchum was laid off from her job as a file maintenance coordinator in 2013 when Safeway closed its only grocery store in Craig. A few months later, the company announced it was being acquired by a national grocery chain called Albertsons.
More than 35 other employees also lost their jobs in the store closure, which the company said was necessary "because the store has not met the grocer's expectations." 
Ketchum, who had worked for Safeway for over a decade, blamed the merger for losing her job. Afterward, she couldn't find steady work anywhere else in town, she said. 
"Nobody knew what to do, where to go," she said. 
She eventually sold her house in Craig and moved back to her hometown of Cañon City, where she started working at a different Safeway store. She had to take an entry-level position, though, which meant she lost her seniority and benefits, she said. 
Now, a decade later, she's worried history will repeat itself. 
A Kroger-Albertsons merger would control 50% of Colorado's grocery options
Albertsons, which operates roughly 100 Safeway stores in Colorado, is in talks to accept a nearly $25 billion takeover bid from Kroger, the parent company of King Soopers and City Market stores.
Together, the two companies would combine to create one of the country's largest grocers.
The proposal, which must still win the Federal Trade Commission's approval, has raised alarm bells from some Colorado residents and elected officials, especially in rural communities. King Soopers and Safeway are two of the biggest supermarket chains in the state — operating more than 250 stores between the two of them. 
The combined company would control roughly 50 percent of the state's grocery options, according to some estimates. 
In many smaller towns, such as Cañon City, the two stores make up the bulk of residents' grocery options already. Critics say putting the two brands under one corporate roof could kill competition in those parts of the state. 
They fear that consolidation could eventually lead to food price increases amid already-high inflation and, potentially, lead to store closures. Workers, too, could be left in the lurch.
"At my age, 60, who's gonna hire me?" Ketchum said. 
Since announcing the deal last fall, the companies have promoted it as a cost-saver for consumers and promised to keep stores in Colorado and other states open. 
Kroger plans to invest $500 million to "reduce food prices starting on day one," according to a statement posted on a website promoting the merger. The company did not specify what the investment would look like in Colorado. It also plans to make a $1.3 billion investment in "enhancing customer experience" at Albertsons and Safeway stores and raise employee wages.
"Our merger with Albertsons will enable us to build on our history and bring meaningful, measurable benefits to our customers, our associates and the communities we serve," Kroger said in a statement. "Kroger will not lay off any frontline associates or close any stores, distribution centers or manufacturing facilities as a result of this merger."
Despite the promises, the companies' plans have drawn skepticism from unions, consumer advocate groups and state attorneys general. 
Colorado Attorney General Phil Weiser launched a multistate investigation into the deal shortly after it was announced last fall. 
He's now in the midst of a multi-city listening tour as he weighs whether to take legal action to try to stop the deal, which could close as soon as early 2024 if it goes unchallenged. Most of his stops so far have been in smaller towns with only a few grocery options, such as Gunnison. 
"I am very concerned," Weiser told a small crowd inside the Cañon City Public Library on his most recent stop.
Several dozen residents, elected officials and local business owners attended. They listened as Weiser outlined his plan for determining whether to challenge the merger, which he said, quoting antitrust laws, rested on whether it would "substantially lessen competition or tend towards monopoly." 
Much of the conversation revolved around how the merger would impact the town's City Market and Safeway stores, which both sit within a block of each other. 
"How many of you here shop at City Market?" Weiser asked the crowd. 
Half the attendees raised their hands. 
"How many people shop at Safeway?" 
The other half raised their hands. 
Residents shared fears about Kroger controlling prices at both locations. Ashley Smith, the mayor of Cañon City, stood and addressed Weiser. She said she was against the merger. 
"We're going to advocate for consumer choice in our community," Smith said. 
She grew emotional as she said the town is already struggling with vacant buildings and a rising cost of living. 
"That is a really sore spot for our economic development," she said. "And we need the ability to have affordable groceries, especially in a rural community where our median income is not very high and food insecurity is a real thing."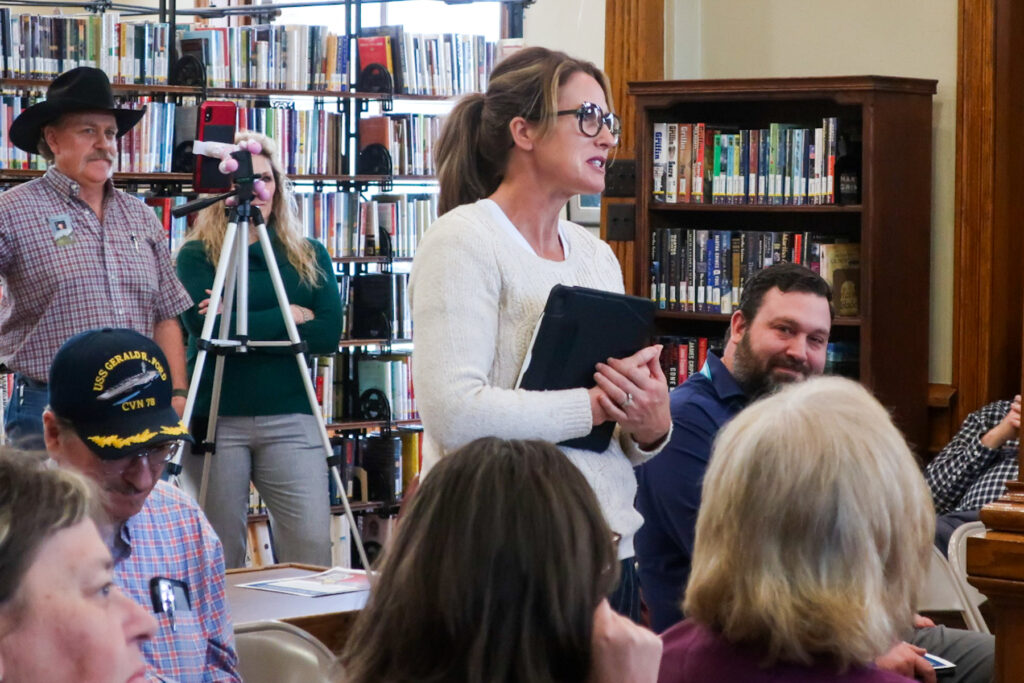 Weiser said he would spend the bulk of this year considering whether to take legal action against the merger. He's also launched an online survey open to all Colorado residents. 
"We're doing our homework on this one," he said. "We can challenge it regardless of what the federal government does."
Weiser's next town hall will be in Golden on April 24. 
At the end of the town hall in Cañon City, attendees passed out fliers and buttons that said, "Stop the Merger." 
Ketchum took a button from another attendee. She thought of the trips she used to take to the grocery store she now works at.  The thought of it closing made her wince. 
"There's so many people that are just used to a certain store and their prices and their sales," she said. " And if one closes, what do you have?"
Economists say it's unclear exactly what the impacts on Colorado shoppers would be. 
In its merger announcement, Kroger said by combining companies, shoppers will benefit from streamlined supply-chain logistics and more targeted promotions for regular customers. 
The changes will help keep prices competitive against Walmart, Whole Foods, Costco, and other large grocers, the companies argue. But economists say it's unclear whether noticeable savings would actually show up on customers' grocery bills, especially with year-over-year inflation already at an eye-popping 9 percent for grocery bills. 
"If you can consolidate some transportation, distribution and warehousing, you could see some savings," said Zac Rogers, an assistant professor of supply chain management at Colorado State University. 
"But what savings get passed on to consumers, you never really know," he said. "And farmers could struggle from fewer grocery buyers in the state."
Research into national-scale mergers in the pharmaceutical and airline industries have shown that consumers generally end up paying higher prices when there's less competition in a certain market. Other studies of large food and beverage brand mergers have shown a mixed bag of price changes following consolidation.
"It's not always the case that mergers don't help the consumer, but the bar is pretty high to show whether or not it's actually beneficial," said Sanjai Baghat, a professor of finance at the University of Colorado Boulder. 
Areas with fewer grocery store options will likely be more vulnerable to price increases following a Kroger-Albertsons merger, Baghat said. Neighborhoods in Denver and other large cities with multiple options beyond Kroger-owned stores won't feel the pain as much. 
"How much prices can go up is limited by the cost of the consumer to drive or get on a bike to the other store," he said. "There's only so much companies can do." 
Inflation and rising labor costs will also continue to impact shoppers' bills regardless of the merger, he added. 
Outright store closures — and resulting food deserts — add another uncertainty. Kroger says it won't shut down any stores in Colorado or any state as a result of the merger. 
But grocery stores have shut down after past grocery chain mergers in Colorado. A few months after the Safeway-Albertsons merger was approved in 2015, the company closed nine locations in metro Denver. The closures had a negative ripple effect on nearby small businesses and shopping centers, according to media reports following the merger. 
The company closed the stores because they weren't profitable, a Safeway spokesperson said. 
Kroger will likely have to sell off a large number of grocery stores to separate companies to get the deal past federal antitrust regulators. The process is known as a divestiture plan, where Safeway and King Soopers stores would continue to operate under their same names, but the owner would be a separate company. 
Kroger declined to say whether any divested stores would be in Colorado. 
"With regard to divestitures, Kroger will work with regulators to ensure that any divested stores are sold to qualified operators with appropriate management experience, a sound business plan, strong balance sheet and the financial stability to continue to succeed and serve their communities," the company said in a statement. 
Next steps for the merger and the opposition to it
The FTC is expected to continue examining the proposed merger through the end of the year. Regulators likely won't make a decision until early 2024. 
In the meantime, opposition to the deal is expected to strengthen. A group of over 100 unions, lawmakers and labor right organizations have formed a national coalition to protest its approval. 
The group includes the United Food and Commercial Workers Local 7 union, which represents thousands of King Soopers and Safeway employees in Colorado.
The union recently demonstrated at 65 stores in Denver and across the state, handing out tote bags and fliers to raise awareness of the deal. 
Michelle Freitas, a Safeway employee from Gunnison and member of UFCW, passed bags to customers outside her store. She said she worries if her town's Safeway closes, residents would have only one grocery option in town other than Walmart, which only sells dry goods.
"The only other grocery store is in Crested Butte, or an hour away in Salida or Montrose," she said. "If the prices for essential goods go up even more, how are people who are lower income or middle income going to be able to survive?"
Editor's note: Safeway is a financial supporter of CPR News and KRCC.
You care.
You want to know what is really going on these days, especially in Colorado. We can help you keep up.  The Lookout is a free, daily email newsletter with news and happenings from all over Colorado. Sign up here and we will see you in the morning!