After 30 years of making sawdust, one of Colorado's few woman woodshop teachers is hanging up her hammer
When I arrived at a third-period woodshop class at Littleton High School last week, students initially thought I was the substitute teacher. The disappointment was palpable. 
Then teacher Pamela Wilkins walked in, and suddenly all was right in the shop. 
"When I walked in the door they went, 'Oh, we don't have a sub. We're so excited we got you,' and I'm like, 'Well, I'm glad that you're excited I'm here,'" Wilkins laughed. 
Thankfully, for students' lives and limbs around power tools, I'm a reporter and not a sub. I was there to meet the woodshop teacher. 
In typical high school classes, there's usually some kids with their eyes glazed over. Not in Wilkin's class. With her trademark opener, "Safety glasses on, earplugs in, let's go make some sawdust!" the class transforms into a hive of activity. Every student is 100 percent into it. Really into it.
"It gives you practical skills that you can apply in your life," said freshman Nick Beitel who said his ultimate job would be building bridges for the National Park Service.
Sometimes it just boils down to this: "You get to build stuff," said JC Murillo simply. "You get to paint stuff."
The students say they love the class mainly because of Wilkins, whom they describe as friendly, nice, helpful, comforting and perhaps the biggest compliment of all, chill. It's rare to have a woman woodshop teacher, even today. But Wilkins, after 30 years of teaching, is hanging up the hammer.  
The road to being a woods teacher wasn't always easy.
Wilkins was the only girl in her middle school shop class. She got pushback for that. In high school, girls thought she was trying to steal their boyfriends.
"But I really kind of messed with them too, because I not only was in the wood shop, I was also in home ec and learning sewing. So they didn't know what to think of me at all."
And in college, she stumbled onto a path: learning to teach industrial arts. Wilkins really liked it. But she almost quit because of the persistent mocking by a male classmate. One day though, the dean caught wind of what the young man was doing.
"That dean took him out the door and I don't know what was said, but he never did that again, ever."
Wilkins stuck with teaching and when she started her career, Wilkins was — and still is — one of the few women woodshop teachers in the state.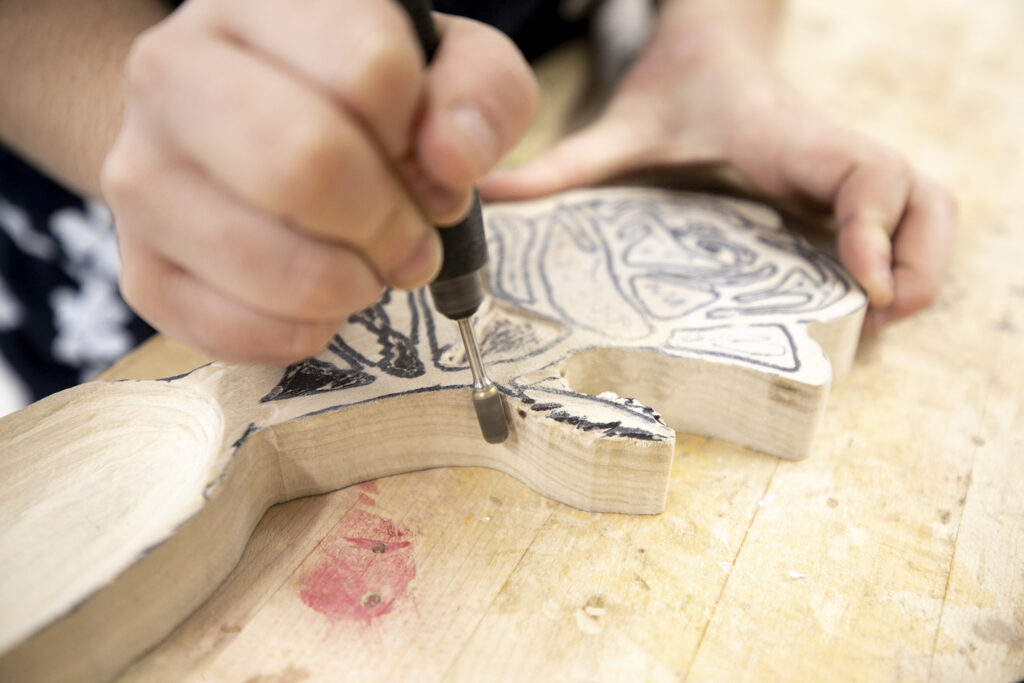 Her toughness and persistence command respect from students. But it's her patience, humor and the respect she gives that wins students over. Freshman Zoe Matteo said she also likes having a woman teacher.
"It's way less intimidating," she said. "When you think of a shop, you always think of like a big man working in a shop all day. But then you get like Ms. Wilkins, she always has her nails done. Like normally I have my nails done. So, I love having a figure like that in the shop. It's less intimidating and more welcoming."
Matteo says Wilkins' rapport with teenagers and passion for what she's doing is obvious.
"You can tell she loves woods. She loves what she's teaching and she knows a lot about it."
Before Wilkins rides off into the sunset, there are chessboards to be trimmed.
It's loud in the woodshop.
Kids are drilling mugs, carving spoons, lathing bowls and hammering boxes. One student is using a cardboard cutter to finish cutting "South Park" character Kenny into his colorful table. Another is making a coffee table out of a piece of wood his family brought back from California. There are bowls to be molded in the shape of a bear or turtle or goldfish.
"Who wants a round bowl? You can buy that at Target!" Wilkins laughs.
Students are at all different levels in this class. Some have mastered an array of power tools – lathes, band saws, routers.  Others, not so much. But Wilkins is on hand when a band pops off the wheel of a band saw or when a template might be askew.
"Remember you're always keeping your butterfly facing which way?" she asks a student using a router to make a bowl out of purple heart wood.
It's a 90-minute class and Wilkins spends most of it answering questions, and with the deft speed and precision of a seasoned pro, she dispenses her knowledge. It's tiring just watching Wilkins at work. 
Student Nick Gibson can't find a clamp. He's finishing up the trim on a beautiful chessboard. Students work with cherry, oak, ash, wormy maple, and cedar wood types. Less common are walnut, purple heart, and padauk because of cost.
"I love playing chess with my Dad," he said, eager to finish up his project.
But as Wilkins goes to find a clamp, she gets diverted along the way. Helping a student get the right proportions of resin. Then fixing a band saw. Then teaching a student how to tighten a lathe chuck, to clamp the wood on a lathe, a machine used to round out wood projects.
"We turn (wood) on lathes, we don't go 'lathing,' right? … that's one of my pet peeves in life," she gently jokes with a student.
Then it's off to show a kid how to add color to resin. Then some quick advice about carving a bear. She can't find a clamp but she shows Gibson how to make a rubber band clamp. That does the trick.
"They say an average teacher answers 220 questions a day. I might exceed that, I'm not sure," Wilkins laughed.
The bustling woodshop is a long way from the early 1990s, when a lot of school woodshops disappeared.
The push then was getting everyone into a four-year college — and technology —  was all the craze. But after those shops disappeared, Wilkins' then principal noticed that a lot of sophomore boys were dropping out. There was nothing to keep them at school.
"We need to give them an avenue to shine," Wilkins said, adding it was also getting increasingly difficult to find people who could actually build and fix things.
Wilkins pushed to bring back the woodshop.
"It has gone mad since then," she said.
Wilkins' enthusiasm for woods and later design and tech helped her slowly take over the school's garden level, filling three huge rooms with equipment and enrolling 250 students a semester. She also chaired the school's technology and engineering department.
"As one of the previous teachers called it, it was my kingdom. I said, 'Well, where's my throne?'" Wilkins laughs.
The woods class is especially popular. It's a relief for many students, a chance to think, noodle creatively, and work with their hands.
In her first year of woods, ninth-grader Erica Levene has already made a pen, a bowl shaped like a goldfish, and a 14-sided box.
"It's really important because it helps you with your problem-solving. When things get hard it's important to push through and to finish. I think it has a lot of life lesson skills that even if you don't go into a career with woods, it's important to know how to problem solve."
Wilkens laughs a lot and has a positive, energetic-yet-relaxed vibe. Students appreciate that in a teacher.
---
A sign of a good craft person is how well they hide their mistakes. Not the fact they don't make 'em. Everybody makes 'em. So if you chip something, break something, make it too short, whatever, how are you going to fix it and make it not look like it was fixed?

Pamela Wilkins
---
"It never shows that she's overwhelmed or anything," said Nick Gibson. "I really kind of look up to that."
 "She lets you be as creative as you want," said junior Taylor Costello, who is building a ring toss. "You could pitch her a crazy idea and she'll find a way to make it work or a way to simplify it."
It can also be intimidating when students first step into the shop. But Kylie Brachtenbach said Wilkins excels in teaching different types of students how to work safely.
"She's very good at helping them become more comfortable with themselves and the machines," she said.
"If you need help, she'll help you," adds ninth-grader Adrian Sanchez. "She motivates you and yeah, she's just a really fun teacher."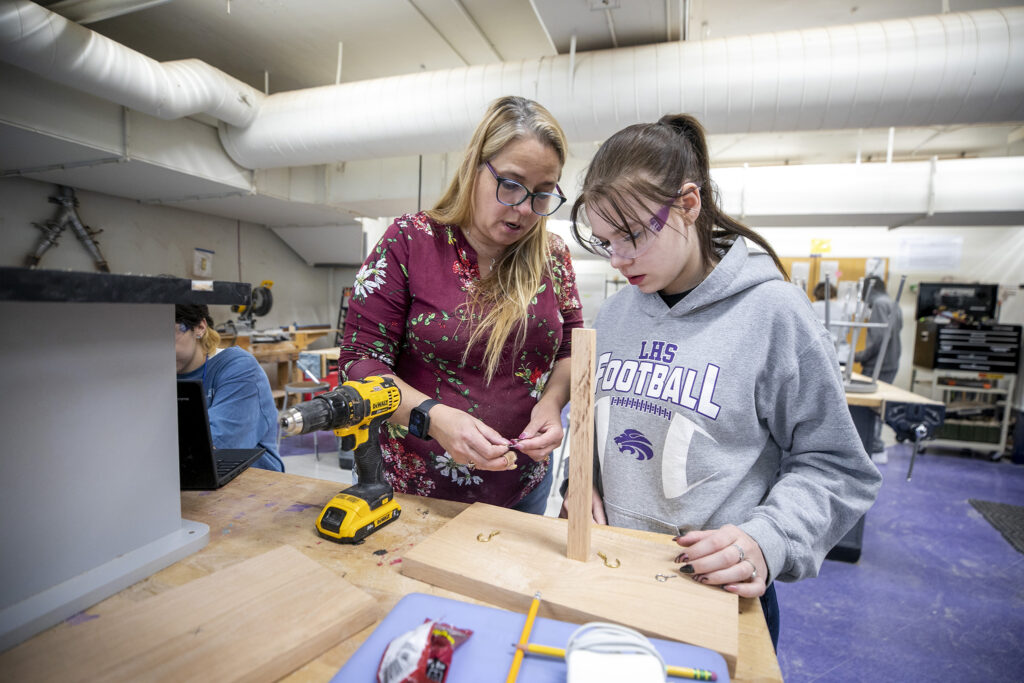 It's not just 30 years of teaching that's prompted Wilkens to hang up the hammer.
She was diagnosed with multiple sclerosis in 2014. That led to occasional leg cramps, numb feet, unreliable hearing, and at times, brain fog.
"There are times I've looked at a kid that I've known for four years, I can't put a name on them. And they look at you like, 'I can't believe you don't know my name.' It's like, no, you have no idea. It's part of the disease."
She's so exhausted sometimes, she'll fall into bed at 8:30 p.m. Wilkins said she wants to be able to still enjoy spending time with her husband, two grown sons, and see other parts of the country while she can still move around.
The students were sad when they heard she's not coming back next year.
"Oh, I love Ms. Wilkins," said Hunter Follet. "She's like my favorite teacher. Whenever I'm bored in class, I'll just come down here and see what she's doing."
As much as the students will miss Wilkins, she'll miss them — teaching them how to troubleshoot, hide their mistakes (or "oopsies," as she calls them) — that's part of the creative process.
And she'll miss the occasional story. Like the kid who told her she was the reason his stepfather made it through high school. She'll miss the lathe.
"If I can get a free moment and I go turn on the lathe for, you know, 45 minutes or an hour, life is good," she laughs. "It's really a lot of fun."
She'll miss the kids' lightbulb moments and watching them push themselves one step further.
"They get excited about what they've created and done," she said. "They see the beauty that's in there."
Ten minutes before the bell rings, Wilkins shouts a final "Clean up!" —  and the creative cacophony subsides.
Mrs. Wilkins' students pop into action, sweeping up all their hard-earned sawdust.
"We're going to miss her," said one student.
You care.
You want to know what is really going on these days, especially in Colorado. We can help you keep up.  The Lookout is a free, daily email newsletter with news and happenings from all over Colorado. Sign up here and we will see you in the morning!