Photos: Retracing a family's legacy on the Santa Fe Trail
When photographer Kevin Moloney set off on a road trip earlier this year, he followed the path his great-great-grandfather, Dario Gallegos, used for his home-grown business more than 160 years ago.
By car, and sometimes by bicycle, Moloney retraced the route that Gallegos' crews and wagons traveled, hauling goods to stock his store in the small town of San Luis, in what's now Southern Colorado.
The store, founded in 1857 as Gallegos Mercantile, holds a place in Colorado history. Renamed the R&R Market generations later it was the state's oldest business when the family sold it last year. It's still a store, operating now as the San Luis People's Market.
America's First Commercial Highway 
Moloney, who grew up in Greeley and often visited his family in San Luis, is now a university professor in Indiana. When a friend invited him to visit Santa Fe earlier this year he saw it as a chance to learn more about his great-great-grandfather and about the trail, a busy trade route that stretched from New Mexico to the Missouri River before the railroads came. These days, it's often called America's first commercial highway.
Gallegos "became a ghost I was chasing on the trail, where I could experience a lot of what that history meant," Moloney said. "Not only for him and the family and the store, but also what that avenue of commerce meant to the history we see now."
What Gallegos saw as a rugged path to profit for his tiny store, the U.S. government saw as a financial boon for the entire nation. Those economics likely helped spark the Mexican-American war and shaped the future of both countries, Moloney said.
An early settler before Colorado was even a state 
Dario Gallegos settled in San Luis in 1852 and opened his market five years later, well before Colorado became a state in 1876. To stock the store he bought freight wagons and hired a crew to head east. The historical records and family lore are hazy. It's not clear if and how often Gallegos made the trek himself, though Moloney said he's confident the merchant made at least the first journey.
For the crews, it was a three-month roundtrip. As Moloney drove the route he remembered the dryness of the west and the humidity of the east. When he rode stretches on his bike he could hear birdsong. Back in the day "it was probably beautiful and peaceful in stretches and annoyingly hot and seemingly endless," elsewhere, he said.
It could also be dangerous. In 1859 the wagon train was on its way home when it was attacked by Native Americans, Moloney said. All six of Gallegos' wagons were burned, along with the goods inside. Moloney figures Gallegos quickly raised some money and organized another trip to replace the merchandise he'd lost.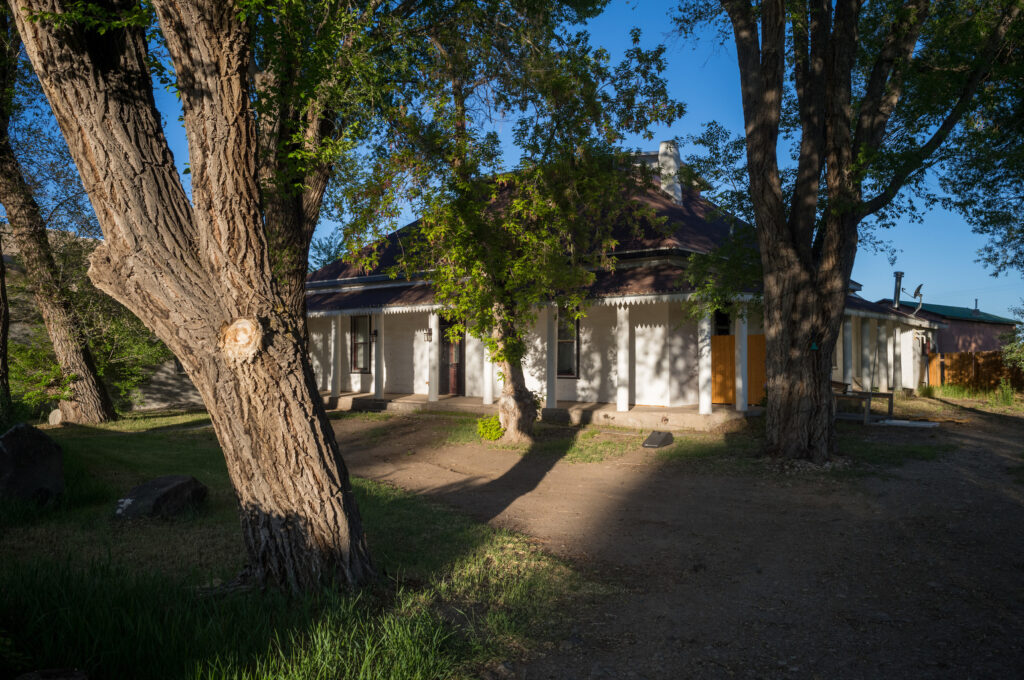 A civic leader with a big mustache
To learn what he could about his ancestor, Moloney dug into the sparse records that remain. An old article in the Pueblo Chieftain described his great-great-grandfather's role as a civic leader in San Luis. The Denver Public Library's archives yielded a portrait. "He looked a lot like Robert Redford. Longish, over-the-ear hair and a big mustache. A handsome-looking guy."
Gallegos' grave in San Luis also offers evidence of the R&R's prosperity, Moloney said. "The headstone "is a beautiful piece of marble. In the generations before it would have been a wooden cross."
You care.
You want to know what is really going on these days, especially in Colorado. We can help you keep up.  The Lookout is a free, daily email newsletter with news and happenings from all over Colorado. Sign up here and we will see you in the morning!