Rockies' Elias Díaz becomes unlikely All-Star MVP, making team history
By Tim Booth/AP
Elias Díaz may be the most unlikely All-Star MVP.
Just 3 1/2 years after Pittsburgh failed to offer a contract and allowed him to become a free agent, Diaz hit a go-ahead, two-run homer off Félix Bautista in the eighth inning to lift the National League over the American 3-2 on Tuesday night.
A first-time All-Star at age 32, the Colorado catcher put his name on an award won by Willie Mays, Joe Morgan, Frank and Brooks Robinson, both Ken Griffeys and Mike Trout. Diaz was the lone representative for Colorado in his first All-Star Game appearance, and his MVP win is the first in Rockies history.
"I honestly can't believe that my name is going to be next to some of those names," Díaz said through a translator, clutching the crystal bat awarded the MVP. "Never in my wildest dreams did I imagine that I would be in this position."
After five years with the Pirates, Díaz found out from his agent in December 2019 he had been non-tendered.
"When they let me go, I didn't allow myself to feel defeated," Díaz said. "I maintained my confidence and stayed positive."
He got a minor league deal with the Rockies a month later, made the big league roster at the start of the pandemic-delated 2020 season and earned a $1.2 million big league contract for 2021. He hit .246 with 18 homers and 44 RBIs, and Colorado rewarded him with a $14.5 million, three-year agreement.
Díaz batted .228 with nine homers and 51 RBIs last year, then earned his first All-Star trip by batting .277 with nine homers and 45 RBIs heading into this year's break.
"He's really improved in every phase of his game," said NL manager Rob Thomson of the Philadelphia Phillies.
Thomson had called Rockies manager Bud Black to learn about Díaz.
"He said: `This is one of the finest people you'll ever meet. He's a complete team player,'" Thomson related. "`Do anything you want. If he doesn't play, that's fine. If he does play, that would be great. He's just happy to be there.'"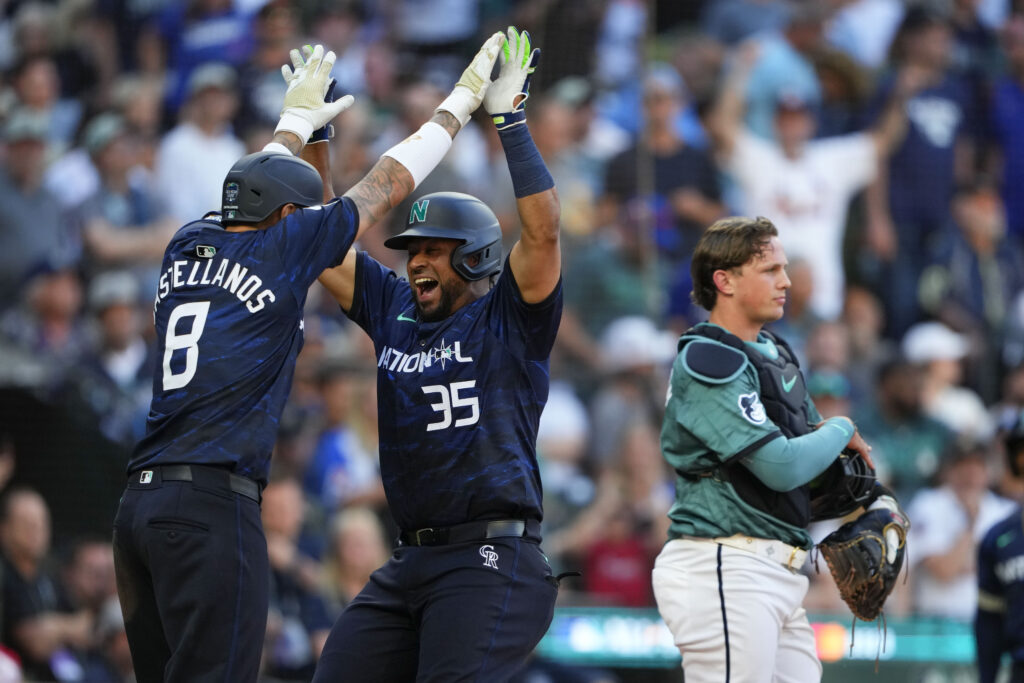 With the AL leading 2-1, Nick Castellanos worked a nine-pitch walk against Bautista leading off the eighth. Díaz batted for Jorge Soler and with a 2-2 count drove a splitter 360 feet, where it landed under the manual scoreboard behind the left-field wall. The 20th pinch homer in All-Star history was a no-doubt drive. Díaz took three small steps and watched before starting his trot.
"A splitter that stayed up in the zone," said Bautista, who had given up one homer in 56 at-bats this season ending with that pitch.
Díaz jumped as he approached the dugout and exchanged slaps with teammates. Geraldo Perdomo doused him with water. A short while later, he became the first Venezuelan to earn All-Star MVP since Dave Concepción in 1972. Díaz's jersey is going to the Hall of Fame.
"Maybe the third or fourth inning, Orlando Arcia, he was telling me that `Hey, you're going to go up to bat you're going to hit a home run, and you're going to win the MVP,'" Díaz recalled. "I didn't think it was going to turn into all this."
You care.
You want to know what is really going on these days, especially in Colorado. We can help you keep up.  The Lookout is a free, daily email newsletter with news and happenings from all over Colorado. Sign up here and we will see you in the morning!