Dispatches from Gaza: What a Grand Junction pediatrician and humanitarian saw as bombs fell
In early October, Dr. Barbara Zind, a Grand Junction pediatrician, was at the start of what she thought would be a short humanitarian mission in Gaza. 
She was supposed to see scores of young patients with chronic conditions. Instead, she sheltered from bomb strikes in a United Nations camp.
On Oct. 7, Hamas launched a surprise attack on Israel, killing around 1,200 people and taking about 240 hostages, according to the Israeli government. Israel retaliated with airstrikes on Gaza, which have killed at least 10,000 Palestinians and displaced about 1.5 million since the war began, according to the United Nations and Palestinian health officials.
Zind, who's been working with the organization Palestine Children's Relief Fund (PCRF) for more than a decade, ended up stuck in Gaza for nearly a month. As she and other aid workers were moved to various United Nations facilities, she recorded audio diaries of her experiences, which she shared with CPR's Western Slope reporter Stina Sieg. 
Below are excerpts, in Zind's own words, from her time in Gaza.
***
Day 8
Wednesday, Oct. 18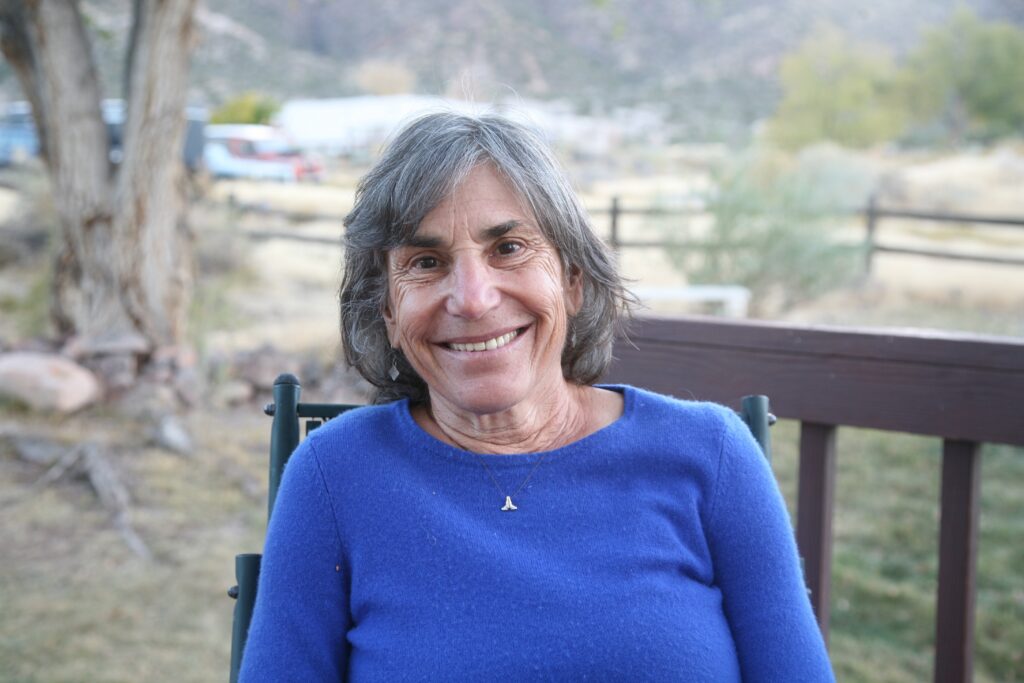 This is my eighth day in a U.N. camp.
We are isolated from the general population just because we stand out as different, and so we're in a safe place. We have food, we have water. But the people in the regular camp — one camp had over 30,000, probably 50,000 by now, with inadequate toilets, no portable toilets, one shower, I think, for everyone. So, sanitation was a huge problem.
The sanitation is awful for these people and the food insecurity, water insecurity is abysmal. They don't have water to keep the toilets going. 
When I was in Gaza City for the first seven days, we just heard almost persistent bombing, shelling, sometimes missiles going out. Right now in south Gaza, we still see some missiles going out. We hear some bombing and there are drones. There's a constant drone presence from the Israelis. 
This war has touched everybody's lives. One of our PCRF staff members lost his brother-in-law who was helping some Germans to escape. A woman presenting a program where she was teaching children boxing lost two of the participants, young children in her program. 
People are losing family members. These are all just citizens, just common citizens.
So, I thought I'd say a little bit about when I usually come and what I see. What I see usually is a system that's on just the brink of falling apart. I see children with chronic diseases who need medications, diabetics who need test strips and insulin. And this is on a good day. This is last year when things were relatively stable, that people can't get medications that they need. 
It's frustrating for us to know that there are trucks with relief, with humanitarian aid. They're just sitting on the Egyptian border waiting to come, and I just can't overemphasize the importance of allowing that humanitarian aid to come in and just the cruelty of not having that aid here. 
OK, so, what are my conditions here? I know a lot of people want to know about that. I'm in a safe United Nations center in southern Gaza. I'm with a group of other people that work for humanitarian organizations, so Doctors Without Borders, Mercy Corps, a lot of those organizations are represented here, and we started that we were ready to go anytime. So. we hardly unpacked, we were ready to go.
We got some dinner one night from the organization Palestine Children's Relief Fund. The next morning I thought we would go. I gave it away to people here that are Palestinians that are here in the camp, and (it) ended up we did not go. So, people weren't very happy with me. But since then, we've started to kind of make our own camp. We have some people sleeping on the cement. We've gotten some cushions for them. I'm sleeping in the car. 
We're lucky because we've been able to get food delivered and water. We have one bathroom for about 35 of us, and we've set up a committee to make sure and keep it clean. 
We've started to become a real community. I've taken two Arabic classes now and took an introduction to Islam. This morning, we had a stretch, and in the last couple of evenings we've had what we call the "Rafah Show," where somebody interviews people that are here. It's a little bit of comedy, a little bit of just getting to know what other people have been doing in Gaza. 
It's a bad situation that we're here, but it's been really enlightening for me just to meet people from really all over Europe, Africa, Asia. 
So, we're pretty much, I don't want to say settling in because on the other hand, we are ready to go at any minute, but we're not just chomping at the bit waiting at the gate to go, but we're waiting for a safe passage. We need our passage to be approved by Israel, by Hamas, by Egypt, and so that we know that we can really have a safe passage. And we would love that link to humanitarian aid, of course. 
In our camp today, people seemed upbeat because of Biden's visit.
But (they're) getting tired of doing the little things we've been doing to kill time, our Arabic class and other things.
I guess I can get an update on our little camp situation. We've been here four days. Initially at this site we were told we can only stay 24 hours, so that's fortunate.
We're still in good spirits, but anxious to leave. Everyone's mental health status seems to be OK. We have food and water. I was sleeping in the car for the first few nights, and the last couple nights I've been sleeping out on a foam mat and a blanket. So, that's been actually more comfortable. 
People say it gets really cold at night, but I have to tell you, Coloradans, that I was just doing the Colorado Trail last month and sleeping here and having the temperature get to the 60s is nothing. So, I'm thankful that I'm from Colorado and have been out in the mountains recently. 
On the other hand, the situation for people here is much worse.
Day 11
Sunday, Oct. 22
I am so fortunate to be in our little cloistered environment with other internationals that are doing relief work.
Outside our gate, we heard some yelling last night. We don't know: Are they angry at us? We've kept pretty quiet. If they are, then that's a problem, or are they just frustrated, which is reasonable. 
I think there are now maybe 20,000 people outside. I have no idea, but I know that they're cramped in, that they have few toilets. They don't have the luxuries that we have here of sleeping on an open mat without somebody right next to me and getting the food that we get.
Yesterday, our staff member from Palestine Children's Relief Fund came, and his daughter had been sick with gastrointestinal illness, and you just think whatever it is is contagious. And so you just worry so much about spreading dysentery and there's children of all ages. And in the very first camp we were in Gaza City, there were a few babies that were probably a month old at most, and they are (the most) susceptible of all of us. 
And like I keep saying, half of the population here are children and they're so much more vulnerable to a lot of diseases that are spread in situations like this. So, I'm thankful that I have a mattress pad to sleep on, that I have water to drink.
But really, I'm hopeful that a significant amount of aid starts coming in. We still heard bombing this morning and one was about a mile away yesterday, but I know that Gaza City is still being hit hard and we're just seeing a fragment of what they're seeing there. 
So, my thoughts and prayers go out to all the Gazans that are out there just suffering so much.
Day 12
Monday, Oct. 23
All through the night, there was bombing, some of them fairly close by.
So, many of us were awakened several times during the night. It was consistent through the day and through this morning and the night before. So, it's always a concern. 
They've asked all these people from the north to evacuate, but now they're really bombing the south. Also, I had a message from our project coordinator who is here in Gaza and is evacuated from Gaza City to the middle border, and he just knows so many friends and family that have been killed, and I think that's just true of everyone here.
And we're all so fearful of the civilian casualties in this war and just that the bombing continues without any regard for that. 
We continue to be OK with food. It's hard to say how long it'll be as far as food supplies, but we seem to be well supplied. But I know there's a million, probably, people here in Gaza who are having a lot of food and water insecurity and electricity.
We continue to have some electricity through the U.N. and their generators, but once that runs out or the fuel to fuel the truck that's bringing water for our toilets, and now our drinking and washing water, that may be problematic. 
So, we're starting the day with a little bit of hope and lots of concerns.
Day 13
Tuesday, Oct. 24
Hasan, our PCRF worker, lives in, I would say, a suburb of Gaza or north of Gaza City.
(He and his family) were notified that they need to leave their homes in their town, and he just knows that his home is going to be destroyed. 
He has eight children, he has 19 siblings, a huge family, and they're all down here. They're all safe, but they know they have nothing to go back to. 
You cannot just target one Hamas person in an area that's so densely populated without killing so many civilians. 
One good news is that Palestine Children's Relief Fund has a pediatric cancer center here in Gaza.
They also have one in the West Bank, and they're working hard to evacuate those childhood cancer patients, so that they can continue to receive their therapy in other countries while this war is going on. 
Anyway, hope for the best, hope for diplomacy and an end to this war.
Last night, we woke up to some different sounds.
We had the bombs. But then we also, as explained to me, had some fire from ships in the Mediterranean shooting into probably into the town that's about six miles away from here. 
It was enough that sleeping on the ground, I could feel the ground shake with some of those bombs, so concerning, but not in our close vicinity as far as I can tell. 
Many people, of course, are really helpful in working hard to get us out of Gaza, and I'm glad humanitarian aid is coming in, though at a much lower pace than it's needed.
But I appreciate those people working on all different levels and I appreciate all that help and concern.
So, as always, humanitarian aid is greatly needed everywhere. And people are really starting to feel the stress of it and the stress of being in this camp, and that's concerning.
Listen to Dr. Barbara Zind's audio diaries from Gaza
(This is) what's going on with the camp around us and the other camps.
You get news more than I do, but I know that talking to our finance guy for Palestine Children's Relief Fund, who's out in the camp, they have some water, food rationing is even worse there, one can of meat, a quarter of it per day, and there's some discord. 
Some of the U.N. flour arrived. There's so many people, so little flour. Some of the local people went in and tried to get some flour and so there's just a lot of worry about, you know, just problems, in the community there between the displaced people and the people who live in the Rafah area — and all of them being food insecure.
So, that's really a concern there. Just the food insecurity and not being able to get enough of the humanitarian aid in. 
Day 19
Sunday, Oct. 29
It's pretty early in the morning.
It's been three weeks since the war started. We're still at our U.N. camp, but it's a long time. People are getting tired.
There's still been consistent bombing from the Israelis. Sometimes we'll see missiles going out.
We are trying to do some rationing of water, and that adds a little stress on the group, but we've been kind of working together as a group trying to maybe not make it autocratic, but that's been a challenge.
And then yesterday some people went and just went and looked at what we have in our pantry, and we really only had enough for all of us for two days at 800-900 calories.
Fortunately, one of our drivers went out, and they did come back, and we do have a week of food, but they had to drive all the way to Gaza City, and that is so hazardous. We know that the groceries are going to be empty next week. So, all that food that someone drove to Gaza City for is not going to be available next week. 
Our other challenge was not having any phone service, Wi-Fi, nothing to communicate for 36 hours. It was difficult not being able to communicate with my family. I could send one text (using someone's) Spanish international phone service, but really that's really challenging. And we're so happy this morning to have (Wi-Fi) up.
For us, the last four days have been just crazy.
One day we had water insecurity, the next day food insecurity, then our housing insecurity.
As we were finding a place to go, the large group of 50 we were with had to split up because we couldn't find a facility that could have all of us. 
And so, now I'm in the smaller group of all still people who work for non-governmental organizations, but there's just eight of us now trying to get out, and then with a family that's helping drive and support us. 
I just want to talk a little bit about the generosity and resilience of the Palestinian people.
In the place we're in now, people are just so hospitable, so generous. We're in a clinic really, and next door is a kindergarten center. 
When we first arrived, the generator wasn't working. We didn't have gas for the gas stove. The stove we brought is electric, but next door, they were willing to share the gas they had for their stove, generously sharing some of the cooking utensils they had.
I mean, when you have so limited resources, and I don't know if they know where they're getting their next stove gas. 
It's just amazing how they are hospitable and generous.
They're resilient. As we were leaving our U.N. camp, you could just see just outside the facility, people had pretty much set up stores and shops, and just kind of set up places to live and communities wherever they went.
Day 23
Thursday, Nov. 2
Well, my journey home, it's about 4 a.m. here in Egypt.
I'm looking over the Nile, and I feel like I'm kind of in a different world, and I am. 
So, kind of this journey home for me started, I woke up in the middle of the night. I'm sleeping on the floor, just kind of checked for my WhatsApp. And my husband had forwarded an email he got from the State Department. 
So, we got ready, we went. We were only 10 minutes away from the Rafah border, and we were there, one of the first cars at about 6:30 a.m. 
There was chaos at the first door when they tried to explain that they will call your name and then you go into this other waiting room. And there was just chaos.
There were just a lot of people, kids, everybody. I was amazed how well the kids did throughout that day. It was pretty warm in there, no food. I know they were prioritizing the ambulances and the critically ill people getting out, and I appreciate that, and I am sure their families do too. 
And then even on the way driving with a shuttle, we were delayed by letting aid trucks go in the opposite direction into Gaza. So, once again, not a delay that I'm complaining of. It was great to see those eight trucks going in. Overall, by the time we started waiting at 6 to 6:30 a.m. and we left, actually got to our cab on the Egyptian side of the Rafah border, it was about 12 hours. 
Then we had that long drive from the other side of the border to Cairo itself. So, a lot of stops, a lot of checkpoints along the way. It was a slow go, but we were all optimistic and really just happy to be here. 
And I'm just happy in my hotel room, looking at the Nile, and showered and ready to go home, and probably leaving in about 24 hours.
***
Home
It took three plane rides, but Zind made it to Denver the next night. Her family, including her husband, son and brother, met her at the airport, and her Palestinian sister-in-law made her maqluba, a Palestinian specialty of chicken and rice. 
A few days later, Zind was back in Grand Junction. When she and her husband drove up to their home, set against red-rock cliffs, they were greeted by a banner across the front door. "Welcome Home Barb!" it sang out, with signatures from neighbors and friends. They had loaded up the couple's fridge, as well.
While Zind thought she'd get "all blubbery" when she finally returned, she wasn't. Instead, she's been busy talking to friends and family, doing interviews with media and running errands.
"I don't really think things have hit me yet," she said, sitting on her back patio with tea. 
Even though her life was in danger in Gaza, she hadn't felt that way in the moment. 
"I mean, I'm sleeping on the ground on a foam mattress and a little blanket, but when you know what's going on around you, it's like, I don't have anything to complain about," she said. 
For Zind, the tragedy of this conflict is clear: all the everyday people who've died, Palestinians and Israelis.
"When you do things like this against civilians, you just create more hate," she said. 
"And I don't want to sound like a rainbow bubblehead or something, but I mean, the only hope is that this is a wake-up call to the world that we all need to intervene and make this a sustainable environment, so that both groups can survive," she said.
Zind would like to return to the Middle East for another aid mission next year, but it's unclear whether that will mean going back to Gaza. That, she explained, will take a family discussion.
The critical need for fact-centered reporting and thoughtful conversation has never been greater. If you can support us, we need you. Every gift of any amount sustains the in-depth reporting you depend on. We can't do it with you. Thank you.
Give Now