Colorado Public Radio's Community Advisory Board (CAB) meets 3-4 times a year to help ensure Colorado Public Radio is meeting the educational and cultural needs of the communities served by the station.
The CAB's purpose is strategic analysis and possible answers to the broad question of how CPR can better serve its stakeholders. A wide range of topics may be available for discussion. These may be relevant to programming, fundraising or general organizational issues.
The composition of the CAB is intended to be reasonably representative of the diverse needs and interests of the community. A community's interests may be driven by a number of factors, including ethnicity, economic variation, gender, political preference, age and the geography of the areas served by the station, among others.
Members are selected by the Nominating and Governance Committee of the CPR governing Board of Directors, on recommendations from staff and current CAB members. Each CAB member will serve for a term of two years, with the possibility, subject to invitation, of serving a second such term. After one year following the expiration of the second term, a member may be reappointed to the board.
The CAB meets throughout the year on a quarterly basis. Efforts are made to provide a call-in opportunity for those who cannot be physically present. Materials may be supplied to members in advance of any meeting, to help them become familiar with the matters to be discussed and to be more effective in the discussions.
From time to time, members may be given the opportunity to join a task force charged with doing specific work that will ultimately be brought to CPR's Board of Directors. Task force jobs will be designed so that they can be completed in a meeting or two. It is hoped that certain skill sets of individual members may make their role in any given task force both important and enjoyable, but participation is optional.
The CAB works toward specific outcomes. Although the CAB may determine its own "areas of interests" to explore, and upon which to make recommendations to the governance board, generally, the CAB will consider those issues brought to it by CPR staff. It is understood that staff has been directed to work closely with the CAB, and to provide any information required by the CAB in making its determinations.
Meeting Dates:
Colorado Public Radio's Community Advisory Board meets in open session on the following dates and times. For more information, call 1-800-722-4449.
Wednesday, February 22, 2023, at 12:00 p.m., Colorado Public Radio, 303 E. Seventeenth Ave, Denver, CO, 80202
Wednesday, May 24, 2023, at 12:00 p.m., Colorado Public Radio, Bridges Broadcast Center, 7409 S. Alton Court, Centennial, CO, 80112
Wednesday, August 23, 2023, at 12:00 p.m., Colorado Public Radio, 303 E. Seventeenth Ave, Denver, CO, 80202
Wednesday, November 15, 2023, at 12:00 p.m., Colorado Public Radio, Bridges Broadcast Center, 7409 S. Alton Court, Centennial, CO, 80112
All dates may be subject to change.
CAB Members
Maria Giordano, Chair
Maria Giordano has six years of experience in journalism, video production, and corporate communications. Currently, Maria is a Senior Project Manager for a Golden-based Medical Affairs nonprofit. She obtained her bachelor's degree in Broadcast Journalism and Spanish from American University in 2014. She loves mountain biking, R&B, and her untrainable dog.
Wisdom Amouzou
After graduating from the University of Colorado at Boulder with a bachelor's degree in communication and a certificate in leadership studies, Wisdom taught and was awarded the 2015 Sue Lehmann Teaching & Learning Award through Teach for America. In 2016, Wisdom co-founded the HadaNõu Collective, an education nonprofit seeking to transform inequitable systems. He was a 2017 Camelback Ventures Fellow and winner of the National 2017 TFA Social Innovation Award. From 2017-2022, Wisdom co-founded and launched Empower Community High School, an innovative student-led high school grounded in social justice. Wisdom has spent the last 10 years empowering students within the American public education system to walk in their power and truly believe "the world is ours." Check out his two TEDx Talks here: "Loving Is For Everyone" and "Lead like an artist."
While pursuing his visions for education, he also developed his passion for storytelling through workshops at Lighthouse Writers Workshop, Denver Center for Performing Arts and now UCLA's School of Theater, Film and Television. From 2013-2020, Wisdom founded and developed a unique a cappella group called "The Storytellers," fusing vocal music with storytelling grounded in an African griot tradition. Wisdom is currently a student in UCLA's professional program in screenwriting, graduating June 2023. He is also serving as artist/co-owner of Remix Designs LLC, a for-profit company with the vision to "teach spiritual truths through storytelling."
Vanessa Barcus
Vanessa is a Denver-based entrepreneur whose interests lie in the intersectionality of art, community-building, activism, and sustainability. Though probably best known for her long-standing LoHi clothing boutique, Goldyn, which was started in 2007 and closed in 2018, Vanessa's other endeavors include her consulting practice, Creative Higher Intelligence, her jewelry line, Talisman Fine Jewelry, as well as a family farming enterprise for which she is the 4th generation owner. She received her BA in Economics from Claremont McKenna College, as well as an MBA from Claremont Graduate University's Drucker School of Management. Prior to opening Goldyn, Vanessa began her career working for a CFDA/Vogue Fashion Fund Award-winning clothing brand, as well as working in marketing and branding with Denver-based agency Mighty Karma. On a mission towards self-actualization, she enjoys meditation, hiking, yoga, dance, Qigong, photography, and goldsmithing.
Aja Black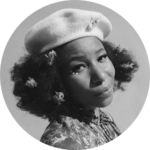 Aja Black, one half of the musical duo known as The Reminders, is an internationally recognized performing artist, songwriter, ethnomusicologist and storyteller. She has been a student in the fields of ethnomusicology and folklore for over a decade, serving as a United States Cultural Ambassador in Morocco, Uganda, Belgium, the U.K., Germany and more. Her published works include three recorded albums of music, "Recollect," "Born Champions," and "Unstoppable," as well as many collaborative works with musicians across cultures and genres.
Aja routinely gives lectures on creativity, storytelling and ethnomusicology at universities such as Trinity College, University of Illinois, University of Miami, University of Illinois, Shangri-La Museum of Islamic Art, Colorado College, University of Colorado, Dubuque University and many others. She has also presented her "History of Hip Hop" interactive lecture series at schools, libraries and performing arts centers both nationally and internationally. Aja is passionate about youth advocacy and works with several community organizations to implement and support programs for the youth. She has been a featured speaker and musical guest for several organizations, including TEDx, the Denver Non-Profit Convention, Boys and Girls Club of America, Citizens Project, Youth on Record, UC Health, Education Through Music and the Laboratory to Combat Human Trafficking.
Aja holds a bachelor's degree in psychology and is currently in graduate school at UCCS studying the effects of creativity on trauma in marginalized populations. Her workshops, "Cultivating Creativity" and "Writing with Feeling," stemmed from this research. She has worked with artists across disciplines, studying their creative processes, blockages, formats and expressive mediums.
Stephen Brackett
Stephen Brackett was born and raised in Denver, Colorado where he regularly interfaces between the music/arts, grassroots movements, and education sectors. As a member of Flobots, he is also a co-founder of the NOENEMIES project, which works within communities to explore the power of protest music, and Youth On Record, a Denver organization that today hosts a state-of-the-art Youth Media Studio and serves at-risk youths with music programs, for-credit classes, and more. He was named the Colorado Music Ambassador by Gov. Polis in 2020.
R. Alan Brooks
R. Alan Brooks teaches graphic novel writing for Regis University's MFA program and Lighthouse Writers Workshop. He's the author of two graphic novels featuring social commentary, "The Burning Metronome" and "Anguish Garden." His award-winning weekly comic for The Colorado Sun, "What'd I Miss?" has been praised for its direct engagement with social issues. His TED Talk on the importance of art reached one million views in two months. His graphic novel work is featured in the Denver Art Museum's renovated Western exhibit. He hosts the Museum of Contemporary Art Denver's podcast, "How Art Is Born," as well as his own "Mother F**ker In A Cape" comics podcast, and he has written comic books for Image Comics, Zenescope Entertainment, Pop Culture Classroom and more.
Fred Brown*
Fred Brown is a semiretired Denver Post reporter, editor and columnist. He teaches media ethics at the University of Denver and is active in the Society of Professional Journalists, where he served as national president (1997-98) and a longtime member of its ethics committee.
Greg Ellenoff
Greg Ellenoff is the President of Water Services Company and General Manager of Backflow Tech which helps to safeguard Colorado drinking water through backflow prevention.  He was CEO and a founding principal of MediSecurity, a health information privacy and security consultancy in Denver, and worked in product development, product management and strategic planning in the healthcare, telecommunications, cable, and information publishing and information systems industries.  He is a Board member of The Schwartz Family Foundation, and Judaism Your Way which is an independent, Colorado-based Jewish organization creating innovative approaches to including Jews and loved ones in Jewish community. He served as a Board member of the Colorado Jewish Venture Philanthropy Fund, and is a past Vice President of the Colorado Chapter of the American Jewish Committee.
Gina Fernandez Gardner
Gina Fernandez Gardner is a nonprofit professional with over 20 years of experience in organizational strategic planning, corporate development, major gifts and foundation relations. Most recently, Gardner served as the executive director and chief development officer for TEDxMileHigh, the largest TEDx in North America. Gardner's nonprofit career began with the American Heart Association, where she received several national awards during her 15 years of service as the executive director and vice president of development in Colorado. Gardner also worked in the advancement of missions for Colorado School of Mines and Special Olympics Colorado. Gardner is very passionate about the health, wellness and well-being of our communities. She lives with her daughter, who will be attending CU Boulder in the Fall of 2023. She enjoys living a healthy lifestyle and taking advantage of the beauty of Colorado by exploring and staying active with her daughter, fiancé and friends.
Bryan Fleming
Bryan is the director of emergency management for SCL Health (now Intermountain Health). Bryan is a seasoned public safety professional with expertise in emergency medical services (EMS), emergency management, crisis management, business continuity and emergency communications. Bryan has managed diverse teams with previous responsibilities leading EMS-based clinical and education services, healthcare enterprise-based emergency management and emergency communications departments. He has served in various leadership roles responding to threats and disasters in Colorado, including the 2013 Boulder County Floods, the COVID-19 pandemic and the 2021 Marshall Fire. His professional interests center around building more resilient and response-ready communities and organizations.
Bryan grew up in a small, rural town in Virginia and moved to Colorado nearly 15 years ago. He and his husband, along with their two rambunctious golden retrievers, have lived in the Cole neighborhood of Denver for 12 years and value the cultural diversity and lifestyle of their urban landscape. They enjoy traveling in their spare time, indulging in the rich cultural and culinary offerings the world has to offer.
Caitlin Murray
Caitlin Murray has served as Bravo! Vail Music Festival's executive director since 2018. During that time she has led the organization through the challenges of the pandemic and maintained the presence of world-class music in the Vail community. She is deeply committed to Bravo! Vail's mission to enrich people's lives through the power of music.
Murray has been associated with Bravo! Vail for over a decade, previously serving as the vice president of development. She sits on the Vail Economic Advisory Committee and is passionate about expanding access to music education in Colorado. She has previously worked as director of major gifts at Colorado Public Radio, as well as account executive at Westword in Denver. Born and raised in New Jersey, Murray is a graduate of Rutgers University where she studied journalism and history.
River Wharton
River is a Denver-based artist, creative director and event producer focused on building better communities through creative facilitation. They were an associate editor for the short-lived, but well-loved Fellow Magazine, which produced quarterly stories and images covering Colorado businesses and artists. Currently, River runs "Still Chill," a monthly live model and still life sketch event at Globeville's Fort Greene Bar, as well as Reciprocal Works, an international zine exchange. They work as an operations and creative director for the local brand agency MIGHTYkarma. They believe that as humans, we are innately creative and can not only dream a better world, but create it together. Their volunteer work includes tutoring with 826Seattle and event consultation with Denver's PAWsitive Recovery.
*Former member of the CPR Board of Directors