The Morning Show airs Monday through Saturday (6 a.m.-10 a.m.) on Indie 102.3. This was its blog through February 2022.
Feb. 2, 2022
Who Wore It Better?: Spoon vs R.E.M.
In the recent and on-going run up to Spoon's 10th studio album, Lucifer on the Sofa (out 2/11), you may have noticed some vaguely familiar visuals. This Brook Linder and Ben Chappell-directed video arrived last month along with the album's second single, "Wild," and it's a striking, noir-ish, monochromatic companion piece.
It's frontman Britt Daniel's attire that first grabs you. Texas native he may be, but I'm not sure we've ever seen the guy in a cowboy hat, let alone tandem boots (he told us recently that everything he wore in the video was something he already owned, but that's another story). Oh, but that B&W desert setting and that cowboy-hatted stroll through it... why, I wondered, was that so familiar and where had I seen it before? Oh, right. Of course!
R.E.M.'s classic "Man on the Moon" video, directed by Peter Care in 1992, is the clear inspiration here. I remembered the major pieces well enough – the stark color scheme, Michael Stipe in a cowboy hat, etc. – but it was only after re-watching it for the first time in years that it became clear that this new "Wild" is no mere stylistic nod. The black lightning, the rock & roll frontman as silhouetted cowboy – it's not a scene-for-scene re-creation of the original, no, but this is homage territory. One could certainly choose a worse template.
---
Sept. 6, 2021
Big Star - "September Gurls"
I never go far without a little Big Star, to quote the 'Mats, and now that September's here what better way to end the (entirely 100% planned) summer hiatus in this space than with the best September song? It's also one of my favorite songs ever, no matter the month.
Good to be back!
---
June 5, 2021
Living That Waking Life
Wait, it's June?!?
Only a couple of weeks left of that glorious evening daylight increasing before the days start getting shorter again– time to wake up!
Luckily, my latest Waking Life playlist is up and streaming, once again featuring 35 fresh and insistent cuts I've been digging over the past month or so. This go around features the likes of Bachelor, Matthew E. White, Japanese Breakfast, Durand Jones & the Indications, Sleater-Kinney, and more! Set it to shuffle and put it on blast (and go give it a follow while you're at it)!
---
May 11, 2021
Happy Robert Pollard No-Hitter Day!
It's true! On this day 43 years ago, the rock n' roll windmilling, leg kicking indie rock icon, frontman of Guided By Voices (and former 4th grade teacher) hurled a no-hitter as the starting pitcher for Wright St. University's baseball team (while sporting Frank Viola hair, no less).
It may have well as been bee thousand years ago since the details are a little hazy, but Pollard recounted the game a few years back. It's real, it's history, and I've got the t-shirt to prove it.
---
April 15, 2021
Call to Active!
Ah, Spring in Colorado. Ice, snow, baseball! Also, a very real need to get out (or stay in) and move, maybe this particular Spring more than any other after the year we've just experienced.
Somehow, very unpredictably, that year included a new fairly constant thing in my life: trail running. I'm no runner, traditionally or any other way you want to describe it, I just found I happen to like to run through forests with music in my ears. There are parts I continue to dislike very much about the whole ordeal, to be honest, but I ran with a frequency I couldn't have imagined this past year. I will tell you that the storied "runner's high" is very real and completely free and legal – although I've definitely paid my way in pain on occasion. And I couldn't possibly do it without music! That said, I positively ran my personal running playlist into the ground. Who knew a 7-hour playlist could feel so short?
That's where you come in in this largely selfish arrangement – I need fresh songs for my habit! And you, well you need to get active, too. It's good for you! So, then, here's CALL TO ACTIVE, a collaborative playlist and (hopefully eventually) a sort of no pressure community, a music fandom group with an exercise problem (or a problem with exercise, as it were). In the process, maybe you'll discover something new to like, too, and some fuel for your fire.🔥
Participate how you like, indoor or out – run, walk, bike, swim, lift, row, dance, whatever you want. Below is the first playlist, which I seeded with an hour's worth of songs largely taken from the one I ran into the ground. Use it all, use some, borrow what you like from it to make your own, however you want to do it (but DO, please, follow it here).
Your exercise stats, if you keep them, are your business. I don't need to know how far, how fast, or even how often you're doing what you're doing. Everybody's version is going to look different. But the music? That's important. I want to hear your your playlist additions and suggestions. If you're feeling particular passionate about a song, feel free to include why. Finally, if something on the playlist isn't working for you (like at all), I want to hear that, too.
Email me: jpetersen@cprmail.org
This is an experiment, we'll see how it goes and adjust as needed.
---
April 12, 2021
Kid Cudi Pays Tribute to Kurt Cobain on SNL
Kid Cudi has made his Kurt Cobain super-fandom no secret– he even got a Cobain (wearing a Daniel Johnston t-shirt) tattoo last year.
Cudi was the musical guest on this past weekend's Saturday Night Live and took advantage of that big stage by offering up tributes to Cobain (as well as past SNL-cast member Chris Farley) by wearing a very Cobain-esque green cardigan with accompanying Farley t-shirt for his performance of "Tequila Shots," as well as a flowery dress (in a new design by Virgil Abloh) reminiscent of those once donned by Cobain for "Sad People." Watch both below.
https://www.youtube.com/watch?v=Mr6Vyc_qYMg
https://www.youtube.com/watch?v=PsagiYnmN_4
---
April 11, 2021
Last Week in Coffee
It's been a minute since we checked with the daily feature A Cover with Your Coffee (and a minute in general). Hear it on the air every weekday morning around 7:40MT. Here's what we heard this past week.
Monday (4/5): Spoon playing Tom Petty's "A Face in the Crowd"
Tuesday (4/6): TV on the Radio playing Pixies' "Mr. Grieves" (Happy Birthday, Frank Black!)
Wednesday (4/7): Frances Quinlan playing Built to Spill's "Carry the Zero"
Thursday (4/8): Dry Cleaning playing Grimes' "Oblivion"
Friday (4/9): Massive Attack playing William DeVaughn's "Be Thankful for What You've Got" (celebrating the 30th anniversary of M.A.'s Blue Lines debut today)
---
Mar. 1, 2021
Songs for Your Waking Life
My latest Waking Life playlist is up and streaming! It's 35 fresh cuts I've been digging for the past month or so, including Madlib, Flock of Dimes, Dinosaur Jr., UNKLE, tUnE-yArDs, Black Pumas, and more! Best enjoyed on SHUFFLE – go, get!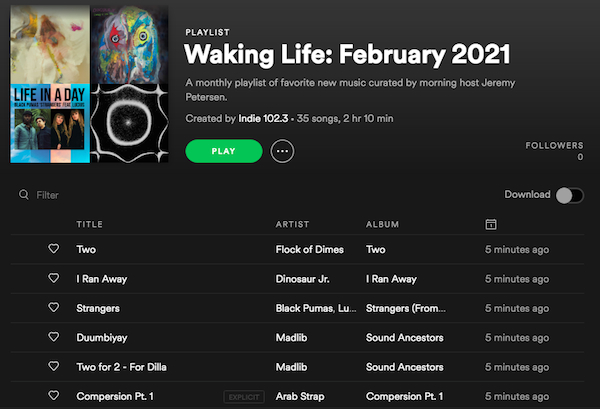 ---
Feb. 17, 2021
RIP, Françoise Cactus
Françoise Cactus, one half of the Berlin-based duo Stereo Total, has died following a battle with breast cancer, according to a statement from the band. She was 57.
Cactus formed Stereo Total with Brezel Göring in 1993 and they went on to release twelve albums of kaleidoscopic sound, employing an energetic style that drew on a multitude of genres. Their latest, Ah! Quel Cinéma!, was released in 2019.
---
Feb. 10, 2021
Phoebe Calling
As you may have heard by now, Phoebe Bridgers played Saturday Night Live this past weekend (see it below). There's for some reason been more than a little debate concerning the AGD (Attempted Guitar Destruction) that occurred, at least some of it using the "Why would someone do that to a perfectly good instrument?" angle as a starting point. Generally speaking, that's before they get to hand-wringing over the part that the would-be instrument-basher is female.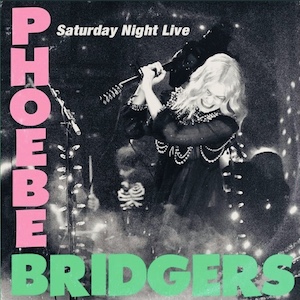 Taken outside of the context of Phoebe Bridgers, I understand the comments about the trite-ness of this rock & roll cliche (the "shame about that perfectly good instrument" part, I suppose, has always been present). But this was not really that. I can't claim to know what her ultimate intention was, but one only need to read her Twitter feed to know that Bridgers isn't angsty or attention-starved. The personality she presents often could not be more different than that her songs suggest. A winking, smiling bashing with an ironic nod to the history of guitar destruction (an almost exclusively male occupation, no accident) is much more her thing. It was a send up, in other words, all pre-planned, right down to the fake monitor and the pyrotechnics and the fairly indestructible Danelectro (the company themselves told her good luck with that). The amount of online self-owning it's spawned has been hilarious and breath-taking, though.
---
Jan. 31, 2021
Songs for Your Waking Life
My latest Waking Life playlist is up and streaming! It's 44 fresh cuts moving 2020 into 2021, including Teenage Fanclub, SZA, Viagra Boys, The Notwist with Juana Molina, Jenny Lewis & Serengeti, and more! Best enjoyed on SHUFFLE – go, get!
---
Jan. 10, 2021
A Last Wrap on 2020
We finally said goodbye to 2020 recently (although technically, we're still trying) and I think I speak for just about everyone when I say, "Yep, pretty good to see it go."
But the music of 2020 is perhaps the one exception to that sentiment, and I don't know about you but I haven't even come close to getting caught up with it all. As you may know, we've rounded up some of those 2020 faves here on the site, both ours and yours. As for me, I listed my favorite cover songs of the year (for obvious reasons), and here's a slightly expanded version of my favorite albums. No order intended, except for the first 10 and the next 10.