Looking Back On 40 Years Of Wax Trax, Denver's Vinyl Record Mecca
Sometimes it still feels like 1978 inside Denver's Wax Trax Records.
Maybe it's the creaky wood floors, or the ever-present soundtrack of '70s-era underground rock that plays through the store's speakers.
But a big part of that preserved-in-time feeling probably comes from the owners, Dave Stidman and Duane Davis. 
If they're not in the corner CD store of Wax Trax, then it's a safe bet you can find them two doors down restocking the endless stacks of new and used vinyl. It's been 40 years since Stidman and Davis took over, and that time comes with a lot of colorful stories from a seedier time in Denver's Capitol Hill neighborhood. 
"We got into the corner store in 1978 and we got this space probably early '80s. It had been a woman who had a needle-craft store," Davis said, standing among rows and rows of vinyl albums. "One day a couple of guys — one of them chased the other one into the store here where she was at — they had a big fight...They ran back outside and one of them shot the other one in the alley right here."
Davis said a week after the shooting, the woman with the needle-craft store closed up shop, and the space became part of Wax Trax. 
The original Wax Trax store opened in 1974 on the corner of 13th Avenue and Washington Street. It was originally owned by Jim Nash and Dannie Flesher, who held onto it for four years before they decided Chicago was calling their name. Nash and Flesher are best known for founding the independent record label, Wax Trax! Records — a story that's recently been told in the new documentary, "Industrial Accident."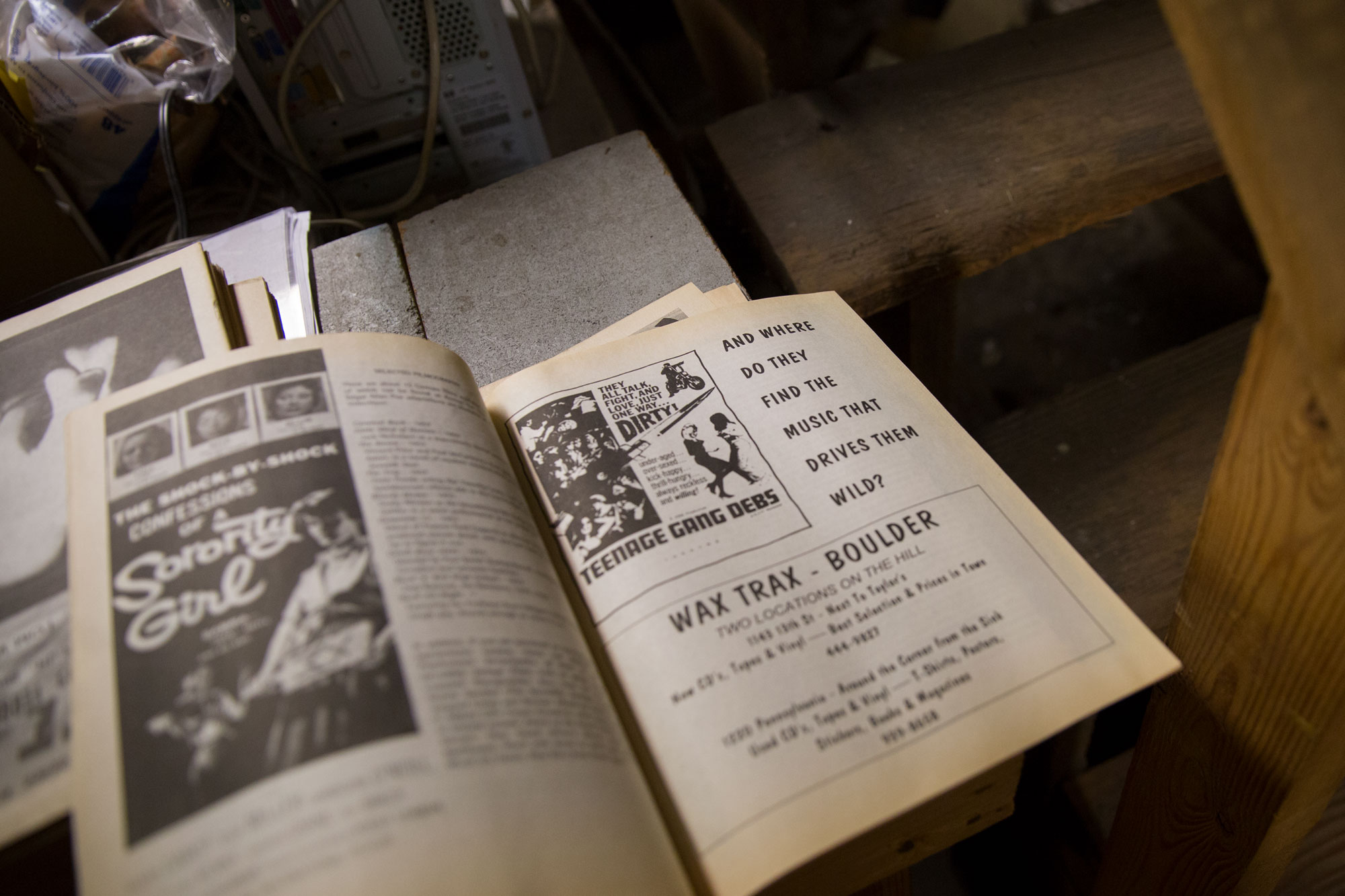 How Stidman and Davis then came to be the owners of the Denver store has to do with a radio commercial, the Jefferson County Human Services Department and a shared passion for underground music. 
Stidman remembers the day he first heard the name Wax Trax. He was out on his front lawn doing yard work with his wife while the radio played in the background. 
"She heard this commercial on the radio about this record store that had used records," he said. "So she said, 'Hey Dave, you gotta check out this record store in Denver. It sounds like they carry the same kind of stuff you have.'"
When Stidman went down to the store, he spent the whole day playing records with one of the employees and struck up a friendship with the owners, Nash and Flesher. From then on, Stidman was a Wax Trax regular.  
Stidman already knew Davis because the two worked together in the Jefferson County Human Services Department. Davis was Stidman's favorite guy at work because he could talk about music with him. But the idea to buy the record store didn't come up until the annual juvenile probation chili and beer picnic. 
"Dave and I had both had a couple of beers," Davis said. "Dave says, 'Hey let's get a record store.' And I said, 'Well, open another beer and let's do it!'"
A few months later, Stidman had worked out the details with Nash and Flesher.   
"We thought this might be the right thing to do," Davis said. "Because social services was a meat-grinder job. We were getting tired of saving kids and decided we'd rather corrupt them." 
Nash and Flesher wanted to make sure the new owners would carry on their tradition of exposing Denver to music it had never heard before. Stidman and Davis were confident they could preserve the culture the original owners had created — a culture that had attracted some famous regulars. 
"Jello Biafra [of the Dead Kennedys] has been a longtime friend and customer to the store when it was the old owners Jim and Dannie," Davis said. "When they left, they told Dave that we were inheriting a hundred dollars in new stock and Jello Biafra. We sold all the stock but we still got Jello."
Owning a record store comes with expected challenges. But less than a year into owning Wax Trax, Stidman and Davis learned that one of those challenges included car crashes.
Courtesy of Wax Trax Records
"Of which we've had numerous being on the corner of 13th and Washington," Davis said referring to the handful of times cars have veered off the road and smashed into the store. "The first one came through the Washington side of the building and the car was all the way into the building."
"It wiped out quite a bit of our stock, we didn't have a lot of stock but what we had was partially wiped out in the car wreck," Stidman added. 
Things have quieted down at Wax Trax in the last decade and the store has seen a new wave of popularity with the recent resurgence of vinyl. It's unlikely the vinyl boom will burn out anytime soon. In a recent Forbes report, vinyl record sales in the US brought in more than $700 million in 2017.  
    
And at Wax Trax, Stidman said there's never a shortage of music lovers willing to spend their day sifting through the endless stacks of new and used records.