Partisanship And Palisade Peaches At An Urban Farm In Northeast Denver
Conservative military matriarch Sandy Russell and liberal urban gardener Adam Brock last met in Russell's Palmer Lake home, picking away at partisan barriers over her homemade Scottish dundee stew.
Earlier in August, the tables turned. Russell drove an hour from her rural home to the industrial heart of Denver, where Brock's market and greenhouse sits between the Purina Pet Chow plant and I-70 construction.
The GrowHaus sprung up in Denver's Elyria-Swansea neighborhood 8 years ago. The nonprofit is a commercial farm, market and host to a number of nutrition and gardening workshops.
"This is a space that I put a lot of my love into and that many, many people put their love into," Brock said amid the bilingual signage, fresh produce and colorful papel picado streamers in the GrowHaus market.
Russell is immediately impressed by the sight of the greenhouse and an aquaponics farm dotted with hundreds of heads of lettuce.
"A produce place being in a neighborhood like this, because you're really usually looking for a big box store, you're looking for King Soopers or something like that. You come in here and you're like, 'Wow,'" she said.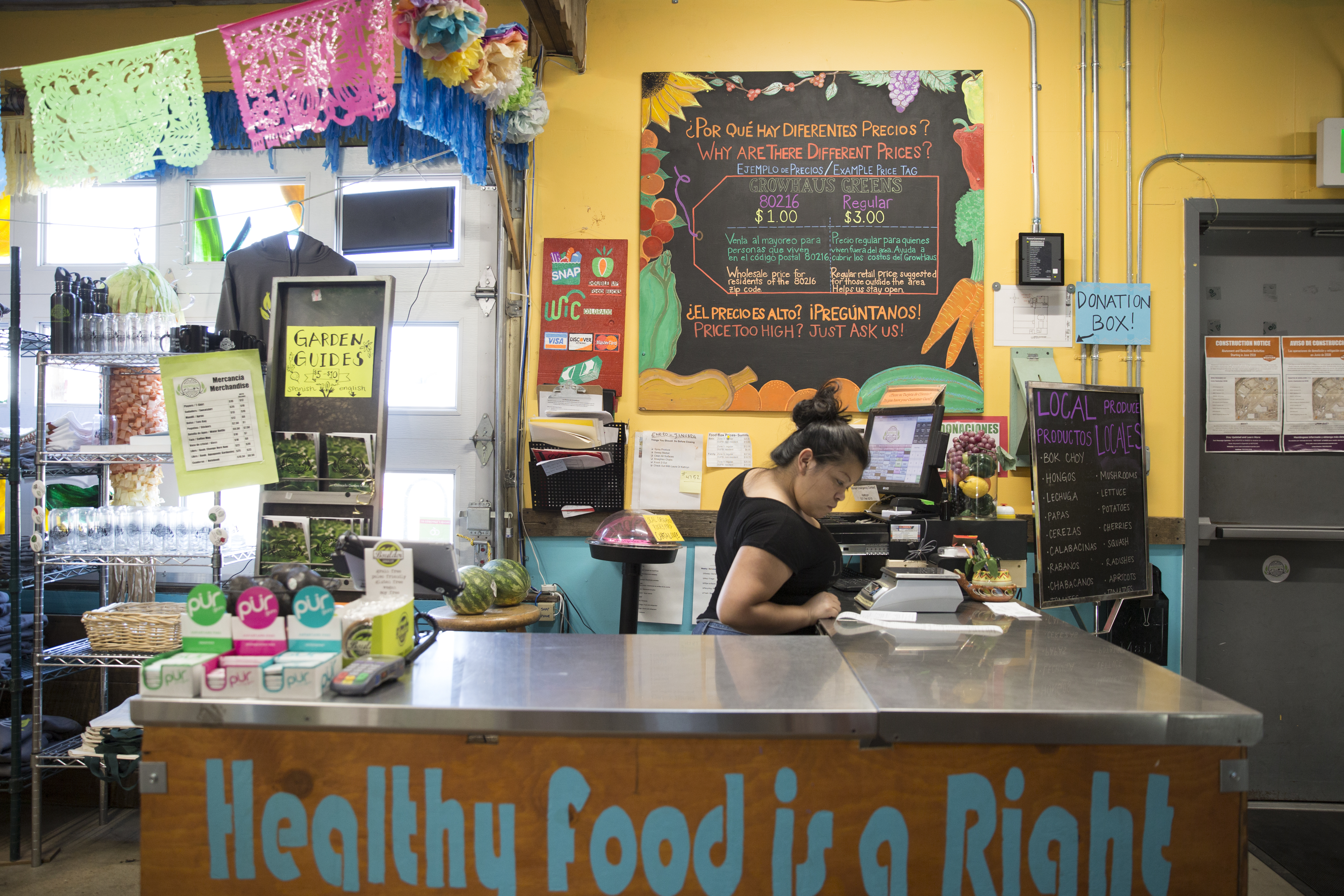 Russell and Brock decide to break peaches instead of bread, grabbing a few Western Slope-grown fruits for their talk. Since meeting at Russell's home, their perspectives have already shifted on the ideas of military and community.
"I'm really impressed that our communities are all about doing a positive thing. Military is a positive in that they are working to protect our country from people who would want to do us harm. His community is making life better for the people who live in that community," Russell said.
"I think I won't be as quick in the future to have a knee jerk reaction against the military now that I've heard some of the stories you've shared about what it can bring to people who've served," Brock added.
But there were still partisan divides that split Brock and Russell. Immigration was an especially pronounced topic as the two sat in Elyria-Swansea, a neighborhood where 84 percent of residents are Hispanic, and many households are mixed-status or entirely undocumented.
Brock knows a number of those undocumented neighbors, some of whom came to the United States as children. He supports a pathway to citizenship for immigrants who may have crossed the border illegally. Russell is a self-described stickler on immigration.
"The word that I think that we're skirting around is illegal. So when we say undocumented, we are saying illegal," she said.
Russell supports building the wall as a way to level the immigration the process, while Brock believes the wall would be a waste of money.
But the two have more in common than at first blush. Both believe that undocumented immigrants who have lived in and contributed to communities for decades, and those who came to the U.S. as children, should be given a more direct route.
"But for people who have been here, and again for people who have been here since they were too young to speak and this is all they know, I just don't see the argument that because they quote-unquote 'cut in line' that they should be sent back to a life they know nothing about, maybe even a language that they don't even speak," Brock said. "It just seems cruel and inhumane, and really not even good for our community or economy."
"These people have come over here perhaps by no choice of their own, perhaps it was a family coming, bringing children with them, and then the children grew up, and the children had children, and then they became a part of this community," Russell said.
Brock was surprised, but encouraged to hear that Russell didn't fall in line with all of President Trump's immigration policies. He wanted to hear more conservatives like her who support Trump, speaking up about creating pathways to citizenship.
"Not all of us are in that deplorable basket. So we do have some individual thinking," Russell replied.
Russell lamented that there aren't more conversations between conservatives like her and liberals like Brock.
"Why is it that we have gotten to the point where you have to be here, you have to be here, you can't be in the middle," she said, before gesturing to the bounty of stone fruit at the center of the table. "Like this peach?"