Theater Shooting: As Holmes Defense Begins, Here's What We've Learned So Far
Two months and 200 witnesses after the prosecution in the Aurora theater shooting trial rested, James Holmes' defense team is about to begin presenting its case. Holmes has pleaded not guilty by reason of insanity to gunning down 12 people and injuring 70 at the 2012 midnight premiere of "The Dark Knight Rises." Here's a recap of what's happened so far and what may happen next in court.
Why the prosecution spent so much time rehashing the scene of the attack:
The prosecution team has the burden of proof. They must prove each murder and attempted murder charge.  This became a point of contention between the two sides.  Holmes' attorneys complained that the prosecution was going over the top in presenting graphic eyewitness testimony photos of injuries and dead bodies.  They said, "Hey, we've essentially conceded that he's the gunman. We should be focusing on  his mental state at the time."  But "essentially conceding" doesn't legally mean anything. Holmes attorneys would have to stipulate that he committed each and every crime he's charged with. Absent that, the prosecution must put on its case.
The graphic testimony could aid the prosecution at sentencing:
District Attorney George Brauchler is seeking the death penalty. That's why he made sure to have a victim testify nearly every day. In between all the mundane evidence cataloging and boring FBI witnesses, the district attorney made sure to never let the emotion of what happened lose momentum.  In fact, he bookended his case with the two most powerful eyewitnesses.  
The first witness to take the stand was Katie Medley.  She was nine months pregnant with her baby boy at the time.  She told the jury she noticed that her husband Caleb had been shot in the face. He suffered serious brain damage and is now in a wheelchair.
The last person to take the stand was Ashley Moser, whose 6-year-old daughter Veronica was killed in the shooting.  Moser herself was paralyzed and suffered a miscarriage.  She told the court she remembered falling onto her dead child. You could tell that even the DA, Brauchler, was getting emotional at that point in the questioning.
Why so much of the trial has focused on Holmes' mental state: 
Holmes is clearly mentally ill.  No one disputes that.  But was he legally insane?  That's the big question.  And every piece of evidence could be seen both ways.  First, there was his notebook, which laid out a well thought out plan to kill lots of people.  But it also included nonsensical ravings.  His interviews with psychiatric experts show someone who knew what he was doing was legally wrong, but they also paint the picture of a deeply troubled person. 
Holmes says he gained self worth by killing people:
The heinousness of the crime coupled with his strange calculus of human life work against the prosecution, which, in Colorado, carries the burden of proving that Holmes was sane at the time of the attack.  But working in their favor is the testimony of these psychiatric experts who spent many hours evaluating him.  The two appointed by the court were unequivocal: Holmes suffers from a mental illness but he could tell the difference between right and wrong.
How the prosecution explains that conclusion to the jury: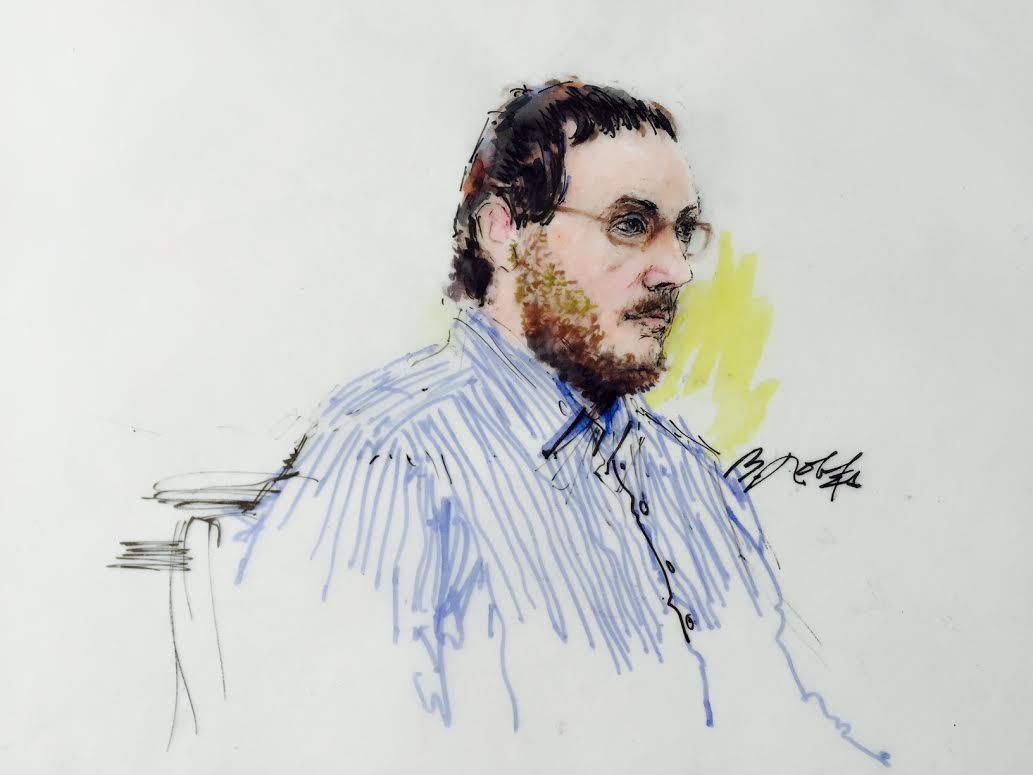 Holmes admitted on tape in one exam that he knew what he was doing was "legally wrong." He expressed remorse when he discovered a child was killed.  In fact, he said he picked a midnight movie showing to avoid children.  Holmes never divulged his plan to his college psychiatrist.  Because he knew if she got wind of it, he'd get locked up.  He also feared that the FBI was watching him.  Which, to the psychiatric experts, meant he knew what he was doing was wrong.
Why Holmes' attorneys grill these psychiatric experts:
There's a key exchange between Holmes' lawyer Dan King, and the prosecution's star witness, Dr. William Reid:
"Absent his mental condition we wouldn't be here at all would we?" King asks. 
That's a true statement," Reid replies.
"This crime would never have taken place without this mental illness?"
"That's true, in my opinion, yes," Reid says.
King also pointed out that the experts saw Holmes years after the attack, after he had been put on powerful psychiatric medications -- that the Holmes they interviewed was not the same gunman who stormed the theater three years ago.  And in the end it's whether Holmes was insane at the time of the attack not today. 
Today, the defense begins. They have experts of their own:
They're expected to call two psychiatric experts who will testify that Holmes was insane at the time of the attack.  That he suffers from a form of schizophrenia, which is prevalent in his family history.  They'll surely emphasize the delusions Holmes experienced.  He says he would see shadows of heads getting cut off, for example.  
The prosecution took two months. Will the defense take that long?
No, the defense says they plan to take about 2 weeks for their case.  Beyond the few psychiatric experts, they'll likely call others who had interactions with Holmes -- classmates maybe, or some police who were around him after the attack.  The judge says he expects the case will be over by August. In fact, he's allowed jurors to schedule vacations for September. 
Five jurors have been kicked off the case. Why were they dismissed?
One juror recognized witnesses, some overheard news about the case, one had a family member involved in an armed robbery during the case.  I think if there's a common theme for the dismissal of jurors in this case, it's that the judge, Carlos Samour didn't trust them anymore.  He's a former prosecutor, and he questions them thoroughly when an issue arises.  And if he finds an inconsistency, that juror is probably gone.  Other jurors who recognized witnesses or were exposed to media reports were allowed to stay.  But if Samour loses faith in you, you're gone.  He's had the luxury of doing that since he started with 24 jurors.