This CU Fulbright Scholar Composes Music About Science Using Molecules He Studies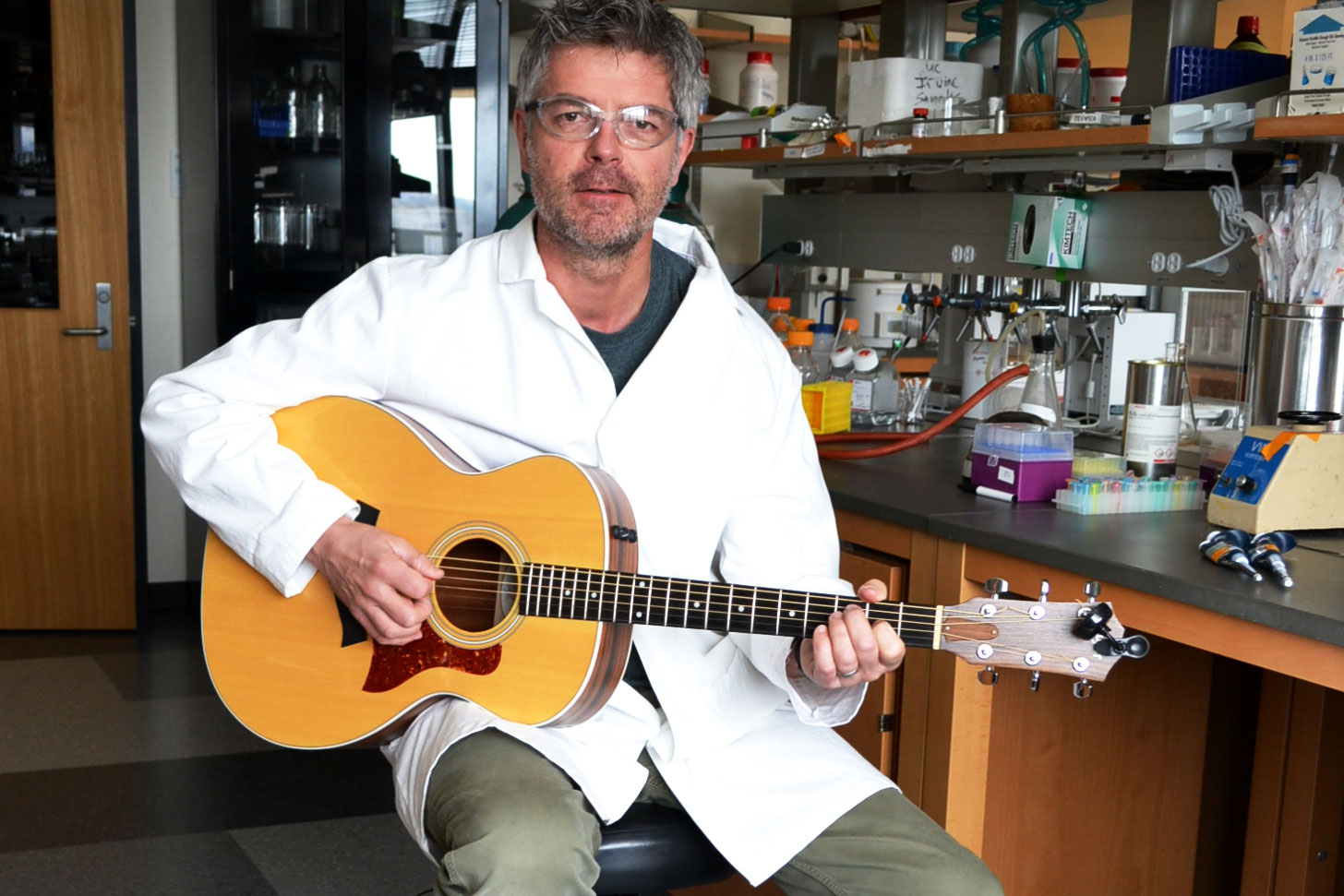 What does a molecule's song sound like?
With the help of biological chemist Colin Campbell, it's a mix of experimental guitar strumming, a pattern of notes on a piano and sometimes a chorus of lab assistant's voices.
The Fulbright Scholar teaching and researching at CU Boulder is blending his love for music and science. An impending break from his studies spurred his creativity.
"Coming on sabbatical, I should be thinking about, 'What would I do if I was really living the dream?' And if I was really going to live the dream from my perspective as a musician and a scientist, I would make some music about science," Campbell said.
Campbell has played guitar and bagpipes on and off for years, as well as composing electronic music. But turning the molecular structures he studies as a chemist into instruments was a first.
It takes trial and error to identify what recurring patterns in molecules and chemical formulas make music, and not just noise. Campbell found that out over the numerous attempts it took to compose "Frameshift" and "RNaseP," which came out of DNA and RNA strands.
In a song called "Sweeping the Sky," Campbell and his students cut the nucleus of a cell in half and used the contrasts seen in the photo of that cross section into a melody. Then Campbell layered the resulting instrumental song under audio of his female students reading the poem "Planetarium" by Adrienne Rich, which follows the career of early female scientist Caroline Herschel. 
"You could hear something about the diversity of scientists working in the lab with the music that came from the lab," Campbell said.
Another composition, "Atomic Love Poem," also includes spoken word. Campbell worked with the Scottish artist who wrote the poem that Campbell then composed music around. 
Those collaborations are a typical result of his musical side project, and Campbell takes pride in exposing more people to both art and science.
"Chemistry doesn't just happen in a lab. We're all made up of chemicals, and everything you see out the window is made of chemicals," he said. "So I think that's a great start to (making connections)."
Colin Campbell will perform six of his composition at CU Boulder on Tuesday, April 16 from 5:15 - 6:15 p.m. The performance is free. More information.