Recipe: Colorado red beet, butternut squash and cranberry 'Thankhanukkah' latkes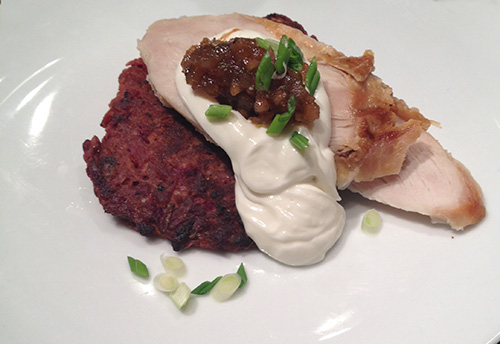 Latkes:
2 large local potatoes such as Albert Bartlett Rooster Potatoes, washed
1 large organic Ray Domenico red beet, washed & peeled
¾ cup shredded organic Full Circle Farm butternut squash
½ cup chopped shallots
½ cup chopped green onion
½ cup dried cranberries
2 cage free organic Cottonwood Creek brown eggs, whisked
3/4 cup organic all purpose flour OR rice flour (for gluten free option)
2 tablespoons sea salt + extra for finishing
1.5 tablespoons of madras curry powder (organic local brand such as Smith & Truslow)
1 cup rice bran oil or coconut oil for shallow pan frying
Garnish:
2lbs Sliced roasted Diestel heirloom turkey breast, warmed in gravy
1 cup Noosa honey yogurt
1 cup apple pear chutney (made earlier)
Directions:
Using a box grater or the shredding disc on a food processor, shred the beets and potatoes. Let drain for a few minutes in a strainer to release excess moisture. In medium mixing bowl, combine eggs, shallots, green onion, salt & curry powder.Fold in the potato-beet mixture until well mixed. Add the butternut squash.
Add the flour and gently mix by hand, until mixture has "sticky" feel to it and can form into uniform patties that hold together. Adjust flour as needed.
Heat oil in saute' pan. Drop 2 tablespoon-size patties into oil and press down gently so they look like small
pancakes. Fry until golden brown and then flip. Once crispy on both sides, place on paper towel or parchment sheet. 
Sprinkle with sea salt and keep warm in oven.
Chutney:
2 medium organic pears, cored & diced small 
2 medium organic apples, cored & diced small
¼ cup minced fresh jalapeno
¼ cup Bragg's apple cider vinegar
½ cup Big B's organic spiced cider
½ cup organic brown sugar
1 pinch sea salt
1 pinch cracked black pepper
Directions:
In small saucepan, cook apples, pears & jalapenos until they "sweat" and release moisture. Add all remaining ingredients and simmer on low until liquid reduces and mixture becomes like a thick jam. Remove from heat, cool and store in fridge for up to 1 week.
Top Latkes with warm roasted turkey, apple chutney & yogurt. Give gratitude for those in your life who you love, and let them share in your multicultural feast!
These recipes are by chef Daniel Asher, of Root Down & Linger Restaurants.
You care.
You want to know what is really going on these days, especially in Colorado. We can help you keep up.  The Lookout is a free, daily email newsletter with news and happenings from all over Colorado. Sign up here and we will see you in the morning!