Every night is a swing dance night in the metro area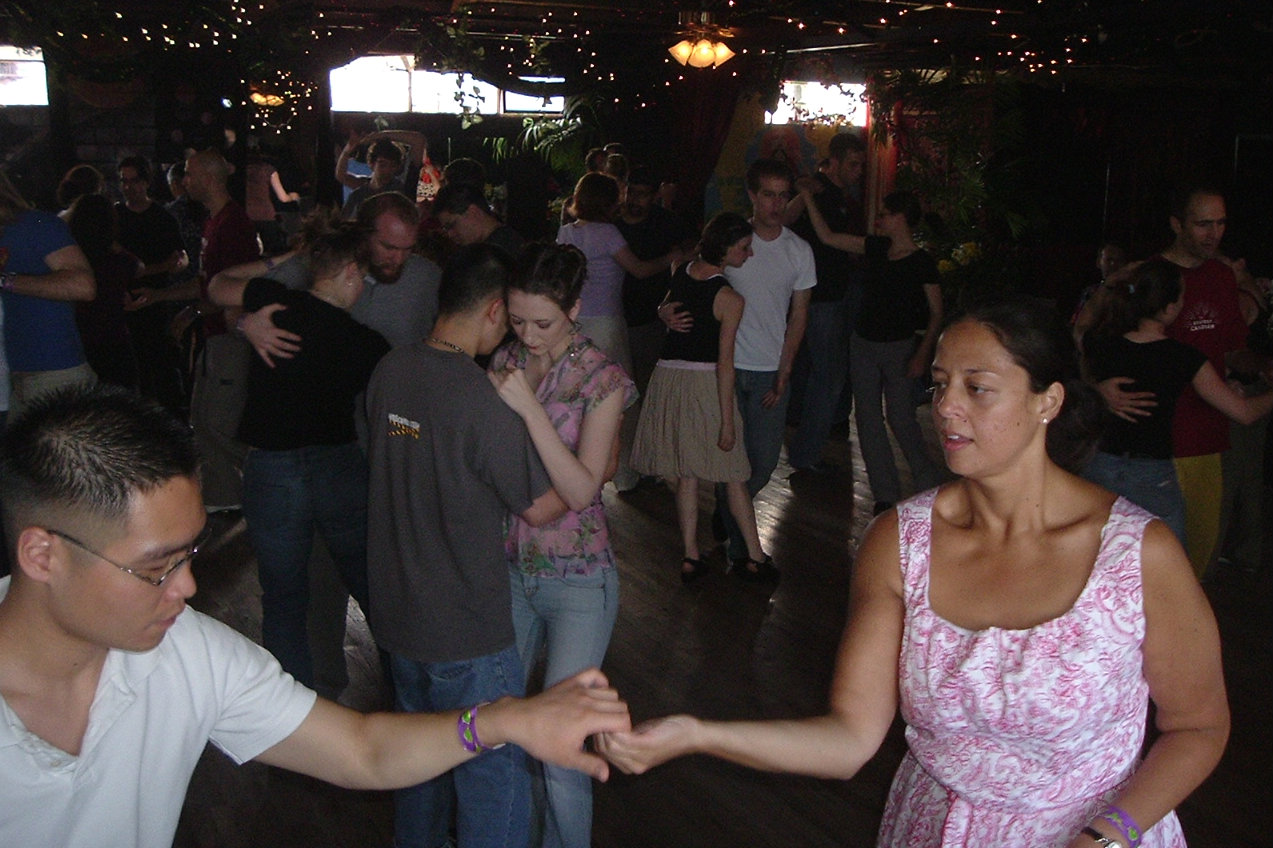 The origin of swing dancing goes hand-in-hand with the birth of jazz music. Take the Lindy Hop, the most popular form, which can be traced to late-1920s Harlem. Drawing on both African and European traditions, the dance unfolds with flow and frenzy, often reflecting the feel of the music.
As it evolved, swing dancing took on new forms. Blues. Shags. Jitterbugs. Jives. And despite the different rhythms, paces and steps, one thing remains the same: its social nature. That is to say it takes two people to Lindy Hop. This means no two dances are ever the same, says David Vinson, membership coordinator for the Colorado Swing Dance Club. The group fills the Denver Turnverein every Friday night.
"It's a skill set you keep getting better at simply by doing it," Vinson says. "Every dance is truly a learning experience. Social dancing is always spontaneous."
Whether you're a beginner in need of an introduction or a regular body mover stricken with a case of happy feet, you can boogie-woogie your way across a floor most nights in the Metro area.

Mondays at Overstreet Dance Company (5366 S. Bannock Street; Littleton, CO 80120)
Lindy Hop and East Coast Swing beginner and intermediate classes at 7 pm; social dance at 8 pm; $10 for class and dance
Tuesdays at the Mercury Cafe (2199 California Street; Denver, CO 80205)
Blues Dance intermediate class at 6:30 pm and beginner class at 7:30 pm; social dance (live band on first Tuesday) at 8 pm; $11 for class and dance
Tuesdays at the Avalon Ballroom (6185 Arapahoe Road; Boulder, CO 80303)
Lindy Hop beginner class at 7:30 pm; social dance at 8:30 pm; $15 for class and dance
Wednesdays at the Irish Snug (1201 E. Colfax Avenue; Denver, CO 80218)
Swing dance to the sounds of local band Gypsy Swing Revue starting at 8 pm
Thursdays at the Mercury Cafe
Lindy Hop beginner class at 6 pm and intermediate class at 7 pm, $10 for a class or $30 for a month; social dance at 8 pm for $6
Thursdays at the Stampede (2430 S. Havana Street; Aurora, CO 80014)
West Coast Swing beginner and intermediate classes at 6:30 pm, $5
Fridays at the Denver Turnverein (1570 Clarkson Street; Denver, CO 80218)
Lindy Hop free beginner class and $5 intermediate class at 7 pm; social dance at 8 pm, $7
First Saturday of every month at the Avalon Ballroom
Lindy Hop beginner class at 8:30 pm; social dance at 8:30 pm; $15 for class and dance
Sundays at the Mercury Cafe
Swing dance beginner classes at 5:30 and 6:30 pm; social dance with live band at 8 pm; $10 for classes and dance
Sundays at the Denver Turnverein
West Coast Swing beginner and intermediate classes at 5:30 pm; social dance at 6:30 pm; $10 for class and dance, $5 for first-timers