Long lines mark Colorado's first recreational marijuana sales
Owners and operators of Colorado's new retail 
marijuana
 stores found excited customers lined up in the pre-dawn chill of New Year's Day.
Among those waiting outside of 3-D, Denver's Discrete Dispensary, was Brandon Harris who drove 20 hours from Banchester, Ohio, to be one of the first to buy marijuana legally. 
"We just moved here," Harris said. "We brought all our belongings we are not driving back to Ohio. We have money to get a place. We are staying until Ohio decides to legalize or to make it medical."
News of Harris' decision struck a chord with Brian Vicente, one of the co-authors of Amendment 64, the 2012 citizen-initiative which legalized marijuana.
Vicente was also at 3-D to celebrate the start of recreational sales.
"That's powerful," said Vicente, as the room around him buzzed with media representing outlets from around the world. "If you think about the marijuana prohibition, how long it's been in effect, how repressive it has been for people who like smoking marijuana or perhaps use it for medical purposes, this is an incredible watershed moment."
The first person to take advantage of the law's change was Sean Azzariti, the first to purchase at the dispensary.
Azzariti is a veteran of the Iraq war who also worked on the Amendment 64 campaign to lobby the state to recognize PTSD as a condition medical marijuana could treat.
"It really hasn't quite sunk in to me just how big this is yet," Azzariti said while buying a strain of marijuana called Bubba Kush and some marijuana-laced chocolate candies.  
"It's just such a momentous thing that I think we're all on this adrenaline rush," 3-D owner Toni Fox said describing the nonstop preparations ahead of January 1, 2014. 
Fox said that 3-D never turned a profit selling exclusively to medical customers.
So Fox took a gamble and converted her entire marijuana inventory to recreational sales.  
Now, Fox is betting the long lines of customers who turned out on Wednesday are the start of a lasting groundswell in demand.  
While the majority of recreational stores are located in Denver, other areas of the state experienced similar activity at marijuana establishments.
In unincorporated Pueblo West, long lines stretched outside Marisol Therapeutics.
Customer Sam Yanchunis didn't mind the delay but he did have one concern.
"I hope they don't run out.  I mean god forbid – man, that would be horrible," Yanchunis said.
Mike Stetler, owner of Marisol Therapeutics, was confident supply would be enough to satisfy the opening-day rush.  
For Stetler, this moment was more than a business opportunity -- it also represented a change in thinking about marijuana.
"We're starting to put our foot forward and saying, 'hey, this don't hurt nobody, it's not killed nobody, and I'd rather smoke than drink,'" Stetler said.
Stetler predicted marijuana legalization will encourage people to abandon alcohol and other drugs for what he calls a "safer alternative."
That message bothers opponents of widespread retail marijuana like Gina Carbone with the organization Smart Colorado.
In Carbone's mind, the state has become a testing ground for legalization and not in a good way.  
"Shouldn't we put some standards in place," Carbone said. "Some education, make sure our regulation enforcement is in place before we just let it loose?"
According to Carbone, Colorado's youth are being treated like guinea pigs in a massive social experiment.
Carbone has a laundry list of concerns: the potential impact of potent marijuana strains on the developing brains of adolescents, the possibility that recreational marijuana will be diverted to fuel a continuing black market, the lack of a public safety education campaign and the face that the state's marijuana inventory tracking system hasn't been fully completed.
Denver Mayor Michael Hancock has been very vocal about the social cost of legalizing marijuana but in a statement released on Wensday, Hancock called the launch of retail sales a success.
"I am proud of Denver's responsible and balanced implementation of Amendment 64," Hancock said in a statement. "Over the past year, our city agencies have worked hard to collaborate with our partners and listen to so many in our community to establish thoughtful regulations."
Hancock added that the focus on educating residents and visitors of marijuana laws produced the "fruits of that labor" on Wednesday.
---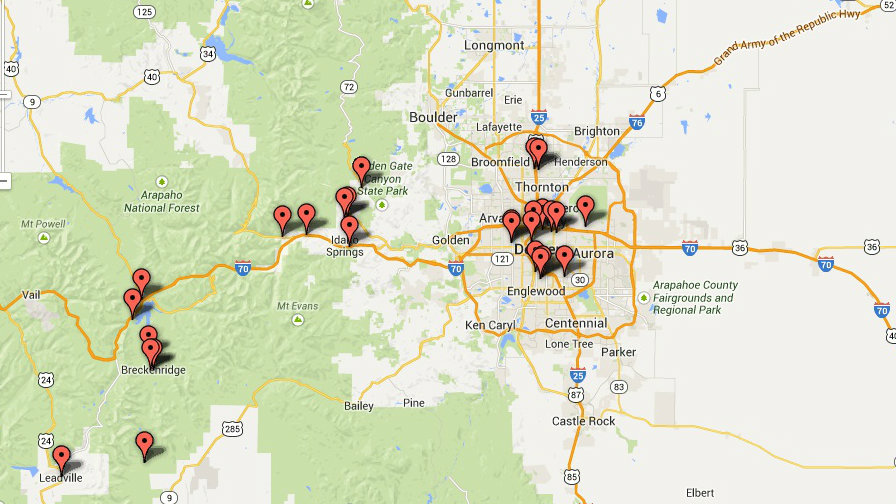 ---
You care.
You want to know what is really going on these days, especially in Colorado. We can help you keep up.  The Lookout is a free, daily email newsletter with news and happenings from all over Colorado. Sign up here and we will see you in the morning!