Sphere Ensemble equally adept at playing Tchaikovsky, Muppets theme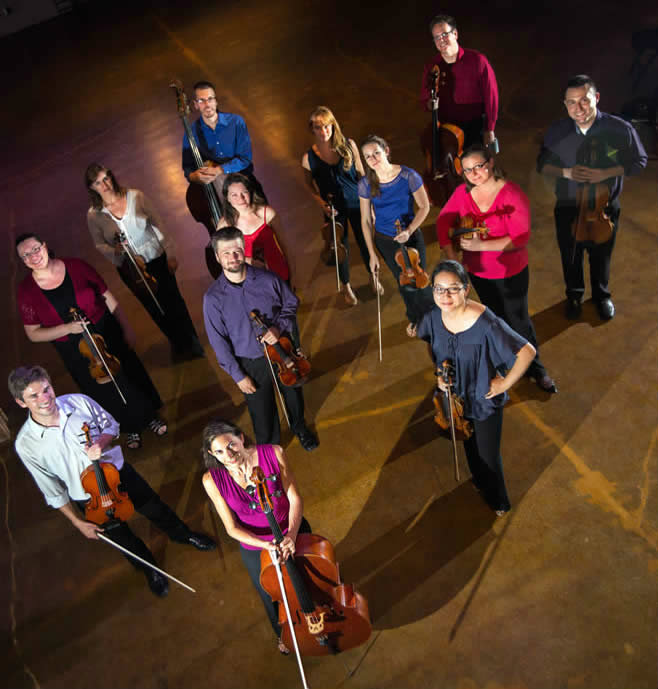 The preliminary program for this week's shows includes pieces by Debussy, Bartok, Ravel, Shostakovich, singer-songwriter Regina Spektor and "a bit of Katy Perry." (Update: Sorry, kids, but the ensemble tells us the Katy Perry piece is no longer on the program.)
Beth Rosbach, their artistic director and cellist, talked about the group's genesis during a visit to Colorado Public Radio in 2011. She remembered her reaction to watching the Academy of St. Martin in the Fields string section performing at Macky Auditorium in Boulder, which led to her recruitment calls to the musicians who eventually became members of the group.
I spent the entire concert watching the communication onstage, just the camaraderie. They looked like they were having so much fun, and I sat there and thought, "Why can't I do this?" Because I know all these great freelancers in the Denver metro area and I figured we had the people to do it. ...

Basically my pitch was, "Hey I've got this idea and I think it's going to be a lot of fun. And we're probably not gonna make much money but I think it's going be a lot of fun. What do you think?"

And everybody said yes. And it's the most flattering thing any of them could have done for me, was to be willing to embark on this with me.
Rosbach and the Sphere Ensemble will play this week at:
The Studios in Overland Crossing, 2205 S. Delaware St. in Denver, at 7:30 p.m. Thursday;
Broomfield Auditorium, 3 Community Park Drive in Broomfield, at 7:30 p.m. Friday.
Admission to both shows is $15 for adults, $10 for seniors and $5 for students.
The Sphere Ensemble will be featured Wednesday on Colorado Spotlight with Charley Samson, which airs Sunday through Friday at 7 p.m on CPR Classical. Charley will share his insights on the Sphere Ensemble in "Charley Chats" segments airing in the 9 a.m. and 3 p.m. hours Tuesday on CPR Classical.
Bravo!
You've read another CPR classical story to the end. We have got just the thing for classical music lovers like you: a weekly email newsletter! Sign up here to stay up-to-date on CPR Classical programming, events and stories from the world of classical music.