Potential Udall-Gardner Senate race drawing national attention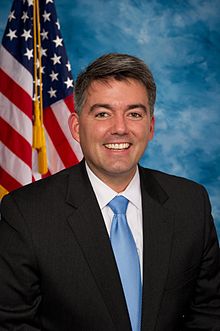 That's what political analysts are calling this fall's U.S. Senate race in Colorado after news broke Wednesday that Republican Cory Gardner wants to challenge first-term incumbent Mark Udall for his seat.
Until now, many political analysts say, this wasn't expected to be much of a race at all.
"The story that had been written was that Udall looked somewhat vulnerable, but that he was not really in danger," Colorado pollster Floyd Ciruli said. "Because the Republican Party did not have what appeared to be a strong enough candidate and they were going through a long, difficult primary process."
With Gardner entering the race, that primary just got a lot simpler. In the past day, two of the highest profile contenders, Weld County District Attorney Ken Buck and state Representative Amy Stephens, have withdrawn with Buck saying he'll instead seek Gardner's soon-to-be-open Congressional seat.
Of the other potential contenders, state Senator Owen Hill has been the most vocal about vowing to fight on with a renewed endorsement on Thursday from the conservative group Tea Party Express. Still, Ciruli says this race is now all about Gardner and Udall.
Money and personality
Ciruli and other analysts point to several factors that make Gardner a game changer. For one thing, he has a significantly higher political profile than the other Republicans in the race. After two terms in Congress, Gardner is someone national Republican leaders rely on to explain their positions to the public.
Gardner also has significantly more campaign cash on hand than other challengers, with $876,680 in his reelection account. That's a lot less than the $4.7 million war chest Udall has amassed but Gardner's announcement is likely to bring him significant new donors.
Finally, there's this one word that keeps coming up when political observers talk about Gardner: nice.
"The best assessment I've heard of Cory came from a Democrat, who said that he is the most positive, upbeat, friendly Republican that we have," Katy Atkinson, Denver-based Republican public relations consultant said.
Likeability could be key for Gardner. Democrats have successfully used the charge of "too extreme for Colorado" against many Republican candidates in recent elections. Gardner's personality, Atkinson believes, could help win over voters who aren't entirely in line with Gardner's very conservative views.
"Do people view the person as an extremist with an agenda to support that?" Atkinson asks. "Or do they view them as somebody they may disagree with on a couple of issues but agree with on the really important issues?"
Analysts reevaluating race
News that Gardner will enter the Senate race made an immediate national impact. Two DC political publications, the Rothenberg Political Report and the Cook Political Report, say they're shifting Colorado's Senate race from "safely Democratic" to only "favored or leaning Democratic."
With Democrats already at risk of losing control of the U.S. Senate, the Cook Report's Jennifer Duffy says this change is going to cost them.
"What I think that Republicans have succeeded in doing is expanding the playing field," Duffy said. "Putting on the board one more seat that Democrats are going to have to work to defend."
Colorado in the spotlight
The change means Colorado has just become a target for a lot more political spending, much of it likely focused on just one thing: the Obama Administration's health care overhaul.
Health care reform is an issue over which both Udall and Gardner have attracted attention. Gardner's came when he announced on the House floor that his family's policy was being cancelled because it didn't meet new insurance standards. Attention to Udall surfaced during a spat with the state's Insurance Division over whether it's even fair to call notices like Gardner got "cancellations" because insurers have generally offered to enroll people in similar plans.
"This [campaign] is going to be very intense," pollster Ciruli said. "Democrats are going to throw everything they've got. They've got a good playbook in this state in general."
On the other side, Colorado political analyst Eric Sondermann believes a Gardner-Udall match-up could be a defining moment for Colorado Republicans, who've spent the last few electoral cycles shut out of the state's top offices.
"The Republicans are not going to find a better candidate than Cory Gardner and they're not likely to find a better year than 2014," Sonderman said.. "So if it doesn't happen this year, that means you have to ask yourself who and when is going to make it happen?"
You care.
You want to know what is really going on these days, especially in Colorado. We can help you keep up.  The Lookout is a free, daily email newsletter with news and happenings from all over Colorado. Sign up here and we will see you in the morning!