Video: Harpist and hip hop dancer find harmony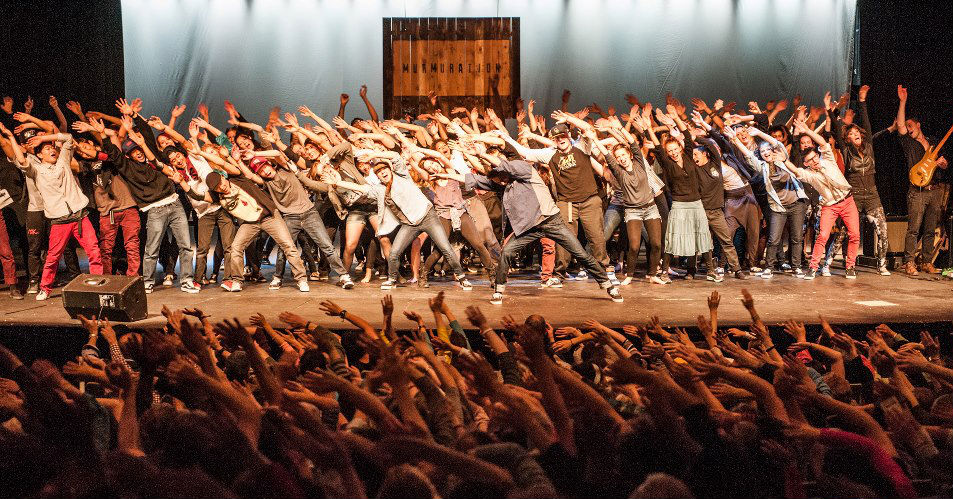 (Photo: Courtesy Yann Photo Video)A harpist harmonizes with a break dancer. A slam poet lays down lyrics as a ballet dancer interprets the verse. A barbershop quartet sets the musical backdrop for a group of contemporary dancers.
While these artists and their individual crafts may seem disparate, Boulder-based hip-hop dancer and B-boy – another term for a break dancer – Larkin Poynton is more interested in finding the parallels between them.
"I wanted to create a space where performers from different worlds and backgrounds could come together and realize we are really not that different and, at the end of the day, we are trying to get at the same thing," Poynton says.
Saturday marks the third year of "Murmuration," a showcase that features nontraditional pairings of musicians and dancers. With the event continuing to grow, organizers this year found a new home: Boulder's Chautauqua Auditorium.
In 2012, Poynton partnered with fellow hip hop dancer Chris Martin to organize the inaugural event as a fundraiser after earthquakes and a tsunami devastated parts of Japan.
After raising about $6,000, Poynton says the effort solidified a strong sense of community among the artists involved. But as the event evolved, organizers shifted the focus to a new cause.
"We wanted to put our artistic mind more into gear instead of our philanthropic mind," Poynton says.
Around 20 different organizations and ensembles will participate this year, including B-boys, ballerinas, classical musicians, Native American drummers, indie rockers and contemporary dancers.
This concept is also apparent in the name.
"A murmuration is a mass grouping of starling birds," Poynton says. "When they group together, they make formations and move as one. That's the idea behind the show: to come together and move as one."
Harpist Keely Marie Miller and break dancer Chase Evered, both from Boulder, recently visited the CPR Performance Studio to share an exclusive preview of their collaboration for Murmuration 2014.
Watch the video, in which Miller plays "The Minstrel's Adieu of his Native Land" by John Thomas, below.
Tune in to CPR on Friday at 10:30 a.m. and again at 7:30 p.m. to hear the radio dance version of harpist Keely Marie Miller and break dancer Chase Evered's pas de deux during the Colorado Art Report. For more information about Murmuration, visit Chautauqua.com.
You care.
You want to know what is really going on these days, especially in Colorado. We can help you keep up.  The Lookout is a free, daily email newsletter with news and happenings from all over Colorado. Sign up here and we will see you in the morning!