Denver, Pueblo clerks follow Boulder on issuing marriage licenses to gay couples
Denver County Clerk and Recorder Debra Johnson announced her decision shortly after a judge ruled that her counterpart in Boulder can continue to grant gay marriage licenses. Colorado's attorney general had sued to stop the licenses, arguing it was creating "legal chaos."
Late Thursday afternoon, Pueblo County Clerk and Recorder Gilbert Ortiz announced his office will begin issuing marriage licenses to same-sex couples Friday morning. 
"No court has upheld the constitutionality of marriage bans for 23 consecutive rulings – at state or federal levels all over the nation – that's significant and can't be ignored. Denying constitutional rights is an untenable position and I have to respect the Constitution, the courts and move forward," Ortiz says.
Boulder County Judge Andrew Hartman ruled Thursday that clerk Hillary Hall can ignore a federal stay on a ruling from the 10th U.S. Circuit Court of Appeals in Denver that states cannot set gender requirements for marriage.
In his ruling, Hartman described Hall's actions as civil disobedience, but said it is not harming the people of Colorado. The judge is letting Hall continue while he decides whether she is overstepping her authority by granting the licenses.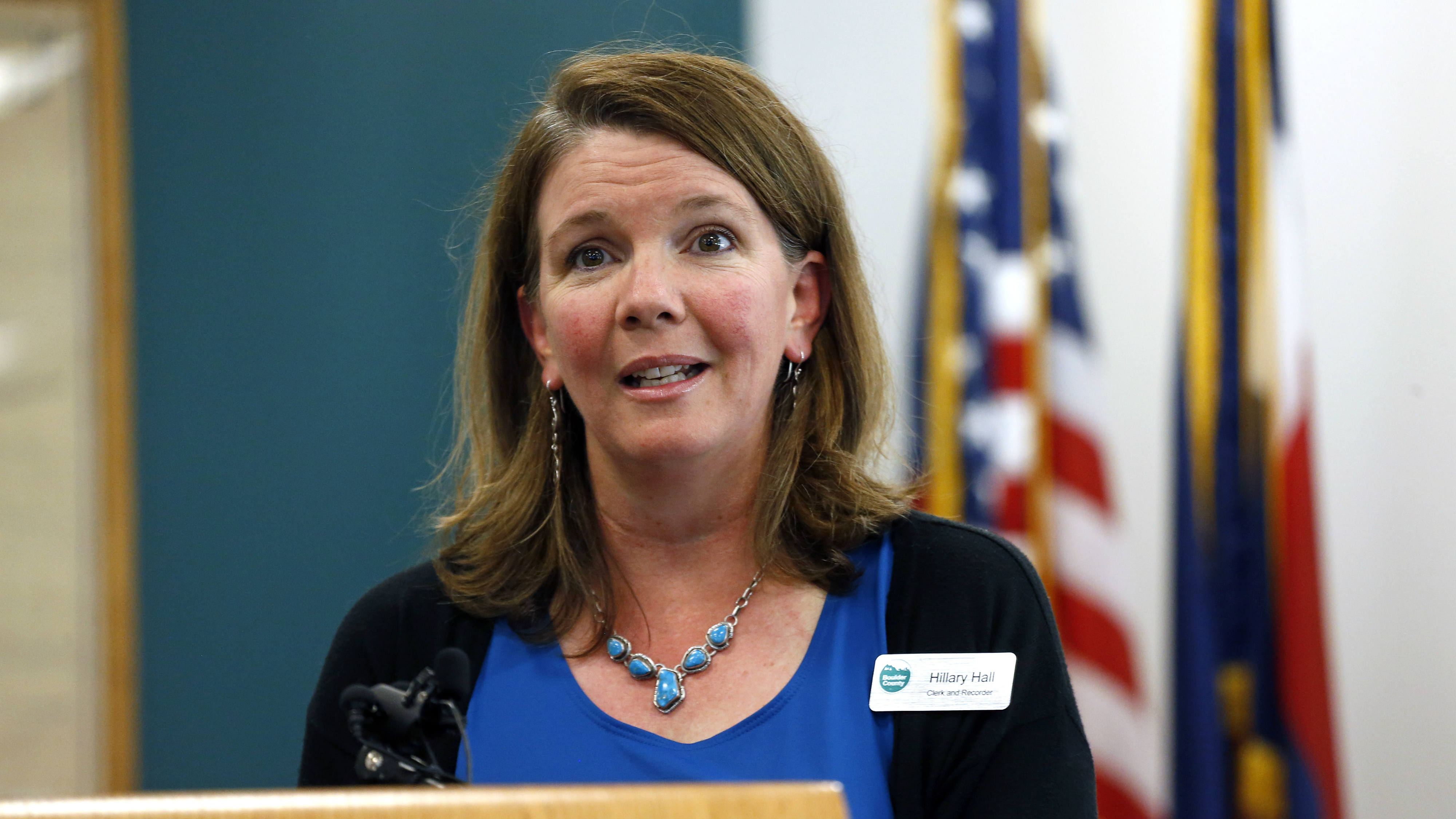 Hall says she believes she's upholding the U.S. constitution, not committing civil disobedience.
 "I am pleased that we are allowed to keep issuing licenses while the issue is resolved," Hall says. "We know it's on its way to be being resolved. We really felt all along that the most practical and least harmful was to continue with these licenses."
Colorado Attorney General John Suthers complains that having individual county clerks marrying gay couples before there's a final ruling on the law is causing legal chaos in the state.
"The uncertainty ... cries out for resolution by the state's highest court," Suthers says. "It is paramount that we have statewide uniformity on this issue and avoid the confusion caused by differing county-by-county interpretations of whether same-sex marriage is currently recognized. Therefore, we will act swiftly in an attempt to prevent a legal patchwork quilt from forming."
Anna Simon and her partner Fran were the first same-sex couple to be married in Denver on Thursday. They were also the first to get a civil union last year. Anna Simon, holding her marriage license, says it's exciting to finally be equal in the eyes of the law
"To have the same responsibilities, to have the same protections to be able to care for our son, and have the same legal tools as anyone else," she says.
CPR News reporter Ben Markus contributed to this report.
---
Correction (July 11, 2014 at 9:04 a.m.): An earlier version of this story reported that Fran and Anna Simon were the first same-sex couple to receive a marriage license in Denver County on Thursday. The Simons were the first same-sex couple to be married in Denver County Thursday.  Samantha Getman and Victoria Quintana were the first couple to receive a license but chose to solemnize their marriage at another location. The current version of this story reflects the change.
You care.
You want to know what is really going on these days, especially in Colorado. We can help you keep up.  The Lookout is a free, daily email newsletter with news and happenings from all over Colorado. Sign up here and we will see you in the morning!