Dual Denver exhibitions show differences, similarities of portrait painters
(Photo: CPR/Chloe Veltman)Stylistically, portrait painters Daniel Sprick and Jenny Morgan are miles apart. Sprick often depicts models, Morgan typically paints self-portraits. The former incorporates fine detail when painting faces, while the latter distorts the faces.
Yet the artists both use and repeat similar words -- "luminosity," "representation," "detail," "void" -- when talking about their work.
Sprick and Morgan's paintings appear at museums and galleries around the country. And they are both showing recent works in two separate exhibitions this fall in Denver, where the difference -- and similarity -- of their approaches to portraiture is evident.
Sprick's "Fictions: Recent Works" features more than 30 paintings and runs at the Denver Art Museum through Nov. 2.
Jenny Morgan's "The Golden Hour" at Plus Gallery in Denver includes seven new works. The show is up through Oct. 18.
While it's the subject that may be front and center in a portrait, Sprick and Morgan agree that their approaches and techniques convey just as much about themselves as the people who sit for them. The same can be said of masters like Vincent Van Gogh, Rembrandt van Rijn and John Singer Sargent.
"As humans, we see ourselves in everything," Sprick says. "When you do a portrait of someone else, there's an element of yourself very much in there, and there should be. It'd be a shame if it didn't."
Ketsia, 2013. © 2014 Daniel Sprick. Courtesy of private collection. Photograph by Wes Magyar and WM Artist Services. (Photo: Courtesy of Wes Magyar)
Like their creative approaches, the differences between the two artists' careers are just as notable.
Sprick is 61. He grew up in Glenwood Springs and now lives in Denver. While Sprick took art classes in college, his most constructive training came from the atelier model of working as an apprentice in the private studios of established artists. For example, he painted under artist Ramon Froman in New Mexico in 1974.
"A lot of schools just teach young artists how to talk about art," Sprick says. "Artists become great from intense amounts of repetition and skill-building to the maximum extent possible and living life fully."
Morgan is 32. A native of Salt Lake City, she began her formal training at the Rocky Mountain College of Art and Design in Denver. After six years in Colorado, Morgan relocated to New York City and earned a master of fine arts degree from the School of Visual Arts.
Morgan says during her student days she struggled to get the balance right between perfecting her technique and imbuing her work with emotional depth.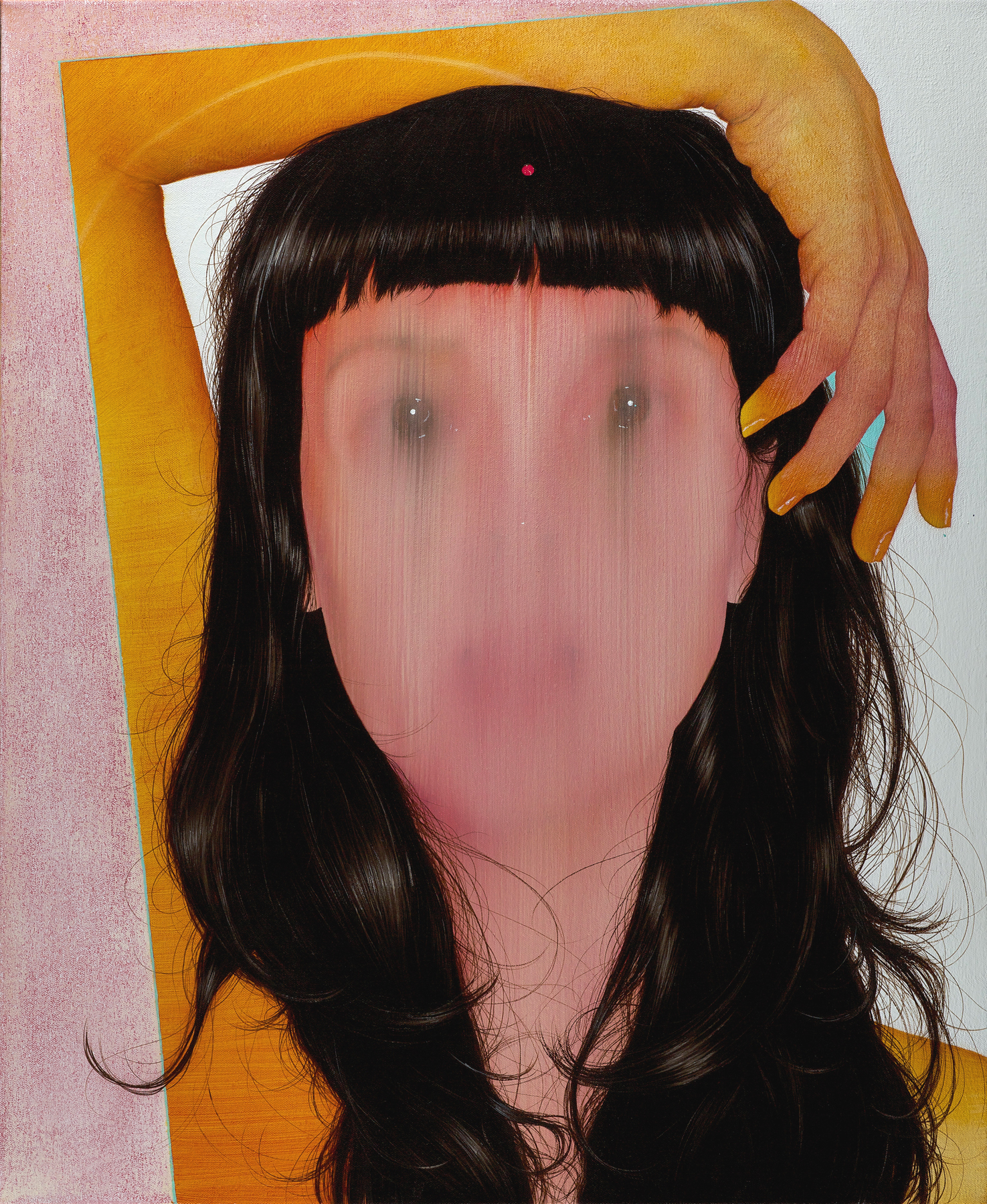 (Photo: Courtesy of Plus Gallery)"I was asked to question why I was painting what I was painting, and it forced me to do deeper investigation into what I was doing conceptually, which was very helpful," Morgan says. "But I still felt this level of shame about being a realist painter in that environment, and I think it's a product in my work with the kind of masochistic way that I tear through the skill."
CPR's Chloe Veltman recently sat down with Sprick and Morgan to discuss their art, the significance of portrait painting and the future of the genre.
Here is a preview of the conversation. Listen to the edited interview during the Colorado Art Report on Friday, September 26, at 10:30 a.m. and 7:30 p.m.
CPR: Daniel, why is your exhibition at the Denver Art Museum called "Fictions"?
Daniel Sprick: I'll take something factual and exaggerate, which is really the definition of caricature. Often times that just comes out not even consciously. And I can't get things 100 percent natural or correct or duplicate human vision.
Jenny Morgan: I don't think that's humanly possible. I don't think you'd want to either. I think it's important that the artist's hand is present, and that's what makes it individualistic.
Daniel Sprick: So it's a combination of fidelity and exaggeration. That's why Timothy J. Standring at the Denver Art Museum has called it "Fictions" because he sensed a fictional element, whether he saw the models or not.
CPR: Jenny, why is your exhibition at Plus Gallery in Denver called "The Golden Hour"?
Jenny Morgan: The title came to me after sitting in my studio and acknowledging all of the red, yellow and orange gradations. It felt like I was anchoring into this light and luminosity while making this work during these dark, winter days that I was experiencing on a physical and emotional level.
Daniel Sprick: I think we're both really interested in light and luminosity and contrasts. About the light backgrounds, it's used a lot in commercial photography currently.
Jenny Morgan: That's where my initial influence comes from is photographing my models against a white background. But for me, the white is also a void. It's a place where the individual can exist without any other influences on them, so it's really about identifying the human and letting the background fade away.
CPR: How do you choose your models?
Daniel Sprick: They just come into my life. Practically everyone I see could be the subject of a masterpiece.
Jenny Morgan: It's always friends or family. And I learned early on that I need to have an emotional connection with the person I'm painting. I have to have some kind of investment in their skin or else it becomes really empty for me.
Daniel Sprick: Total strangers are fine with me, and in some ways there are advantages. I actually prefer strangers. I have painted friends and family, and what happens is the way I paint them may not precisely overlap with the way they perceive themselves. I have hurt the feelings of people in my family or people that I care about. And I've found that actually I'm more at liberty with total strangers and hired models that don't have skin in the game.
You care.
You want to know what is really going on these days, especially in Colorado. We can help you keep up.  The Lookout is a free, daily email newsletter with news and happenings from all over Colorado. Sign up here and we will see you in the morning!