Crossroads GPS targets Sen. Udall with millions in campaign ads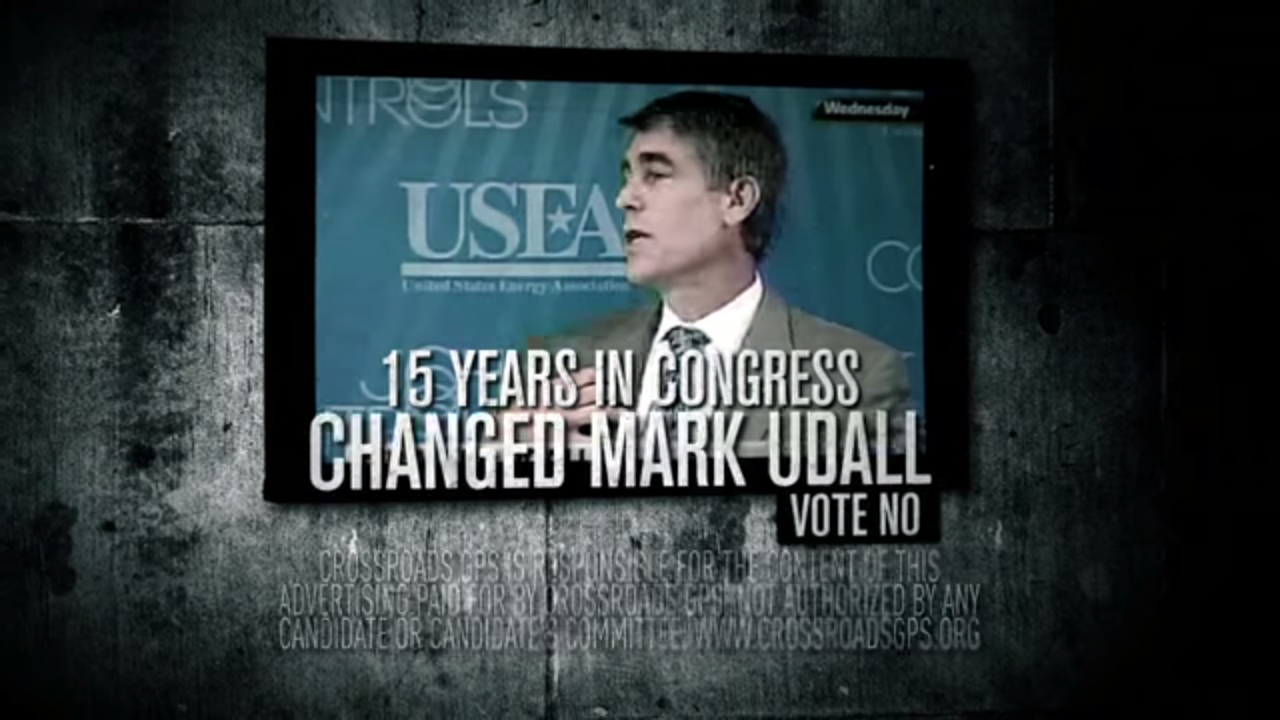 (Photo: Screenshot)Crossroads GPS, already the biggest spender on political ads in Colorado, last week scheduled another $2.1 million in ads to air between Oct. 21 and 30.
The nonprofit group founded by former President George W. Bush adviser Karl Rove is spending $9.7 million on Colorado TV ads in an effort to defeat incumbent Democratic Sen. Mark Udall in his race against Republican Rep. Cory Gardner.
More: Election 2014 coverage | Voters guides 
But Udall is the second largest spender on TV ads this year at $7.1 million. And the Democratic Senatorial Campaign Committee and Senate Majority PAC are spending almost $12 million to support Udall and attack Gardner in a race considered a toss-up.
Meanwhile, the National Republican Senatorial Campaign added nearly $900,000 worth of ad contracts through Oct. 3, bringing their total to almost $3 million. Gardner's campaign has scheduled more than $5 million in ads.
Here's a look at the top spenders in Colorado's TV:
The big picture
The U.S. Senate ads account for about 45 percent of Colorado's total political ad spending of $85 million.
That's based on an analysis of ad buys filed with the Federal Communications Commission. It doesn't include ads on cable or satellite TV.
Republicans and Democrats are relatively even in ad buys, with heavy spending in the 6th Congressional District contest between GOP incumbent Rep. Mike Coffman and Democrat Andrew Romanoff as well as the gubernatorial race between Democratic Gov. John Hickenlooper and Republican Bob Beauprez.
But Democrats lead in number of ads running, in large part because of Udall's buys. Candidates get better rates on political ads than outside groups such as Crossroads.
Here's  a look at spending and number of ads by affiliation:
What's missing
The total of $85 million in ad buys so far is likely millions of dollars low.
That's because several Denver stations aren't filing contracts on either side of Initiative 68, the effort to allow casino gambling at race tracks, or some other ballot measures.
The FCC doesn't require stations to file contracts for statewide issue ads, but does require disclosure forms that name the leaders of the efforts.
Still, many stations in Colorado Springs and Grand Junction have filed contracts for Don't Turn Racetracks Into Casinos, which opposes 68, and Coloradans for Better Schools, which supports the initiative. The two sides have raised more than $33 million and are advertising heavily via TV, radio and mail.
Some Denver stations have posted contracts related to the ballot initiative then removed them. Those contracts are still included in this CPR analysis.
KCNC Channel 4 and KMGH Channel 7 also have posted ad contracts for the No on 67 campaign against Initiative 67, a personhood measure. And KDVR Channel 31 and stations in Colorado Springs and Grand Junction also have filed contracts for that initiative and the campaign against Proposition 105, labeling of genetically modified foods.
Representatives of KCNC and KUSA Channel 9 didn't want to talk on the records about such contracts, citing the lack of an FCC requirement that the state-level issue ad buys be filed.
Spokeswomen for each side of the initiative said they haven't asked TV stations to avoid posting their contracts with the FCC.
This week's big buy
It's Crossroads GPS, of course, spending $85,000 for a 30-second spot during next Sunday's Denver Broncos game with the New York Jets. You can check out the PDF of the contract by clicking here.
The National Republican Senatorial Campaign Committee is paying $50,000 for a 30-second spot during the same game.
You care.
You want to know what is really going on these days, especially in Colorado. We can help you keep up.  The Lookout is a free, daily email newsletter with news and happenings from all over Colorado. Sign up here and we will see you in the morning!