How Franz Liszt changed concert performances forever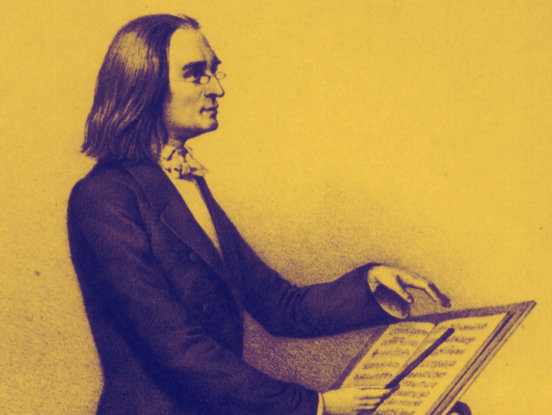 Liszt, who had worked as a touring concert pianist since age 12, refashioned himself with intensified and longer hours of practice and emerged in rare fighting form, a Colossus of the keyboard. Then he set off to conquer the concert stage.
He hit audiences across Europe and Asia minor like a ferocious Colorado hailstorm. He concertized in his own way, breaking the rules or making up new ones.
In doing so, Liszt revolutionized the face of public performance.  Musicologist Robert Greenberg says it best: "Franz Liszt was the template, the model for every performing concert pianist since the 1840s."
Virtuosity aside, Liszt astonished audiences by appearing alone on the stage. Until he came along, musicians were all expected to share concerts with other performers.
He even came up with a new name for these solo performances -- soliloquies.   
Liszt told a friend,  "I don't know what other name to give these inventions of mine. ... Imagine that, I have ventured to give a series of concerts all by myself, affecting the Louis XIV style and ... saying cavalierly to the public 'Le concert c'est moi.'  The concert is me."
Liszt set a precedent by situating the piano differently. He was the first to place it at a right angle to the stage. The open lid projected the sound better into the hall and allowed audiences to see him in profile.
He was also the first to enter from the wings onto the stage.
After doing so, Liszt would perform from memory. Nobody had done that before. 
He performed his own music and was also the first to play the entire keyboard repertory as it existed up to then (Bach to Chopin).
Liszt's recitals drew huge audiences. For example, more than 3,000 people packed halls in Milan and St Petersburg. No pianist had played to such massive crowds. 
And a Liszt performance? They were shows, not just concerts. Liszt  went so far as to say he didn't just play the music.  He "played the room."
Recitals were scenes of rock star hysteria, with fans ripping at his clothes and hair, grabbing for spent cigar butts or broken piano strings. It was a phenomenon the great German poet Heinrich Heine dubbed "Lisztomania."  
Recitals today are nothing like the scenes elicited by Liszt.  But he changed the world of concert performance forever. 
The Hungarian virtuoso wasn't just one of the greatest pianists who ever lived.  He goes down in history as a great musical pathfinder.
Love Classical Music?
Stay in touch with our hosting team at CPR Classical and learn more about the classical events occurring in the community. Sign up here for our monthly newsletter.