Denver Botanic Gardens unveils permanent Chihuly piece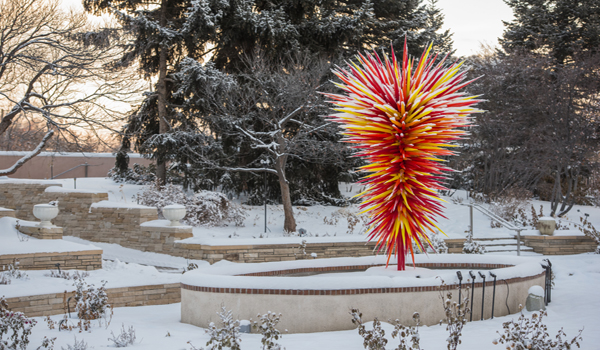 One month after the conclusion of its blockbuster Dale Chihuly exhibition, the Denver Botanic Gardens has installed a new permanent sculpture by the world-renowned glass artist.
Titled "Colorado," the original work stands more than 14 feet tall and includes 1,017 hand-blown glass pieces. As its name suggests, local sunsets and scenery inspired the piece, which features red, orange and yellow icicle-like rods. 
Acquired with the support of private donors, "Colorado" stands in the Ellipse garden near the southeast corner of the grounds adjacent the historic Waring House where Chihuly's neon yellow "Saffron Tower" stood during the exhibition.
Denver Botanic Gardens CEO Brian Vogt expects the glass to withstand various conditions like winter weather.
"The longevity of the piece and its resilience were all taken into account when this design was created," he says. "This particular type of glass is very thick and impervious to all but biblical disasters."
A team of 11 Chihuly Studio employees took 17 days to install the 2014 exhibition, which ran for nearly six months. Thanks to a big boost from the exhibition, the Denver Botanic Gardens attracted a record 1.4 million visitors in 2014.
"It was such an extraordinary year," Vogt says. "Now with this legacy piece, a little touch of 2014 magic will live on for many decades."
You care.
You want to know what is really going on these days, especially in Colorado. We can help you keep up.  The Lookout is a free, daily email newsletter with news and happenings from all over Colorado. Sign up here and we will see you in the morning!