Protesters demand answers from Denver DA over teen's death
A day after Denver police shot and killed a 17-year-old girl in a stolen car, a small group rallied outside the office of the district attorney on Tuesday morning demanding answers.
Police shot the teenager Monday at about 6:30 a.m. after they say she struck and injured an officer with a stolen car in the 2500 block alley between Newport and Niagara streets in Park Hill. Authorities did not release the girl's name, but friends identified her as Jessica Hernandez. 
"I stayed up all night. I haven't been to sleep, trying to figure out what happened to my cousin. Who shot my cousin?" said an emotionally distraught Jose Castaneda. "There's nothing we can do to bring her back. And nobody's going to help me with that."
The community leaders at the gathering said there are many outstanding questions about what happened.
"We want to know what the probable cause was of this shooting," said Terrence Hughes, vice president of the Greater Denver Ministerial Alliance.
Confrontation at DA's office
After addressing the reporters outside, Castaneda and about a dozen others went inside to the office of Denver District Attorney Mitch Morrissey. There, Chief Deputy District Attorneys Lamar Sims and Doug Jackson told the group that the investigation was ongoing.
Castaneda asked Jackson to explain the shooting.
"Give me one good reason other than she was in a stolen car," Castaneda said, later adding "What if my cousin happened to be a different race?"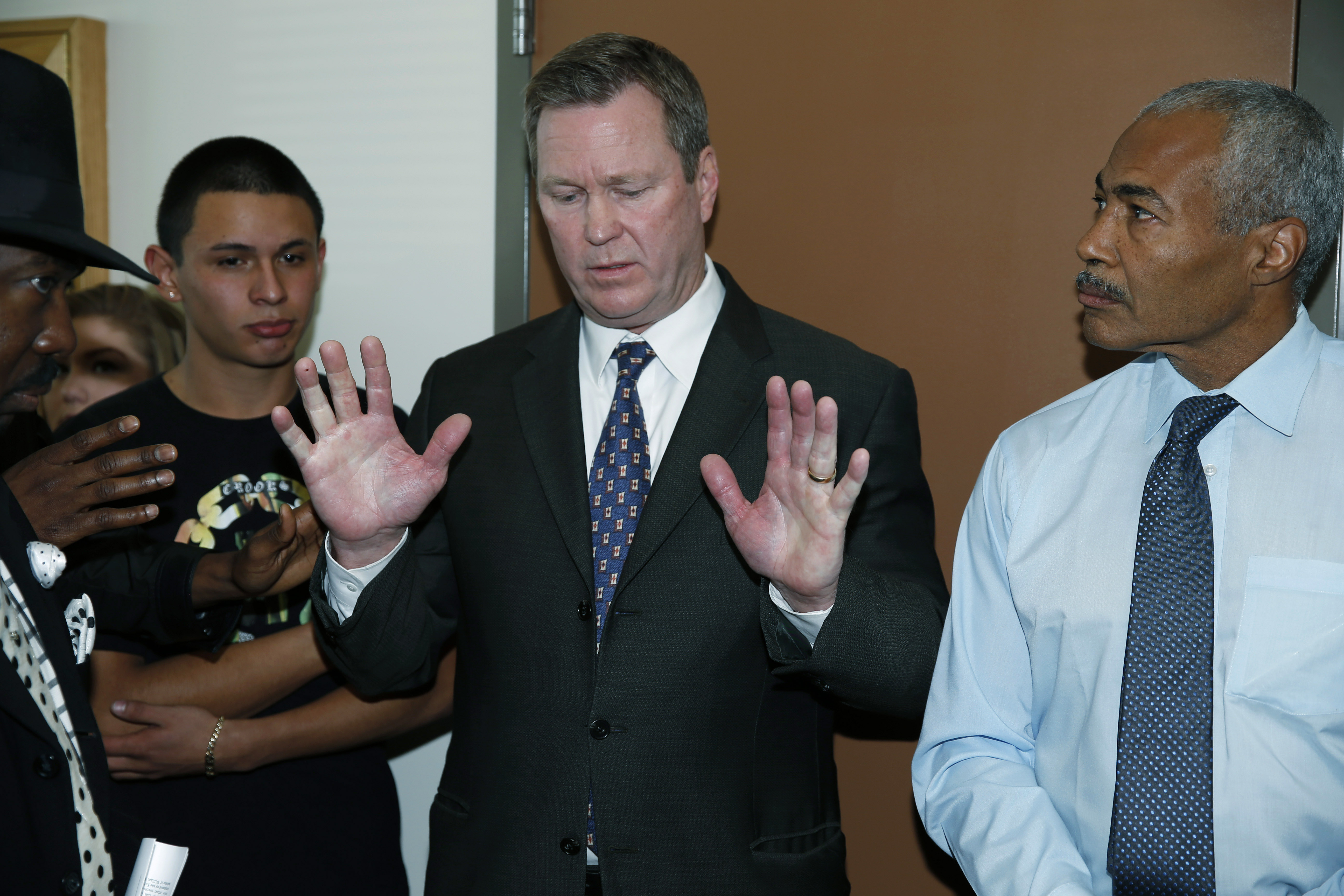 (AP Photo/David Zalubowski)
Protesters then called for Jackson and Sims to express their condolences to Castaneda face to face. One man yelled at the chief deputy DAs, "Look at him! Look at him when he's talking to you. How hard is that?"  
Monday night, several dozen people with candles and protest signs gathered near the alley where the shooting happened. In the video below, from the Direct Autonomous Media collective, friends also demanded answers about the deadly encounter.
Nineteen-year-old Cynthia Valdez, a close friend and schoolmate of the girl, said Monday night "we're angry about it. It's another life taken by another cop."
Brianna Diaz told the Denver Post she lives near the incident and that her 16-year-old sister was a passenger in the car.
Diaz said her mother ran out of the house after hearing the shots and was stopped by an officer who grabbed her and tried to calm her down.

"My mom told me to start filming, but when I took out my phone, the cop was like, 'Don't you dare!' " she said.
In the video above, Denver Police Chief Robert White says an officer was called to the area to check on a suspicious vehicle.
"He ran the tags, and in fact it was a stolen vehicle," White says, and a backup officer responded to the scene. "As they approached the driver of the vehicle, the driver struck the original officer, at which time the officers fired several shots, some of them striking the driver. The driver was pronounced dead at the hospital."
The Associated Press contributed to this report.
Editor's note: An earlier version of this story misstated Jessica Hernandez's age. She was 17 years old.
You care.
You want to know what is really going on these days, especially in Colorado. We can help you keep up.  The Lookout is a free, daily email newsletter with news and happenings from all over Colorado. Sign up here and we will see you in the morning!