Study: Colo. Homeowners, Firefighters Differ On Views Of Wildfire Risk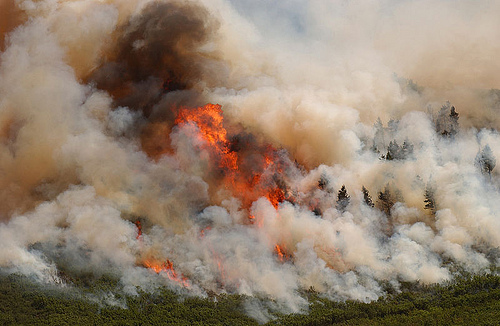 People with homes in Colorado's wildfire zones know that fires are a danger, but underestimate risk to their property when compared to firefighting professionals. That's a conclusion of a recent survey of homeowners in southwest Colorado conducted by the University of Colorado.
Researcher James Meldrum says that matters for a state with a growing risk of wildfires. He says the data show Colorado homeowners need fewer general warnings on wildfire danger and more specific ideas on what they can do about it.  
People don't realize how much they can do to protect their property: 
This is a finding that is actually pretty common: People underestimate things that they do have control over and over estimating the things that they don't have control over. 
But we were able to unpack that overall risk level into a lot more detail. We saw that respondents are actually sophisticated when it comes to assessing wildfire risk. A lot of these people are motivated and they are concerned about wildfire risk, but one of the big barriers is that people don't know what they can do on their specific property. 
What property owners can do to minimize risks:
One of the big things is defensible space. That's the idea that if you clear vegetation around your property, around your structure more specifically, you are going to reduce the risk of the fire reaching your property so you will get less direct exposure to your house. You are also going to make it easier for fire fighters to come in an defend your house. So that's two ways defensible space is important.
That's probably the biggest one that we are focusing on here, but there are other things like the type of siding people use or whether they have a wooden deck or a metal deck.
Ninety-three percent of people say that are concerned about wildfires affecting their home:
There is an extremely high level of concern in this area, but when we ask about the risk to specific properties, concern came in much lower. People are aware of it, they are concerned about it, but that doesn't translate to understanding what the risks to their properties are. 
This survey in southwest Colorado was with almost 300 residents in Ouray County. Its a pretty small sample, but you think this information is useful? 
Yes, we do. This is part of a much larger study where our field partners have been collecting data in different communities across the southwestern Colorado area. Whereever we've been looking, we are finding very similar results.  
How will you be using these findings?
We see this as really an opportunity. By using the type of information our study has found, we can target specific areas of misunderstanding within a community rather than just telling people that they live in an area that forest fires are likely. We are finding the people usually know that already. 
What people do on their property is very much influenced by what their neighbors are doing. So what we can do is take this type of information and develop more effective communication for homeowners living in these fire-prone areas to encourage them to do the things they need to do to reduce their wildfire risk. Then those programs can also be targeted in a way that that information can spread throughout a community so hopefully they can lower their wildfire risk, which is obviously the overall goal here. 
You care.
You want to know what is really going on these days, especially in Colorado. We can help you keep up.  The Lookout is a free, daily email newsletter with news and happenings from all over Colorado. Sign up here and we will see you in the morning!