USDA Takes Climate Change Conversations To Colorado Farmers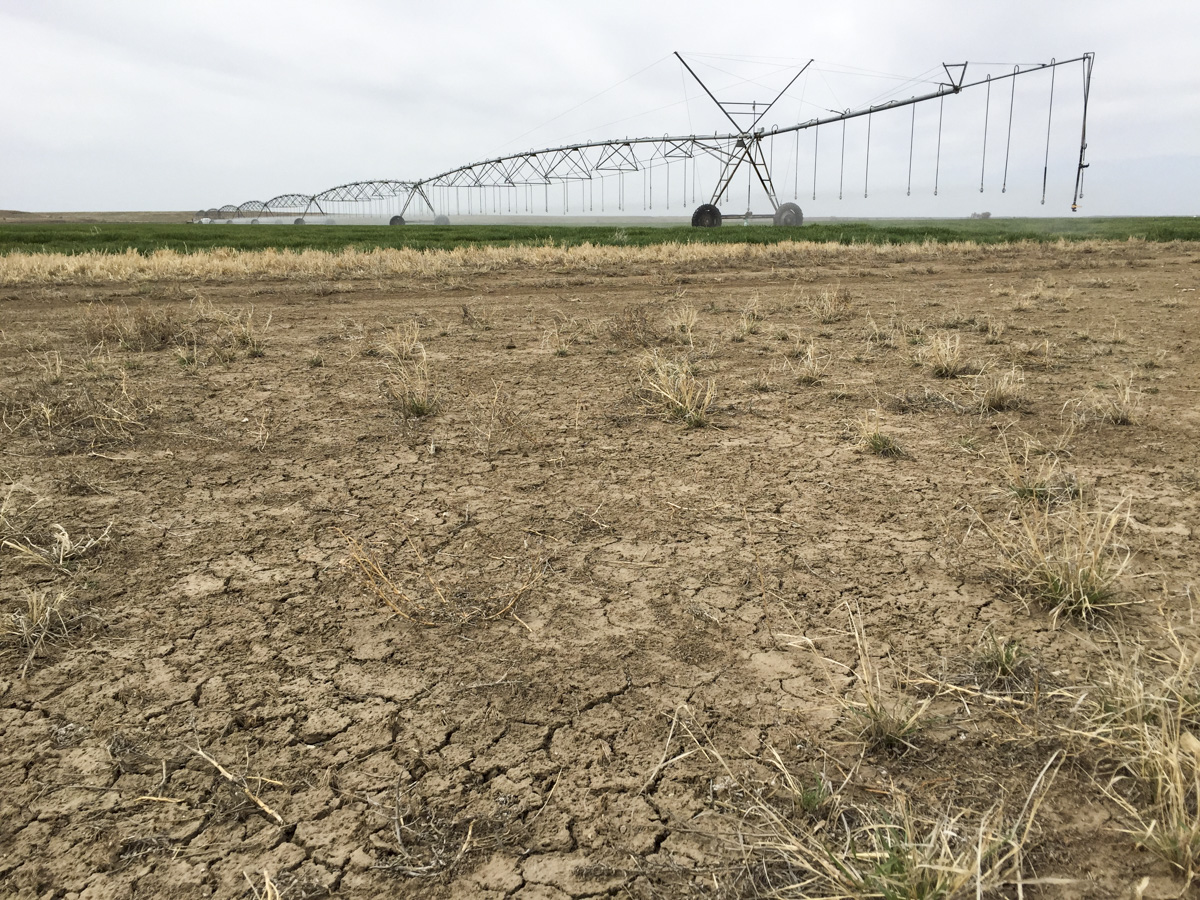 Negotiators are hoping to wrap up a deal at the Paris climate talks this weekend. But reaching an agreement is just the first step -- leaders and policymakers must then sell the plan to the people.
For the U.S Department of Agriculture that might mean convincing farmers and ranchers they need to make changes. In Colorado, that's part of Justin Derner's job. 
Derner works with the USDA's Northern Plains Climate Hub, which covers Colorado and five other states. It's one of seven hubs launched in 2014 to offer region-specific advice and support to producers struggling with a changing climate.
"We have a duty--a responsibility--to help feed the world," he says. 
Derner visits farms. He goes to ranching symposiums. He meets with federal scientists. And even conducts research himself. When reaching out in public, Derner said he rarely opens a discussion with the mention of human-caused climate change.
"We often start the conversation with what's happened in the recent year or two," said Derner. "Maybe in the last four to five years. And then that conversation will start to kind of unfold upon itself," he said. 
He talks to ranchers like Laura Negley. She's had a rough couple of years in southeastern Colorado, a region so drought-stricken a few years ago it was compared to the Dust Bowl. 
"2013 and 2014 was so dry we didn't have cattle. We didn't have wheat crop, we didn't have a milo crop. So basically our income on our operation was nil," she said. 
But despite scientific consensus, Negley's not sure what her responsibility is when it comes to climate change. 
"There are a lot of different science opinions about what's happening with climate change. How much of it is due to mankind activity?" said Negley.
No matter what agricultural producers believe, the USDA believes there is a middle ground to help farmers adapt and mitigate the impacts of climate change. 
Like farmers, Derner knows his weather -- both now and 100 years from now when he says it could be hotter and drier. That climate has the potential to impact food security in Colorado--and across the U.S. 
How Hot Will Colorado Summers Get?
Changing western temperatures: "Under this scenario, by 2050, temperature regimes migrate northward in Winter by about half the state and upslope from the Kansas border to the Front Range in Summer. Desert Southwest temperatures will move up the Western Slope valleys, and mountain temperatures will migrate upward in elevation," says the National Oceanic and Atmospheric Administration. 
Still, he says keeps his conversations narrow when he's talking to farmers.
"They're not interested hardly at all in what 2100 looks like. Again their decision making is this annual production cycle, the next few years," he said. 
'Know Your Audience'
Iowa State sociologist J. Arbuckle says how the USDA talks to farmers on climate change is critical.
"You could alienate a good 60 percent of your audience if you start talking about anthropogenic climate change," he said.
Arbuckle polled about 5,000 farmers across the corn belt on their climate change beliefs in 2012 to inform outreach for the USDA's Midwest climate hub. While the majority believed the climate was changing, Arbuckle said just 40 percent thought that human activity played a role.
"Know your audience. And once you know your audience then you can develop programming and outreach and communications materials to work with them," he said.
There can be large shifts in climate opinions depending on things like where someone lives or their party affiliation. Time plays a role, too. Arbuckle said he's seen more farmers shift their beliefs in recent years.
One thing that may play a role, Arbuckle said, is the constant drumbeat from U.S. Department of Agriculture Secretary Tom Vilsasck on climate change. Vilsack traveled to the Paris Climate Talks to speak with other world leaders.
(AP Photo/Christophe Ena)
"I think that's super important because when you have the leadership making these statements, it filters down through all of agriculture," said Arbuckle. "I really think even in the time since the 2012 survey, there's been a big shift in the openness to have that discussion, and accept that climate change is real and we have to do something about it."
Finding the Right Message
At the Yale Project on Climate Change Communication, "know your audience" is also a regular mantra for effective conversations. The center has concluded there are actually six distinct beliefs ranging from "alarmed" all the way down to  "dismissive." 
"I would expect that in any farming community you will find members of all six groups. They will just be weighted differently than a place like, say, New York City," said Anthony Leiserowitz, who heads up the Yale Project. 
Their research has found that some messages on climate change work well across all six groups. For example the issue of health -- who doesn't want less polluted air or cleaner water? 
But if you want to bring up polar bears, you better be careful, he said.
"It works really with, say, the alarmed and concerned because they tend to have grave concerns about the environment more generally," he said. "And the doubtful and dismissive tend to get kind of angry about the whole polar bear message. Because, what's a polar bear ever done for me?"
Across the general U.S. population, the Yale Project has found that 67 percent of Americans think climate change is happening. About half of Americans think that if it's happening, then it's human caused. 
"That's as high as we've seen for quite a while," said Leiserowitz, who added that 2008 was the "high water mark" for when the public was most engaged on the topic of climate change.
Warming Climate Could Boost Crop Production
The USDA's Justin Derner said the strategy of his work is dictated by the unique nature of each agricultural producer. 
"For us, it's largely how we can assist those producers in their near-term decision making related to information, type of tools, practices that ensures that they're still in operation a few years down the road," he said. 
And the future of climate change along the Northern Plains isn't all doom and gloom. Derner said that production for farmers could actually increase as the climate warms, and the growing season becomes longer.
"We're already seeing signs of that with corn and soybeans coming from the Midwest into eastern North and South Dakota. [There are] large expenses of areas there now being grown," he said.
You care.
You want to know what is really going on these days, especially in Colorado. We can help you keep up.  The Lookout is a free, daily email newsletter with news and happenings from all over Colorado. Sign up here and we will see you in the morning!