Record Caucus Crowds Catch Officials Off Guard As Sanders Wins Colorado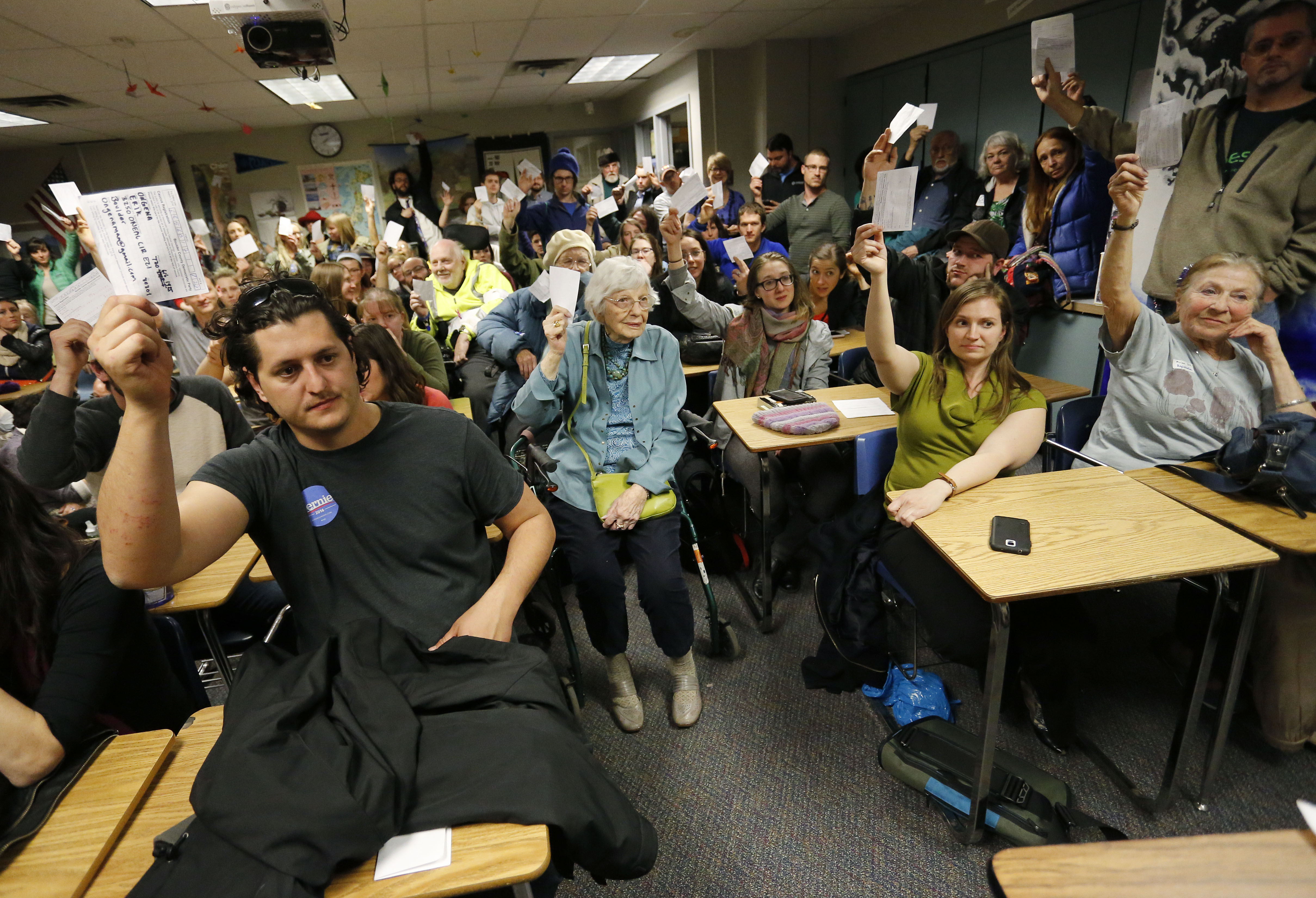 After losing a swath of southeastern states to Hillary Clinton early in Super Tuesday's Democratic primary contests, Vermont Sen. Bernie Sanders badly needed a win by the time Colorado was wrapping up its caucuses later in the night.
And he got it, in part thanks to what appeared to be thousands of young voters -- in a state that has one of the highest proportions of millennials in the nation. 
CPR News reporters saw huge lines at caucus sites around metro Denver. And results from the party show Sanders dominated in Boulder and Larimer counties -- home to the state's largest universities -- and indeed, much of the state (see map below). Rick Palacio, chair of the Colorado Democratic Party, tweeted late Tuesday that overall turnout was at least 121,132 -- breaking the record set in 2008.
"Young voters need to actually use their voice," said Justine Vath, 28, in Denver's Capitol Hill neighborhood, as she waited in a long line at the Morey Middle School caucus location.
There were reports from Boulder County of hundreds of caucus-goers being turned away. The long waits and crowded gathering places surprised party officials, and left some participants displeased. 
John Gunter, who was standing in line at Morey Middle School, was not pleased with the caucus system. "I'm a little annoyed I have to go out here and sit for two hours. Why can't I just fill it out by mail?" he said.
But the mood was jubilant at a Sanders watch party at the Bluebird Theater in Denver. The atmosphere was closer to rock shows typical of the venue, rather than a political rally.
Smell of marijuana wafting through Bernie Sanders watch party at Bluebird Theater in Denver. pic.twitter.com/rloDN3h0aE

— Ben Markus (@CPRMarkus) March 2, 2016
Dozens of young adults yelled "Feel the Bern" -- as in Bernie Sanders. 
Sanders' big spending on political advertising appears to have paid off. He outspent Clinton by more than a 2-1 margin on television ads. Meanwhile, the party establishment, including Gov. John Hickenlooper, had backed Clinton.
"I think that she's the only person who's ready to be president from day one," Hickenlooper told CPR News in February.
While most party elites expect her to eventually win the nomination, their support didn't help her win here. 
Clinton also courted Latino voters, who make up more than 20 percent of Colorado's electorate. And though she won in heavily Latino counties like Costilla and Pueblo, it wasn't enough to hold off Sanders.
Source: Colorado Democratic Party
She's now lost Colorado by significant margins twice; back in 2008, then Sen. Barack Obama beat her by a 2-1 margin.
Floyd Ciruli, a longtime Colorado political pollster, says Sanders' support from young adults washed out any edge Clinton may have had with Latinos. 
"He was able to motivate them to turn out, to do something even more difficult, and that's go to a caucus and spend some time there," Ciruli said. "Will they be motivated should she be the nominee?"
It's unclear how many of Colorado's 66 delegates Sanders will win. The ultimate number depends on future action at seven congressional district conventions and the state convention, as the Denver Post's John Frank explains. Another 12 superdelegates aren't bound by Tuesday's results; most have already pledged support to Clinton.
There were 1,460 delegates on the table nationwide, 865 of them Democrats, 595 of them Republicans. NPR reports Clinton won 544 delegates, while Sanders claimed 349. Sanders also won his home state of Vermont, as well as Oklahoma and Minnesota. Clinton notched wins in Alabama, Arkansas, Georgia, Massachusetts, Tennessee, Texas and Virginia. 
The Colorado results "keeps Bernie Sanders alive," Ken Rudin, a former NPR political editor who now hosts the Political Junkie podcast, told Colorado Matters. Sanders will have to sell his economic plan in Midwestern states to make headway against Clinton, Rudin said. Illinois, Missouri, Kansas, Nebraska and Michigan all have primaries or caucuses in the next few weeks.
"If he cannot break through with victories in the industrial Midwest, then it's going to be a very tough case to make if he's going to win the nomination," Rudin said.
Including pledged superdelegates, Clinton now leads Sanders 1,001-371 nationwide. The threshold for the nomination is 2,383 delegates.
Meanwhile, Colorado Republicans' 37 delegates won't be awarded until the party's national convention in July. The Colorado GOP decided to get rid of the presidential straw poll and not be tied to a candidate that may not make it all the way to convention.
Some Republican caucus goers at the Denver First Church of the Nazarene in Englewood were unaware of the change, including Cherry Hills resident Sharon Velez.
"I did want to vote tonight. This was awkward," Velez said. "I wasn't prepared for this, but I'm glad I came."
Velez was looking forward to voting for her candidate: Donald Trump.
"He's candid. He says what's on his mind. When he came out and announced he was running a for president, he made a difference right there," Velez said. "He really changed everything."
Though they weren't supposed to take a straw poll, Velez says in her precinct they did, and split votes between Trump and Marco Rubio. But the state party didn't count any of these unofficial precinct polls, so it's impossible to know which candidate had the most support in the state.
Instead, Republican caucus goers were left to begin the process of picking delegates who will eventually pledge their support at the national convention in July.
CPR News' John Daley and Nathaniel Minor contributed to this report.
You care.
You want to know what is really going on these days, especially in Colorado. We can help you keep up.  The Lookout is a free, daily email newsletter with news and happenings from all over Colorado. Sign up here and we will see you in the morning!