Orlando Shooting: In Colorado, An Outpouring Of Shock, Sadness And Solidarity
(Hart Van Denburg/CPR News)
Updated 2:20 a.m. Monday | What we know so far:
More than a thousand people packed Tracks nightclub for a vigil
Gov. Hickenlooper  ordered flags to half-staff
​Suspected gunman's ex-wife living outside Boulder says, "He beat me."
Colorado Muslim Society condemns attacks
MCC's Rev. Mitulski leads moment of silence
Denver PrideFest will go on as planned
​Colorado's elected and faith leaders, and members of the gay community, expressed shock and sadness Sunday at news that a gunman opened fire at a gay nightclub in Orlando, Fla., killing at least 50 people. It's the worst mass shooting in U.S. history, which President Barack Obama called an "act of terror" and an "act of hate."
NPR reported FBI sources saying the alleged shooter, Omar Mateen, pledged allegiance to the Islamic State in a 911 call prior to the attack. 
In Denver, hundreds gathered at Tracks nightclub for a candlelight vigil at which members of Congress from both parties, state lawmakers, Denver's mayor and gay community leaders took turns expressing grief, and solidarity with the victims of the shooting.
And Sitora Yusufiy, who lives outside Boulder and is the ex-wife of suspected gunman Omar Mateen, told the Washington Post: "He was not a stable person. He beat me. He would just come home and start beating me up because the laundry wasn't finished or something like that."
A few months after they married, he began abusing her, she said in this video posted by the Boulder Daily Camera.
Gov. John Hickenlooper ordered flags be flown at haf-staff, and said on Twitter, "Our hearts are broken over the devastation in Orlando; but the outpouring of love & light is more powerful than any hatred behind it." 
Nightclub Packed For Vigil
In Denver, a crowd estimated at more than a thousand jammed the Tracks nightclub in Five Points for a candlelight vigil -- so many people wanted to get into the landmark LGBT club that organizers opted to delay its 8:30 start by at least a half hour. Even then, the main room was so full that many opted to listen to the speeches in other parts of the club.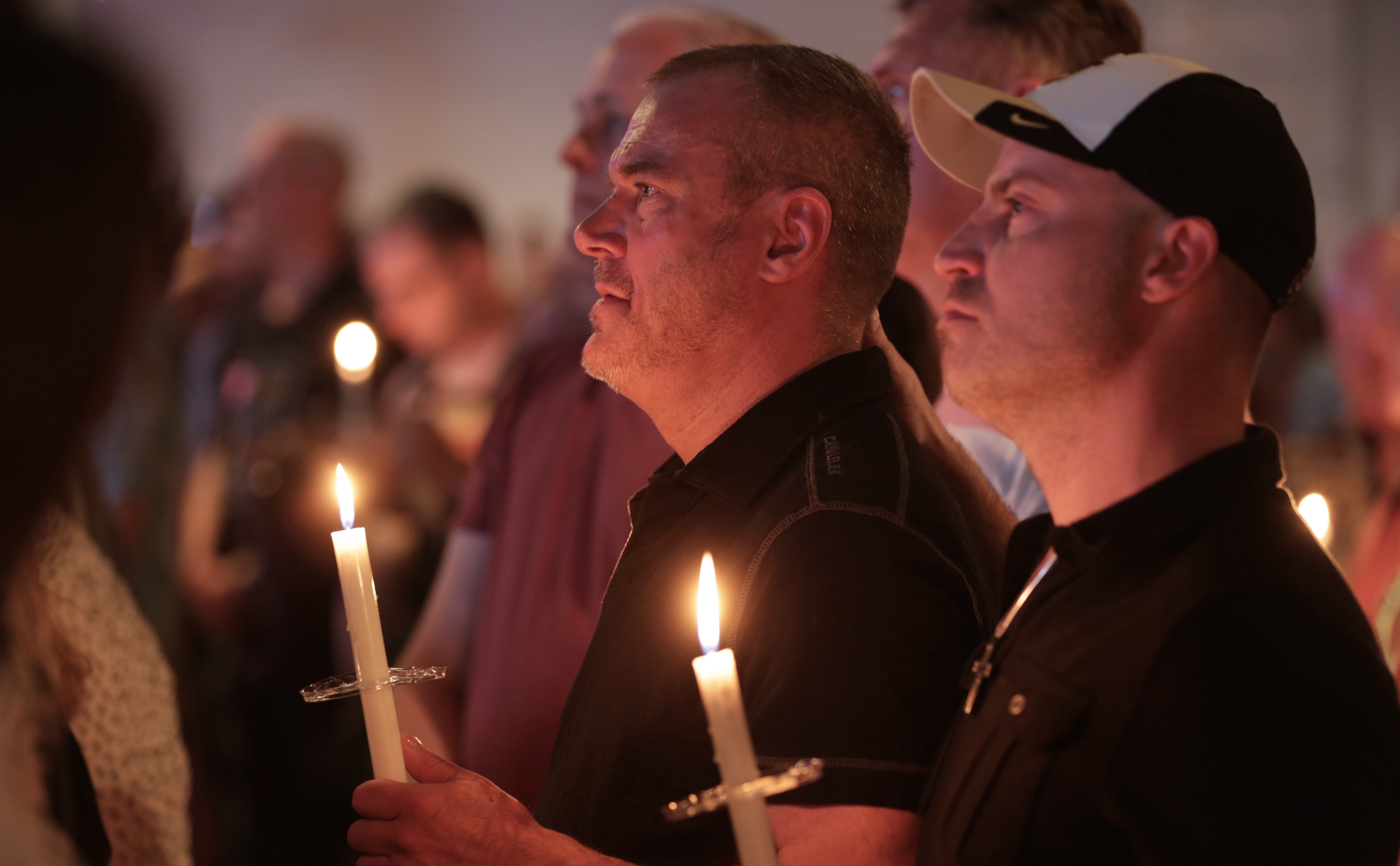 (Hart Van Denburg/CPR News)
The crowd ranged from club kids to grey-haired couples. Young families and clumps of friends. Some in the room embraced and wept. Most raised candles. Others raised smartphones to record video and snap images. All sang along to Bill Withers' "Lean On Me" (video) at one  point.
In the back of the room, a contingent of officers from the Aurora Police Department also held candles, drawing the link between the Orlando shooting and the movie theater attack in their own city four years ago.
"Unfortunately we know what they're going through today in Orlando. And every time one of these things happens, it's hard. But we recovered from it, and we know they will too," said Lt. Stephen Redfearn. He added that APD's presence was a gesture of support for gays and lesbians on the force and in the community.
"We wanted to come and just show our brothers and sisters that we're here with them and they have the support of the police department," he said.
LGBT activists, community leaders, Christian, Muslim and Jewish faith leaders and a bipartisan roster of elected officials all took a turn at the podium. Among them were PrideFest MC DeMario Slaughter, U.S. Sen. Michael Bennet, Reps. Mike Coffman and Dianna DeGette, Attorney General Cynthia Coffman, and state Rep. Pat Steadman.
Looking out at the crowd, Rev. Amanda Henderson, director of the Interfaith Alliance, insisted that, "Love is stronger than hate." Denver Mayor Michael Hancock, holding his own vigil candle, said, ""They may knock us back, but they will not knock us down."
Some of Colorado's elected officials not in attendance opted to voice their solidarity on social media.
"Love, fellowship, and condolences to the victims of the mass shooting in Orlando and their families," said Rep. Jared Polis on his official Twitter account.
Also on Twitter, Sen. Cory Gardner said he and his wife "are mourning the lives lost in Orlando & are praying for the wounded. Our hearts ache for the families of the victims."
(Hart Van Denburg/CPR News)
Colorado Muslim Leaders Condemn The Attack
At the Colorado Muslim Society, faith leaders from Islamic organizations in Denver, Boulder, Golden and others in the state held a press conference to condemn the shooting. 
An Arabic prayer from the Quran, the central religious text of Islam, was read, in which God calls upon everyone to come together despite differences.
"We all condemn the loss of human life, which is sickening regardless who the perpetrator is, what ideology they believe and what sickness drives them," said ShemsAdeen Ben-Masaud, the imam at the Metro Denver North Islamic center.
Karim Abuzaid of the Colorado Muslims Community Center used even stronger language to denounce the shooter's actions. He said a real Muslim would never commit such horrors, especially during the holy month for Muslims.
"This is not a Muslim. Because there is no way a Muslim could be in that place at this time in the month of Ramadan to kill. Impossible. Impossible," he said.
"Our hearts are broken as we grieve with the families of those who were killed or injured this early morning in Orlando at Pulse nightclub," the society's members said in a joint statement."We offer our deepest condolences to the families and loved ones impacted by this tragic crime. We stand hand-in-hand with our family members, neighbors, and community partners from the LGBTQI communities in condemning and opposing any and all violence, especially that which is perversely perpetrated in the name of religion."
In a separate statement, the Denver Islamic Society said earlier it "strongly condemns the heinous act of terror," which "took place during the Islamic holy month of Ramadan, when all Muslims are expected to boost their faith by fasting, reading the Holy Qur'an, visiting relatives and friends, and giving charity. Our Community feels deeply sorry such a violent act took place instead. We pray for a peaceful world full of love and tolerance," the statement said.
Church Leader: 'Something To Do With Homophobia"
The Rev. Jim Mitulski of Denver's Metropolitan Community Church of the Rockies, told his congregation this morning that he was in shock over the attack, and asked for a minute of silence.
"It will probably take time for us to understand this tragedy," Mitulski said. "It has something to do with homophobia. It has something to do with guns. And under any circumstance, this is a terrible tragedy. And I know there is great sorrow in Orlando right now."
"It's not just about gay people," MCC administrator John Allison said after the service. "It's about gun violence against people other people hate. Why is that the fix? Why is this happening?"
After the service, Mitulski said he hopes the shooting doesn't lead to anti-Muslim backlash.
"We've experienced violence in the history of our church," Mitulski said. "We have seen our churches burned. We are committed to peace, to unity, to solidarity. This act of violence will not lead to greater acts of violence or division."
In a statement, Dave Montez, executive director of the LGBT advocacy group One Colorado, said: "We are shocked and devastated by the horrible shooting that occurred in Orlando last night and our hearts are with the victims and families."
"June commemorates Pride month and gay clubs hold a significant place in LGBTQ history. They were often the only safe gathering place for LGBTQ people and this horrific act strikes directly at our sense of safety. We will all continue to work to address the hatred that causes these senseless acts of violence in hopes that something like this never happens again," he said.
PrideFest Will Go On
Organizers of Denver's PrideFest, which holds a parade and rally that has attracted hundreds of thousands of lesbian, gay, bisexual and transgender people in past years, is going ahead with their festival next weekend amid heavy security following the shooting deaths of at least 50 people inside a crowded gay nightclub in Orlando early Sunday.
Organizer Debra Pollock says parade and rally participants in Denver have always been security-conscious, but members of the GLBT Community Center of Colorado have also received training on how to deal with active-shooter situations.
Pollock says the organizers will have metal detectors and fences set up at Civic Center Park for the rally, and there will also be security on the parade route and people will be searched as in past years.
Gay pride was on the minds of many at The Wrangler Sunday afternoon. It's a Denver gay bar where Richie Stone and Michael Brooks were having beers. 
The two have been together for five years. Stone used to live in Florida. He spent the morning texting friends there. 
"I started calling people from Orlando that I knew just to see that we were OK," he said.
"We decided to start pride a week early," Brooks added.
Politics was also on the minds of bar goers like Dan Watkins, who said the Orlando attack was evidence the country needs stronger gun regulations.
"It's going to keep happening" until politicians "stand up to the gun lobby and say we can't keep doing this," he said.
The patrons at the Wrangler say they refuse to live in fear and that the gay community will rally after what happened in Florida.  Andrew Bustamante says he expects a big crowd at next weekend's gay pride events in Denver.
"People don't like to show that other people have power over them. They're going to do — as the gay community has always done —we're going to do what we do no matter what other people think."
CPR's Pat Mack, Hart Van Denburg, Megan Verlee, Vic Vela and The Associated Press contributed to this report.
You care.
You want to know what is really going on these days, especially in Colorado. We can help you keep up.  The Lookout is a free, daily email newsletter with news and happenings from all over Colorado. Sign up here and we will see you in the morning!