OpenAir Sessions Ramp Up In The CPR Performance Studio
For more than a decade, the Colorado Public Radio (CPR) Performance Studio has breathed energy and excitement into the Colorado music community. Built in 2005, the 1,000-square-foot studio gives local and national musicians a collaborative space to come together, share their music and support one another.
The studio has seen everything from folk music and garage rock to punk and hip hop. A marquee sign created by a Denver artist was added to energize the space with light and to help welcome the hundreds of musicians perform in the space every year.
Since CPR's OpenAir began broadcasting in 2011, it has welcomed hundreds of artists to the CPR Performance Studio, such as Nathaniel Rateliff & the Night Sweats, Paper Bird, Ian Cooke and DeVotchKa. And now the new OpenAir Sessions podcast gives fans an on-demand glimpse of the excitement through recordings and videos of performances and interviews in the CPR Performance Studio.
When artists engage with one another, discoveries happen, connections are made and, quite often, amazing things come about. So, the studio is designed to accommodate just about any mix of musicians, with an isolation booth to segment the space and increase flexibility. One of the largest groups to perform in the studio is 14-member soul/funk/hip-hop collective The Other Black. In 2015, the 1,000th song from OpenAir sessions was recorded with Snake Rattle Rattle Snake. 
Everything about the studio—from the shape of the room to the materials covering it—is designed to enhance sound quality. Wall and ceiling panels, as well as the carpet, can be manipulated to make the sound more or less lively. The floor is custom made with a one-inch gap that separates it from the rest of the building to minimize vibrations. A humidifier in the studio helps maintain the tune of the $90,000, 9-foot Steinway Concert Grand Piano, which was gifted to Colorado Public Radio by the Bonfils-Stanton Foundation.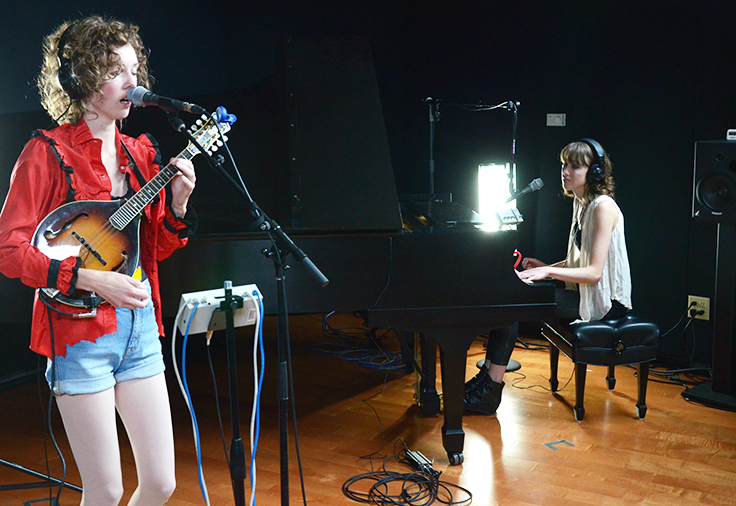 The studio's south-facing wall is made entirely of glass, letting in natural light and a view of the mountains on clear days. The sound from the studio is clear and crisp, and the space has an intimate vibe that makes you feel like lounging and listening to a session.
That's the goal of CPR's Performance Studio: to create high-quality recordings of performances that provide an exclusive and intimate listening experience. Here are some of our favorite #openairsessions: