Colorado's Peach Season Is Here! Try These Three Recipes From Local Chefs
When life gives you peaches, make salad, dinner and dessert.
Chefs across Colorado are preparing a range of menu items for this year's bumper crop of Palisade peaches. Good weather during the growing season has resulted in an unusually productive harvest.
"We are near or at full capacity on what peaches can do this year," Bruce Talbott, production and orchard manager for Talbott Farms, told Colorado Matters earlier this summer.
While most of Colorado is too hostile for fruit production, Palisade's microclimate and natural air drainage allows peaches and other stone fruits to flourish. 
Below, three prominent Colorado chefs share a favorite peach recipe and talk about the joy in cooking with the juicy local favorite.
Josh Niernberg
Executive Chef & Owner - Bin 707 Foodbar
Grand Junction
Only 24 minutes from their peach supplier High Country Orchards, cooking with the stone fruit is about as local as it gets. And that's just how Josh Niernberg wants it.
"I really try to use local and Colorado ingredients as a way to build our economy," said Niernberg. "It lets us be able to showcase what the Grand Valley has to offer, which is really unique."
Niernberg said it was difficult to find local fruits, vegetables and meats when he started the restaurant in the late 2000s -- but he kept at it.
"It's become more easy," he said. "And the quality of the products just continue to get better. It's just kind of the cornerstone of what we do, what we always have done."
His favorite aspect of peach season is the customer response.
"It's totally appreciated as something that is as special as it is," he said. "For me, the most rewarding part is to be able to execute them in someway that will be memorable for our guests."
Heirloom tomato and Palisade peach salad
Note: Blaine's Tomatoes are prized on the Western Slope; we use "pineapple" and "green zebra" tomatoes for the salad, but any great ripe tomato will work. High Country Orchards' Palisade peaches are available at select high end grocers throughout the state. Hazel Dell cinnamon cap mushrooms are grown in Fort Collins and are a long stemmed, small (3-4mm) cap brown mushrooms, but any mushroom could be substituted.
(Courtesy Cat Mayer Studio)Ingredients:
2 heirloom tomatoes (green and yellow/orange preferred)
Fresh arugula or mizuna leaves
1 tbsp. red miso
1 tbsp. rice vinegar
1/4 c. grapeseed oil
1 full sheet nori
1 4-6cm burrata 
3oz mushrooms (sliced thin and partially dehydrated in 250 degree oven until just beginning to crisp)
Jacobson (or similar) sea salt
Olive oil
Fresh ground pepper to taste
For vinaigrette:
In a bowl, whisk miso and vinegar until incorporated. Slowly drizzle the oil while whisking to emulsify. 
To prep fruit:
Wash well and dry thoroughly. Slice both the peaches and tomatoes in half vertically (remove pit and discard). Then slice each half into thirds lengthwise, then half each piece horizontally. This will give you uniform sized pieces of roughly 1 sq/inch ea.
In a bowl lightly toss peaches and tomatoes in the vinaigrette (plate immediately).
To plate:
On a large platter, plate all fruit skin side down in a single layer.
Carefully tear the burrata into small pieces and distribute throughout the fruit.
Toss the greens lightly with olive oil salt and pepper (lemon optional dependent on how sweet the peaches are) and distribute sparingly atop the fruit (greens are the bitter component to the dish, not the highlight).
Finally, roll the nori sheet, press flat, and using scissors, cut this slivers (julianne) over the composed salad as a garnish.
For something a little extra: sprinkle toasted puffed rice over fruit for texture.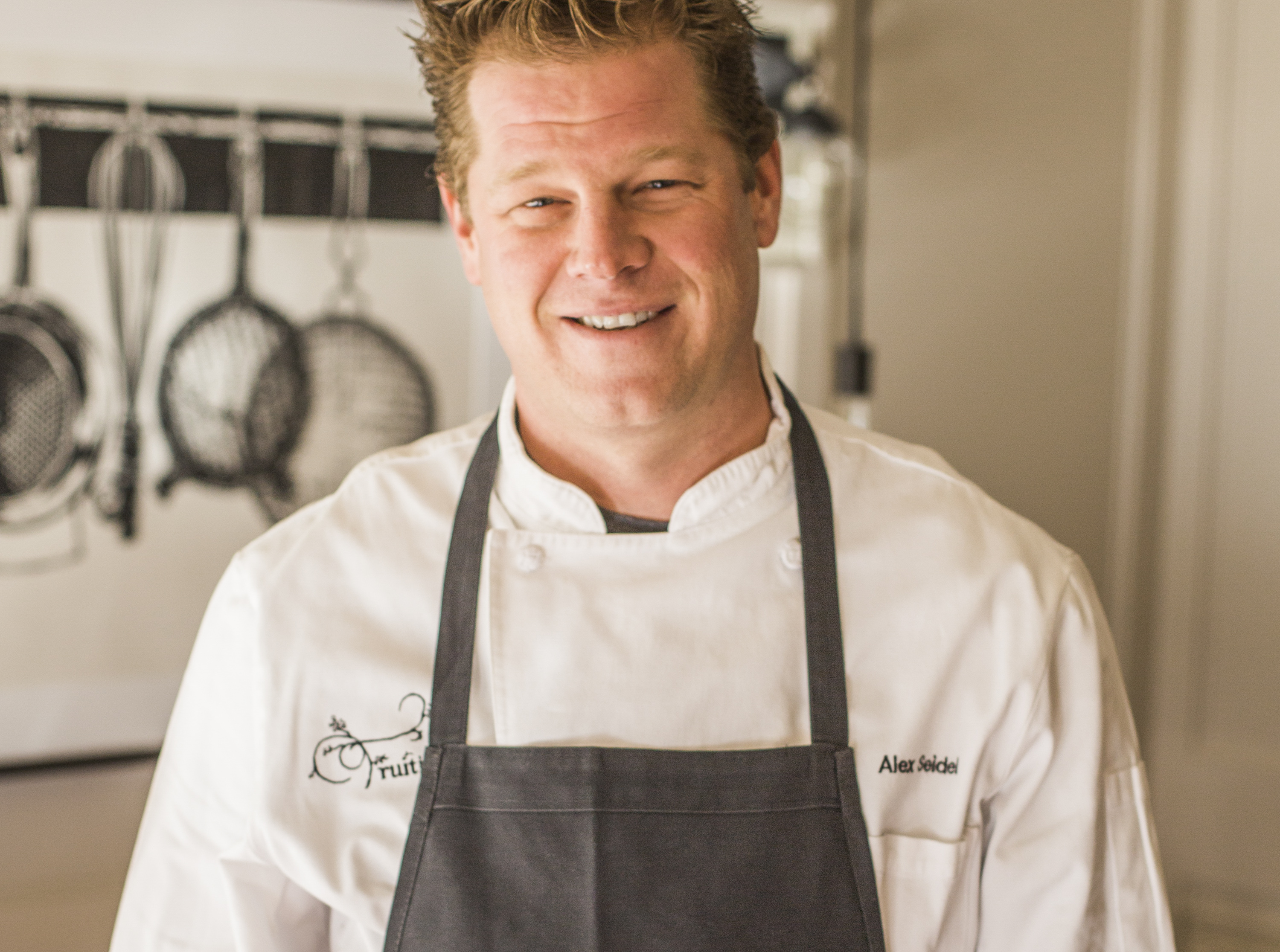 Alex Seidel
Executive Chef & Owner - Fruition Restaurant
Denver 
Alex Seidel not only uses local ingredients in his restaurant, but creates his own too. He is the owner of Fruition Farms, the only registered sheep dairy and creamery in the state.
"I get excited about every ingredient I use," said Seidel. "Colorado is a place that certainly produces some of the best ingredients of its kind."
Added to the menu in time for peach season is their grilled tender belly pork chop with beignets, using his farm's ricotta, along with a Palisade peach marmalade and peach salad.
"That dish is just oozing with localism," Seidel said.
Seidel's other restaurant, Mercantile, has a booth at the Union Station farmer's market where fellow vendor Morton's Orchard are carrying ripe peaches.
"The greatest thing about being at the markets is knowing the most about the produce and the people that grow it," Seidel said.
Grilled tender belly pork chop with ricotta beignets, Palisade peach marmalade and arugula and peach salad 
Pork brine
Yield: 2 quarts (enough for 8 chops)
(Courtesy Alex Seidel)Ingredients
2 qt. cold water
1/2 c. sugar
1/2 c. salt
1 1/2 tsp. coriander
1 1/2 tsp. mustard Seed
1 clove garlic
1 bay leaf
1 shallots
1 handful parsley stems
2 c. mirepoix (onion, celery and carrot diced)
Method:
Add all ingredients to a pot and bring up to a simmer for 45 minutes.
Strain through a chinois.
Add 4 qt. ice and chill in cooler.
Once brine is cool, add pork chops and refrigerate and brine for two days.
After brine time is complete, pull pork out and pat dry with paper towels.
Corn & Fruition Farms sheep's ricotta beignets
Ingredients:
1/2 c. all-purpose flour
1/4 tsp. baking power
1 tsp. corn starch
1 egg
As needed: buttermilk
As needed: salt & pepper
1/2 c. ricotta
1/2 c. corn (off the cob)
Zest and juice of 1/2 lemon
Method:
Sift dry ingredients.
Whisk eggs, slowly incorporate dry ingredients.
Add buttermilk to consistency (thick).
Fold in ricotta, corn, and zest.
Use 1/2 ounce cookie scoop.
Test in 350 fryer. Adjust seasoning and texture as needed.
Fry until golden brown.
Spicy peach marmalade (w/ star anise and ginger)
Ingredients:
2 1/2 lb. Morton's Orchard Peaches (pits removed)
1 c. sugar
1/2 c. champagne vinegar
1/2 c. champagne
1 tbsp. ginger (peeled and zested)
1 tsp. red pepper flakes
1 star anise pod
1 tsp. salt
Method:
Place all ingredients in a bowl.  Allow the peaches to macerate for 1 hour.
Add to a heavy bottom stock pot. Cook on high until a jam like consistency.
Add marmalade to a robot coupe and pulse 3 times.
 Cool and check seasoning.

Yield: 3 cups
To serve
Grill pork chop to desired doneness, slice and place on plate. Place beignets around pork chop, drizzle pork with peach jam mixture. Make a quick salad of arugula, sliced peaches, extra virgin olive oil, lemon juice, salt & pepper to taste. Place dressed arugula around the pork chop.
David Engel 
Chef de Cuisine - The Kitchen
Boulder 
Palisade peaches have only been available for a short time, but they're already being sliced and diced in David Engel's kitchen.
"I already have them on my menu," he said. "I started last week as soon as the call went out that the first shipments were coming in; I jumped right on top of that."
Like Niernberg, Engel recognizes that by focusing on local ingredients, he's supporting the community.
"Our whole goal has been about community through food," Engel said. "And it's not just the people who work in the restaurants; the guests that come in and dine, and also the farmers that we deal with too that are part of the community."
Unlike buying ingredients from a California produce supplier, Engel is able to see how his purchases are impacting the growers, like their peach grower Ela Family Farms. 
And besides, Engel said, Colorado's peaches are just really, really good.
"Other peaches around the nation, they just don't compare to the Palisade peaches; how beautiful they are, the flesh of them, the sweetness of them," Engel said. "You just can't beat it."
Peach cobbler with cream
This cobbler is delicious when peaches are in season! It is also a very adaptable recipe in that you can exchange any in-season fruit for the peaches.
Ingredients:
Filling
10 ripe peaches
Juice of 1 orange
1/2- 3/4 c. sugar
Crust
2 c. flour
3 tbsp. sugar
1 tsp. baking powder
1 tsp. baking soda
1/4 tsp. salt
Zest of one lemon
Zest of one orange
1 1/4 c. cold buttermilk
4 oz olive oil
2 tbsp. sugar in the raw for dusting tops
1 c. heavy cream or crème fraiche
Instructions:
1. For the filling, peel and cut the peaches into quarters. Toss in the sugar and orange juice, let macerate and then begin the crumble topping.

2. Sift all dry ingredients together. Add in the zests and loosely combine the liquids with the dry ingredients. Mix until just incorporated.
3. Find a baking dish about 12 x 9 and fill the bottom with peaches. With a spoon spread the topping, making an even layer over the top. Bake at 325 degrees Fahrenheit for about 25-30 minutes until nice and golden brown. Once finished you can top with cold cream or crème fraiche and serve.
You care.
You want to know what is really going on these days, especially in Colorado. We can help you keep up.  The Lookout is a free, daily email newsletter with news and happenings from all over Colorado. Sign up here and we will see you in the morning!