Raise Colorado's Minimum Wage? Here's What Employers Tell Us
(AP Photo/David Zalubowski)Ahead of the November election, CPR News is covering the potential impact of Amendment 70, which would incrementally raise Colorado's minimum wage over the next four years, from the current level of $8.31 an hour to $12 and hour in 2020. After that, the state would continue to adjust the wage annually based on the Consumer Price Index.
Today we hear from employers who shared their views with us via our Public Insight Network. Soon, we'll hear from workers likely to be affected, should the increase take place. Want to join the conversation?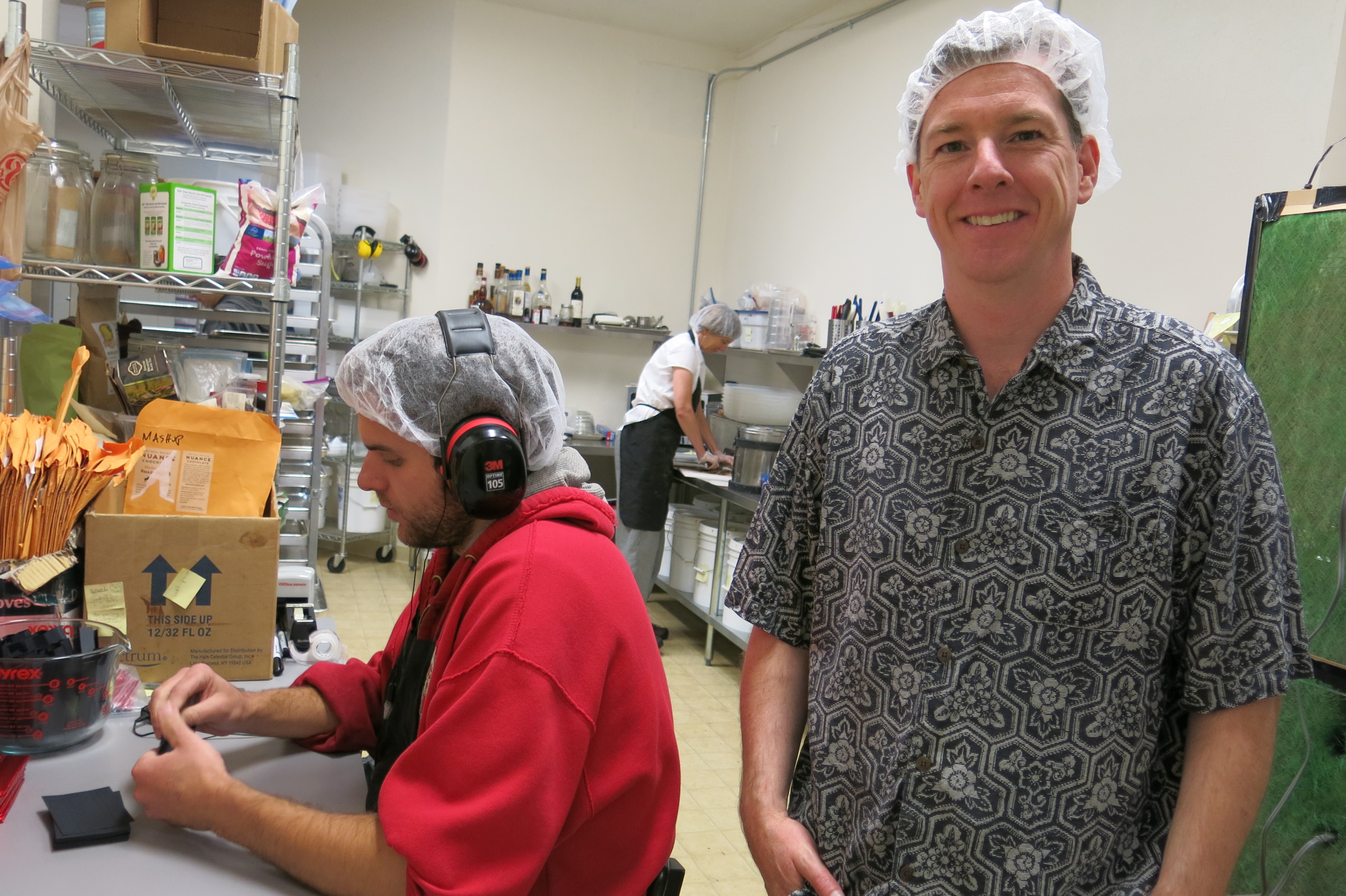 (Megan Verlee/CPR News)
Toby Gadd: Founder and co-owner with his wife of Nuance Chocolate, a bean-to-bar chocolate-maker in Old Town Fort Collins.
Employees: Eight
"I think raising the minimum wage in Colorado, and actually nationwide, is a good thing. When people work hard and do what we need in a business environment, they deserve to be rewarded appropriately for that. Right now minimum wage is so darn low; you can't really subsist off that in any shape or form.
"With Nuance, we already pay above minimum wage and we're happy to keep working toward higher wages. Businesses are competitive and I like competition, that's a great thing. I want people to compete over products, and development, and services. Those kinds of things, not who's being paid the least. If other companies are also required to pay what we pay, that would make us more competitive… it would be good for my business, absolutely."
(Megan Verlee/CPR News)
Barbara Koelzer: Co-owner with her husband of Westside Feed, a small animal and livestock feed store west of Loveland.
Employees: Two part-timers, along with her husband Jay
"Running a small business is really hard and the profit margins we get are small. We pay our employees much higher than the minimum wage. There are times when we just don't have enough revenue coming in, and because we want to make sure our employees get paid, sometimes Jay just doesn't cash his pay check.
"My issue is, number one, I don't want anybody else telling us how to run our business and how much to pay our employees. And if we paid people minimum wage, I don't know that we could keep good employees. So why do we need this? The market will dictate what people are willing to accept as pay. If they don't like a low-paying job, there are other jobs that will pay higher. And it's not just a matter of education or circumstance. I think those jobs are out there."
(Megan Verlee/CPR News)
Tom Turner: Executive Director of Community Options, Inc., a Montrose-based nonprofit providing services to around 500 children and adults with developmental disabilities in a southwestern Colorado.
Employees: About 200
"Our agency would be thrilled to be able to pay our people better. There's nobody on earth that deserves better pay than the people that work for us. But the problem is this: being a private non-profit, we can't raise our prices. We don't have products to sell. Over 90% of our revenues come through Medicaid and those rates are set by the state, and they don't even currently provide adequate funding, much less this sizeable increase that would come along with the minimum wage amendment.
"Many direct service employees, who are the people who work most directly with our clients caring for them, start at the current minimum wage.  We have calculated that in order to increase those people a dollar an hour is going to cost us about $120,000 in the first year and then that will compound every year after that. And we just frankly don't have the money to do that.
"So that's why I'm conflicted: on behalf of my very underpaid employees, I would be thrilled if this proposed amendment passes. On behalf of my agency, I'm absolutely terrified that it's going to pass."
Other responses from our Public Insight Network:
"We already pay our entry level staff $15 per hour. I think this wage increase is too little over too long of a period of time. Having our competitors raise wages (and provide health insurance benefits) would make us more competitive because it would level the playing field… Currently those of us who make a decent living are subsidizing lower wage jobs by paying the taxes that provide the government benefits that low wage workers get. I would prefer that this extra money come out of the pockets of the people who own the businesses that pay the low wages. If someone's business model depends on other people having to scrape by, they need to get a new model."
- James Clemens works in internet services
"Not all jobs are meant to support a person or a family.  At Evergreen Parks and Recreation, we have many part-time and seasonal workers.  Several positions are typically filled by high school students who are trying to get real world experience and/or improve their college applications.  If those positions were filled at $12 an hour, we would need to increase some fees, thus negatively impacting lower income or fixed income members of our community.  At $12/hr.,  there would likely be more adults competing for those positions, leaving very few opportunities for a high school student to get the experience they need."
- Monty Estis, Board of Directors of Evergreen Parks and Recreation.
"I don't know how anybody can survive on minimum wage, but when I think of how increased wages will probably increase prices for everyone, I wonder how it will impact me and my buying power. It's not as if a higher minimum wage won't have an impact on the entire economy, because I know it will. Employers won't pay the wage out of pocket without raising their prices and fees, which will impact everybody. My wages won't go up to compensate me but my costs seem most likely to increase as the new higher wages take effect. It's going to impact everybody.... I do support the increase, tho, because I can't imagine how anybody can survive on minimum wage if they're not living at home with their parents or have half a dozen roommates. Nobody can live on that wage."
- Kelly Taylor, works in oil and gas administrative support
"I support a living wage whatever that may be. I doubt that is is $12 in Denver.  I support this as incrementalism to get to a livable wage, but would ideally like to see $15 or whatever the living wage would be.  A second negative for this incremental approach is that if another wage hike arises in the future, the public will likely think that the issue is taken care of and not vote proactively in the future. It is important to get it right the first time."
- Marcia Tewell, on the Developmental Disability Council
You care.
You want to know what is really going on these days, especially in Colorado. We can help you keep up.  The Lookout is a free, daily email newsletter with news and happenings from all over Colorado. Sign up here and we will see you in the morning!