Is Amendment 71 Now A Proxy Battleground For Colorado's Oil & Gas Differences?
Colorado's debate between local control advocates and oil and gas companies lost steam after two highly anticipated anti-fracking issues failed to produce enough valid signatures to make the statewide ballot.
That debate started rolling again though in September when the pro oil and gas issue committee Protect Colorado donated $1 million in leftover campaign money to Amendment 71, a statewide ballot measure that seeks to make it harder for citizen-initiated ballot issues to amend Colorado's constitution. The group has also sent workers to canvas in support of their position in Denver.
"We're just trying to make it not quite as simple to just throw a constitutional amendment on the ballot. It's a serious undertaking, and it's a serious issue," said Protect Colorado spokeswoman Karen Crummy.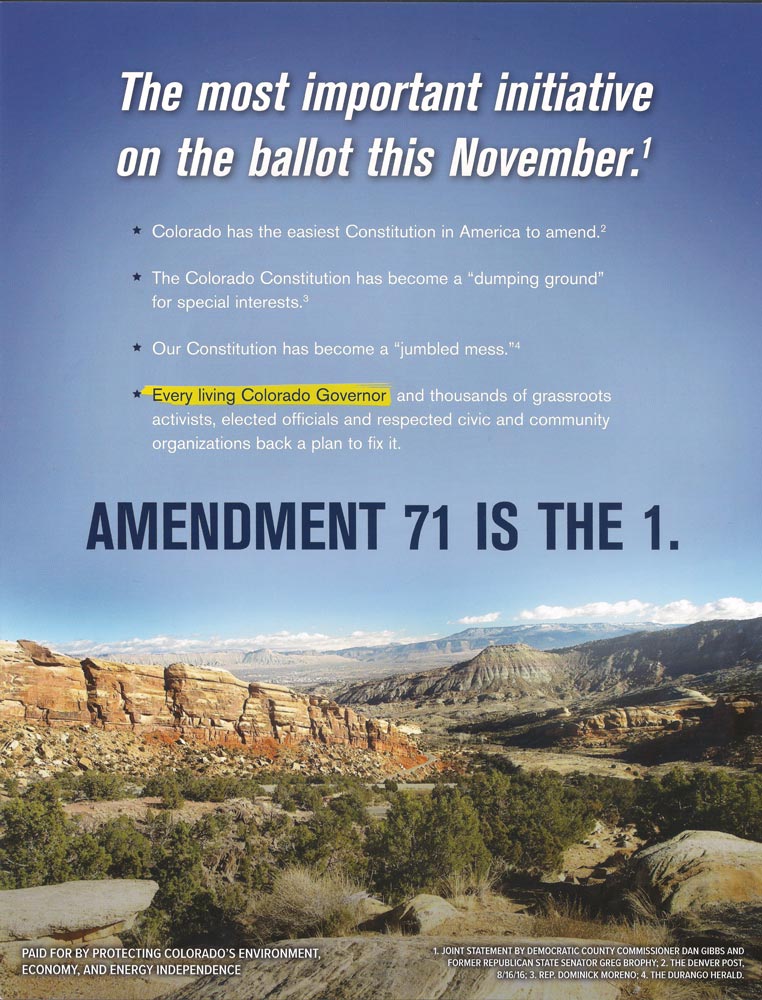 So what does a ballot issue focused on procedural steps like signature gathering have to do with hydraulic fracturing?
It turns out quite a lot.
Access to the ballot -- and voters statewide -- is one of the last tools local control and anti-fracking advocates have in Colorado. Amendment 71 would add some additional hurdles to the process.
Billed with the tagline "Raise the Bar, Protect Our Constitution", the proposed amendment would change where and how signatures are collected. If approved, gatherers would have to travel to all of Colorado's 35 state senate districts and get at least 2 percent of the district's voters to sign the petition. If an issue makes the ballot, 55 percent of voters would have to approve it. Right now a simple majority is needed.
The additional barriers for signature gathering would be costly, according to Conservation Colorado Communications Director Jessica Goad. Her group supported the failed Initiative 75, which would have given local governments more control over oil and gas development.
"Grassroots efforts to make Colorado a better place to live and work and play would have a harder time raising the funding to get on the ballot," she said. "But corporations, industries and special interests who might run anti-environment or anti-conservation initiatives would be easily able to pay to play and to get their message on the ballot."
It's not just about money. Environmental groups have another reason for protesting Amendment 71.
Citizen-initiated statewide ballot issues are one of the last remaining avenues for adding local control for cities. Colorado's Supreme Court has ruled against city-level ballot issues to ban or temporarily pause fracking. Advocates haven't had much success getting bills through the the Legislature either.
As Food and Water Watch Rocky Mountain Region Director Lauren Petrie told The Coloradoan, this makes citizen-initiated statewide ballot issues a critical avenue for environmental groups.
"We know the governor is not on our side; the Colorado Supreme Court just ruled against us; the legislature certainly isn't on our side," she said to the Fort Collins newspaper. "It just felt like the ballot measures were going to be the only way to do this."
The oil and gas industry sees ballot issues differently.
Protect Colorado's Karen Crummy said the signatures gathered don't reflect the entire state. The majority of oil and gas is produced in Weld and Garfield counties. According to the pro-industry group's analysis of signatures gathered for failed mandatory setback Initiative 78, very few signatures came from those producing counties. Nearly three-fourths of signatures came instead from Larimer, Boulder and Denver counties.
"If we're going to put something of that serious nature on the ballot, it seems like everyone in Colorado should have a voice in that. It shouldn't just be the Front Range that gets to decide what makes the ballot and what doesn't," she said.
Other business groups including Vital for Colorado and the Denver Metro Chamber of Commerce have lined up behind Amendment 71. Up against the measure is the libertarian Independence Institute, the Colorado Fiscal Institute and the Bell Policy Center.
Ultimately the proposed constitutional amendment is about more than just oil and gas issues. The debate on how difficult or easy it should be to get something on the ballot has been around a long time in Colorado, said Rick Ridder President and co-founder of RBI Strategies and Research. The dispute between environmentalists and oil and gas just turns out to be a pretty good illustration of what's at stake with Amendment 71.
"This is part of the sideshow," he said.
You care.
You want to know what is really going on these days, especially in Colorado. We can help you keep up.  The Lookout is a free, daily email newsletter with news and happenings from all over Colorado. Sign up here and we will see you in the morning!