Who Was Vance Kirkland And Why Was His Art Studio Blocking Denver Traffic?
From 1932 until his death in 1981, artist Vance Kirkland painted in a studio on the corner of Pearl and 13th Avenue in Denver. Up until now, that address was also home to the Kirkland Museum.
I say 'up until now,' because the museum has a new address. They moved it. More specifically, they moved the original studio where Kirkland worked. The whole thing. From his painting supplies and vinyl records to the brick walls that served as shelter while Kirkland explored five different periods throughout his career.
Crews hoisted up the entire 300,000 pound shebang on a set of specialized wheels and drove it nearly 10 blocks to a new facility being built on Bannock Street. The effort was mostly successful with the building losing just a few bricks during its roughly 13-hour journey.
"Normal construction is organized chaos, this is off the charts," project manager Bill Mascarenaz said. "I've built buildings, I've torn them down, but I've never moved one. So I looked at this as a challenge and something pretty exciting."
Why did they go to the trouble of moving a building? Who was Vance Kirkland? If you want to know Colorado art, you'll do well to remember the name Kirkland.
Here are the basics: 20th century painting, the University of Denver's art school, and dots. The latter seems like a simple thing to paint, but the technique he produced toward the end of his career is noted for its uniquely cosmic and explosive qualities. We're talking pretty far out stuff.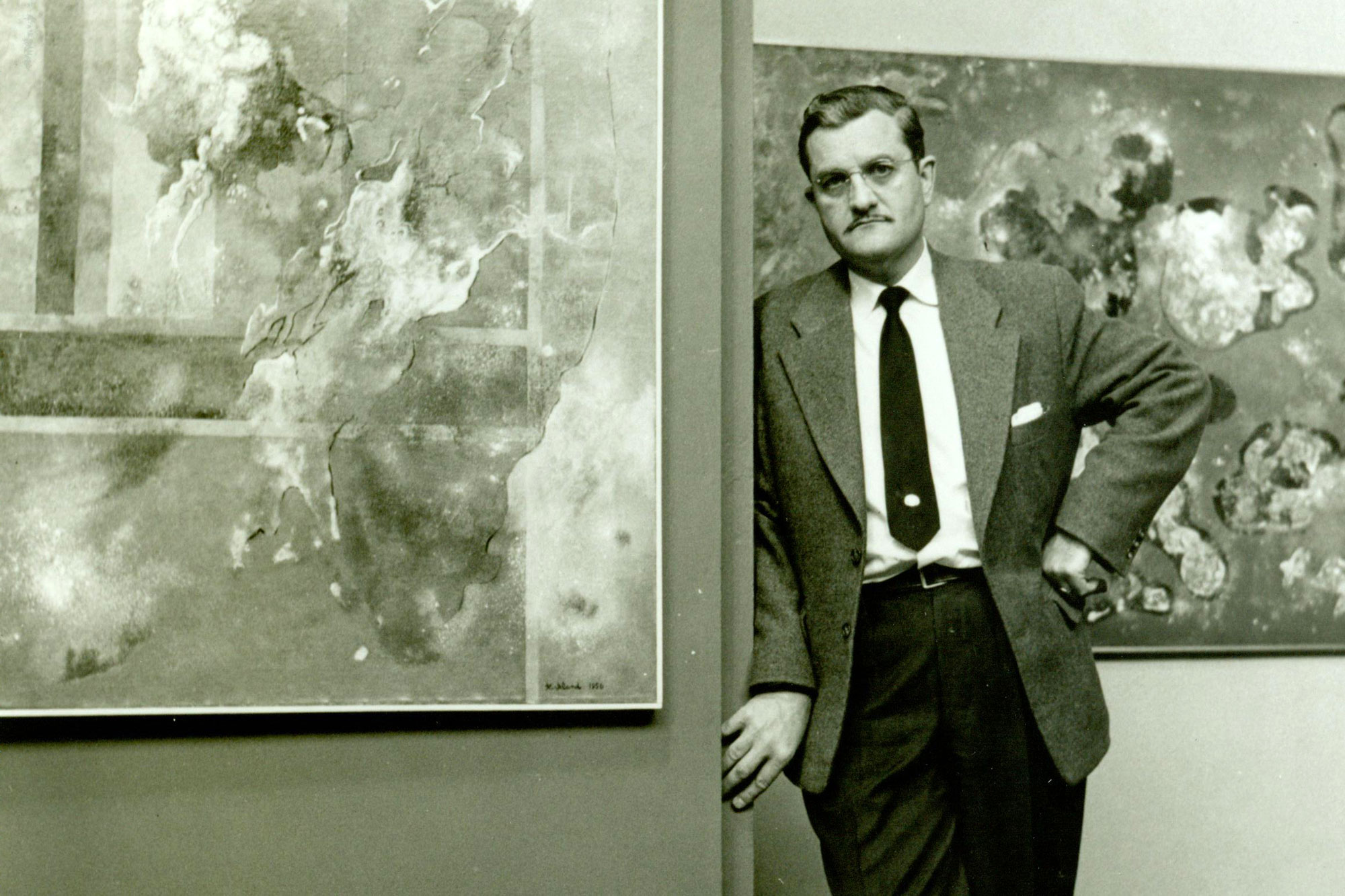 But what pretty much defines him overall is his inability to be defined -- artistically at least.
Kirkland did not fear change, and that made him a rare breed of artist, according to Rick Brettell, founding director of the Edith O'Donnell Institute of Art History at the University of Texas at Dallas. Brettell is from Denver, as a young boy he met Kirkland during studio visits.
"What happens when you become a well-known artist is you sort of settle into yourself, and then the collectors and dealers want that and you produce it in quantities so that you become known for a particular style or attitude toward form," Brettell says.
"That openness is really laudable and shows his strength as an artist," Brettell says. "He was able to adapt and change with time and make his works of art continuously relevant to knew rapidly changing aesthetic worlds."
Kirkland arrived in Colorado and founded the University of Denver's art program in 1929. He left three years later to start his own art school at 1311 Pearl Street. There he started working in the space that later became his full-time studio after returning to DU in 1946.
So it makes sense that the now 105-year-old building gave way to the Kirkland Museum of Fine and Decorative Art in 2003. Fast forward years later and the museum had outgrown the space.
More than 1,000 paintings, drawings and prints by the artist belong to the Kirkland Museum. It's one of three distinct collections that contain more than 30,000 works by hundreds of other designers and artists. All those pieces will have a brand new home in Denver's Golden Triangle neighborhood.
"With the new museum, Denverites will really have the opportunity to learn about the career of the artist who was clearly the most important painter in the city during his lifetime," Brettell says of Vance Kirkland.
After multiple delays, the 1,384 square foot building finally traveled to its new site at a blazing 3 miles per hour. That's "walking speed" said Bill Mascarenaz, blink and you wouldn't miss it. Stretches of 13th and 11th avenues as well as Bannock Street and Broadway were closed for the move.
Mascarenaz pointed out that moving crews were "walking along the building along the way" and local "police officers and various people" made sure the everything was safe.
Mammoth Moving & Rigging, the contractor hired by Mascarenaz, specializes in moving historic brick buildings. They used eight sets of wheels -- they look like giant remote control cars with semi-trailer truck tires -- to navigate Kirkland's already detached studio through part of Denver.
"They're very similar to how you control a drone," Mascarenaz said. "There are electric motors and these wheels articulate in very tight corners. It's a much better way to move the building rather than have a truck pull it on a trailer."
Movers mapped a route that avoids power and phone lines, hydrants and trees. Crews also rotated traffic lights for the move, which attracted a few hundred onlookers.
"Unbelievable," said Capitol Hill resident Bo Richardson, who arrived early Sunday morning to watch the building leave his neighborhood.
"I've been here the last three days watching it get dug out and getting set up on the risers," he said. "So actually seeing it move down the street right now, it's mind blowing for sure."
In the meantime, the museum's entire collection sits in three different storage locations. That includes more than 5,000 pieces removed from the original building -- many of which won't see the light of day again until the Kirkland Museum of Fine and Decorative Art opens at its new address of 1201 Bannock Street in fall 2017.
The Studio has landed safely on Bannock! #MammothMovingandRigging #ShawConstruction #ARThotel #BannockOrBust pic.twitter.com/AG7YeGhhpd

— Kirkland Museum (@KirklandMuseum) November 7, 2016
You care.
You want to know what is really going on these days, especially in Colorado. We can help you keep up.  The Lookout is a free, daily email newsletter with news and happenings from all over Colorado. Sign up here and we will see you in the morning!