Once Again, Denver's Homeless Are Cleared From 'The Last Block In Town'
People living in the camp, at Park and Lawrence, were first moved out in March. But around 100 to 150 homeless residents moved back onto the block, which is near several shelters and other service providers, over the summer. City officials recently decided it was time to be cleaned up, again.
"We really believe as a city that people are better served when they are indoors," Denver Human Services spokeswoman Julie Smith said of the homeless living on the sidewalk Tuesday afternoon. "We have a unsafe and unsanitary situation where people are sleeping on the sidewalk, they are eating on the sidewalk, in some cases, we are seeing human waste."
There are usually 150-200 empty shelter beds a night on average, according to the city. And Smith said Denver is making efforts to connect the urban campers to services, including its new Denver Day Works program.
Dreading A Repeat
As the chilly dawn broke on Tuesday, some of the people camping out were resigned to dealing with something they've experienced many times since the city began aggressively enforcing its controversial urban camping ban earlier this year.
"The cops keep telling us to move along," said Shannon Wolf. "But they don't tell us where we can go that's safe."
(Nathaniel Minor/CPR News)
Wolf, who's been homeless since February, said she doesn't stay in shelters because her wife, who is transgender, is not allowed in most of the women's shelters.
"I stand by her out here, " Wolf said.
She also said she would lead a protest at Hancock's office in the City and County Building about a mile south. And if security didn't let her inside the building, "we're going to sleep right outside," Wolf said.
"We'll set up camp and hope the cops leave us alone for the day."
A police-escorted city dump truck arrived around 8 a.m., to boos. A young black man who called himself Keen Reality led chants that railed against city officials -- most notably Mayor Michael Hancock, who signed the urban camping ban into law in 2012.
"Where's the ghost-faced mayor?" Reality asked.
As Reality shouted, an older woman shook her head.
"That's what happens when they start to fight," said Caz, who did not give her last name. She has been homeless for 26 years and said she's never seen another city treat its homeless so poorly.
"Today is going to be a very dangerous, tension-filled day," she said.
(Nathaniel Minor/CPR News)
A 'Tragedy'
As the morning dragged on, some voluntarily cleaned up their shelters. Many said they don't stay in shelters because there's no storage for their personal belongings. So their only option is to find a space outside and hope nobody finds it.
Except someone always does, even back in the woods on the South Platte River north of downtown. And that's why so many ended up at Park and Lawrence, Caz said.
"[It's] the last block in town. We have no place else to go," she said.
Police cordoned off a section of the block around 10:30 a.m. as crews began sorting between trash and belongings, and a crowd formed at its perimeter. A police officer stood guard, only letting volunteers in to help clear the scene.
(Nathaniel Minor/CPR News)
One of those volunteers was the Rev. Amanda Henderson, executive director of the Interfaith Alliance of Colorado.
"This is a tragedy," Henderson said. "The people down here -- every single one of them is a human being with a story and a life and hopes and struggles. We have treated them like lepers and untouchables."
People's belongings were moved to an empty warehouse north of downtown. They were told they could pick up their belongings from 12 p.m - 2 p.m. within the next 60 days.
What's Next?
Jason Flores-Williams, a lawyer representing a group of homeless suing the city over the camping ban, called the sweeps a "spit in the eye" of the judicial process. He believes the sweeps are unconstitutional and has asked the presiding judge in the case to temporarily halt the enforcement of the urban camping ban as the case moves forward.
"What is the rush?" he said.
For one nearby resident, the sight of city crews was a welcome one. "I'm so thankful you're here,"  Bob Shelbly told a group of police officers.
Shelbly has lived with his wife across Broadway from Samaritan House for nearly 20 years. He's cleaned his share of urine stains and fecal matter from his alleyway in that time, he said.
"I guess it's collateral damage, as far as living here."
The sweeps are "better than nothing" until the city and non-profits can solve the long-term problem, Shelbly said. The key, he believes, is more affordable housing.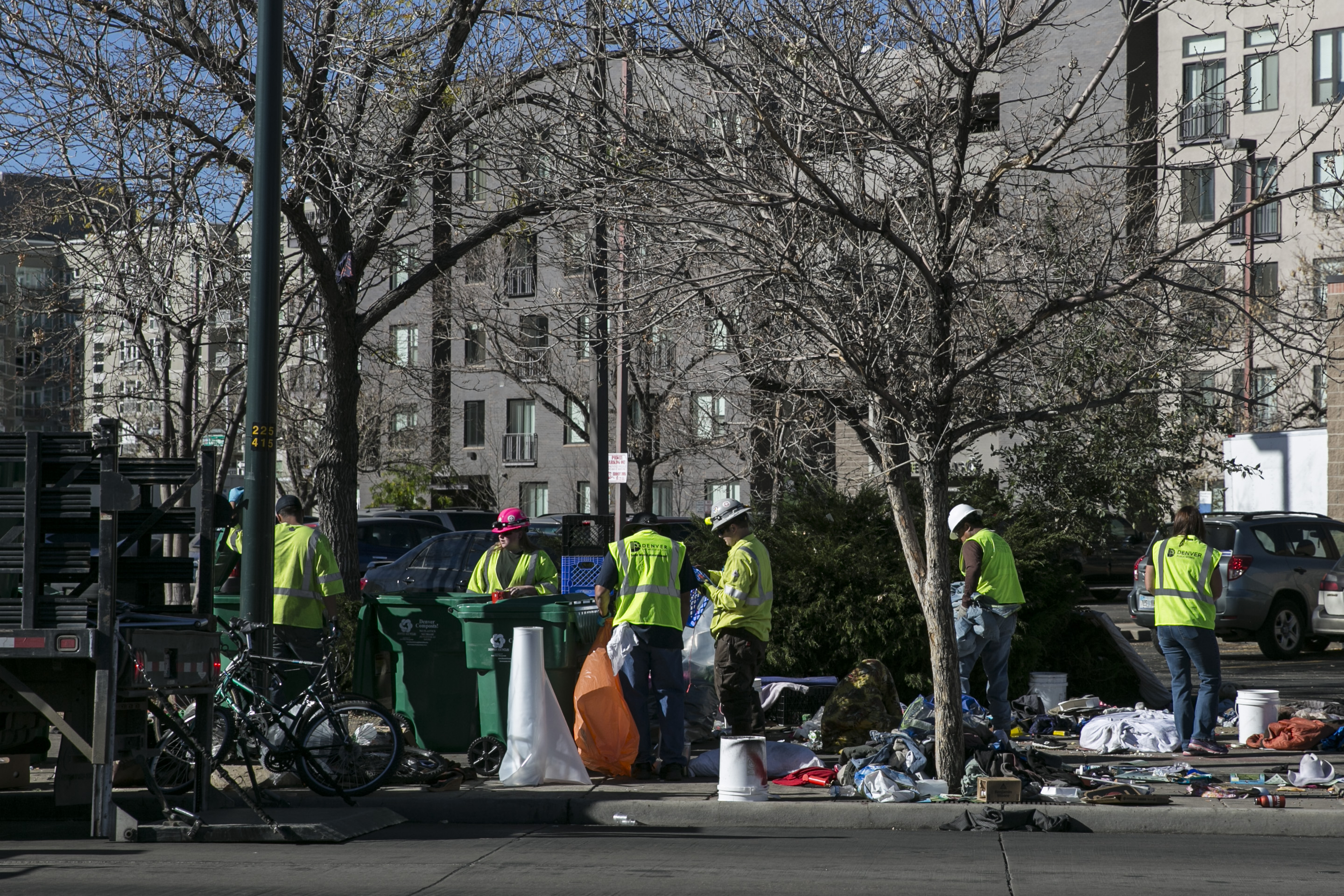 On this point, Caz agreed. She gets $733 in welfare payments a month.
"You'd think that'd be enough to get an apartment. But it isn't. That's why I'm out here."
She didn't have much hope for finding shelter ahead of winter. She can't afford to move somewhere warmer. And she'd rather freeze to death with her small service dog than stay in a shelter. All that's left, she said, is prayer.
"I'm a woman sleeping out on the street," she said. "When I lay down I'm scared to freaking death. Scared to death. But I'll sit there. And I pray. I pray I make it one more night. We have nothing to live for. Except for one more day."
You care.
You want to know what is really going on these days, especially in Colorado. We can help you keep up.  The Lookout is a free, daily email newsletter with news and happenings from all over Colorado. Sign up here and we will see you in the morning!