Want An Efficient Colorado Home? The Program That Certifies That May Face Cuts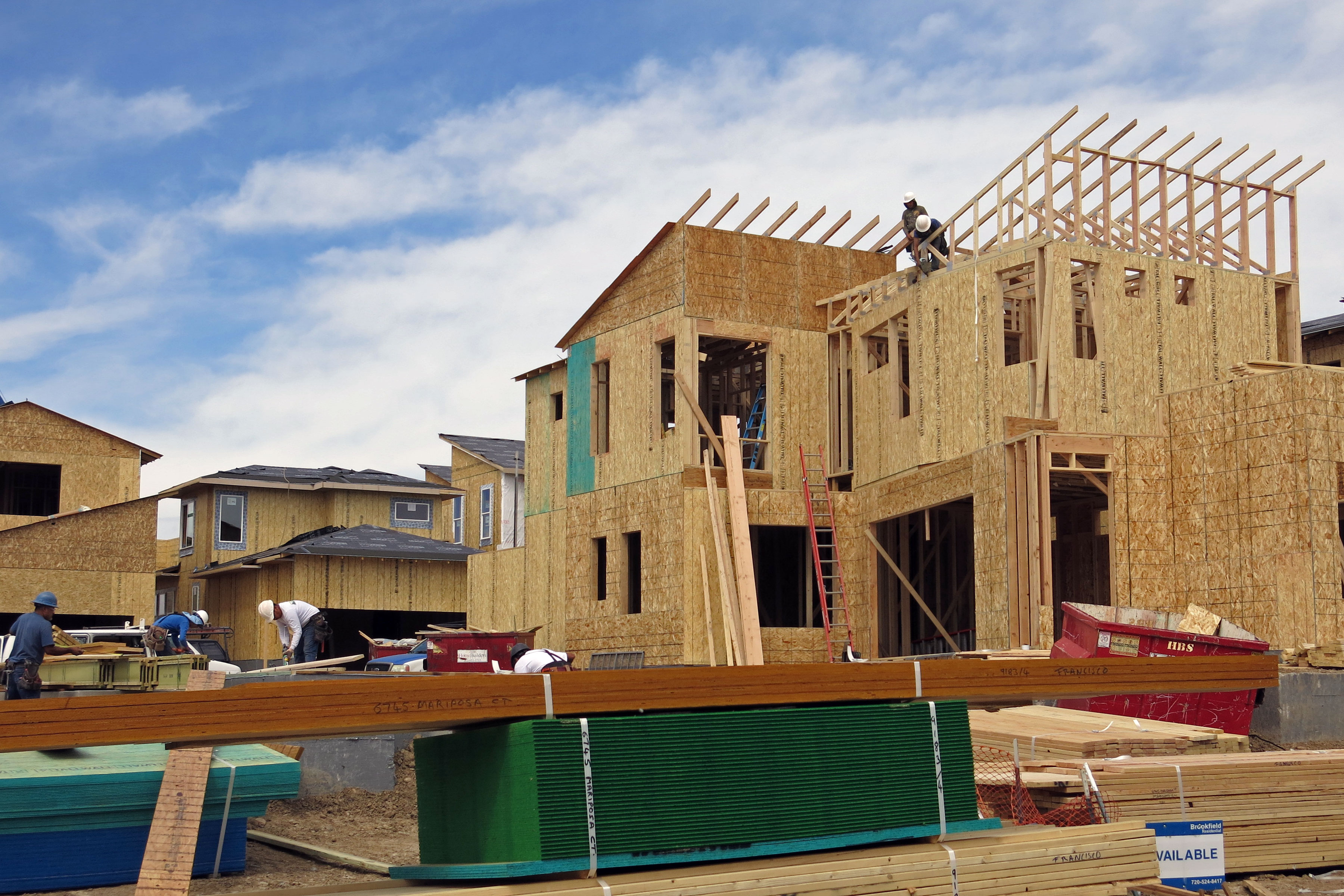 Denver is ground zero for Colorado's construction boom, especially when it comes to building to accommodate a swelling population. In a North Denver development called Midtown, construction workers are still putting finishing touches on Energy Star-rated homes, a program that's existed since 1995.
There's many elements invisible to most people: special building materials and features help these new homes achieve up to 30 percent energy savings. Steve Eagleburger, who works for an independent company named EnergyLogic, is someone who reviews and certifies some of those unseen elements. Today, he's checking a home to make sure the attic is insulated.
"This one is not insulated at all," Eagleburger notes before moving on to the next thing — a checklist of dozens of items.
EnergyLogic CEO Steve Byers said this home won't get the Energy Star seal of approval until the builder fixes the insulation and any other issues his company has flagged.
"The Energy Star brand has brand recognition on par with like Coke and Pepsi," said Byers said. "This is a very successful program. I don't know what more one could want out of a government program."
President Donald Trump's budget outline has proposed elimination of Energy Star and 49 other programs in the Environmental Protection Agency. It's part of a 31 percent cut for the agency. The U.S. Department of Energy, who also plays a role in administering Energy Star, is facing a 5.6 percent cut.
For Lowell Ungar, a senior policy advisor with the nonprofit American Council for an Energy Efficient Economy, the "cuts make no sense." His group, along with about 80 others, wrote to Congress to urge continued support of the program.
"The bottom line is proposed cuts to Energy Star would harm American consumers, they would destroy jobs, and they would make air pollution worse," Ungar said.
Brand Recognition
The federal government launched Energy Star in 1992 to rate computer monitors. Now it covers dozens of product categories from washers to electronics and homes.
Here's how it works: the government sets criteria for efficient products. Companies submit goods to a third party for testing. If they meet the criteria, manufacturers can use the familiar blue sticker to market energy efficiency.
Surveys by the EPA show Energy Star has a high recognition rate for consumers in the U.S. And that brand recognition is growing. The EPA reports more than 90 percent of households recognize Energy Star when shown the label. That's compared to just over 40 percent in 2002.
The label also has an audience in other countries like Mexico and Canada. Mike Gazzano, marketing manager at Delta Products, maker of fans for bathroom ventilation and other uses, said Energy Star can make a difference to those customers.
"We do see that actually as a distinguishing factor," he said. "Kind of along the line of the engineering and technology and seeing it as a premium product, versus say an average or typical bath fan."
Room For Improvements
EPA estimates the program helped American consumers and businesses save $34 billion dollars in 2014. The program costs about $50 million dollars a year, but isn't without some ups and downs.
In 2010, workers at the Government Accountability Office posed as product developers and got the Energy Star label for fictitious products. That launched the third-party certification that exists now.
Doug Johnson, vice president of technology policy with the trade group Consumer Technology Association, said that process can take time out of the already crunched product development cycle.
"So it's a part of the program that we think should be reexamined," he said. "In fact we've been advocates for improving that part of the Energy Star program."
Overall, Johnson said his association supports the Energy Star program. Another trade group for appliance manufacturers, The Association of Home Appliance Manufacturers has voiced support but wants to see changes — like moving Energy Star completely under the Department of Energy's management.
"We can't just keep operating under either the status quo of today or even the status quo of 10 years ago," said Kevin Messner, AHAM's vice president of government relations.
Ultimately the White House's budget proposal is just that, a proposal. It will be up to Congress to negotiate and finalize the budget. What happens in that process will decide whether shoppers continue to see the Energy Star sticker on goods when they head to the showroom. 
You care.
You want to know what is really going on these days, especially in Colorado. We can help you keep up.  The Lookout is a free, daily email newsletter with news and happenings from all over Colorado. Sign up here and we will see you in the morning!