The Denver Metro's Hunger For Housing Is Squeezing Mobile Home Parks
Seen on a map, it's clear why a developer would be interested in Denver Meadows Mobile Home and RV Park in north Aurora.
The CU Anschutz Medical Campus and new VA Medical Center overlook the 20-acre property. A creek runs along the area until the waterway enters a nearby park. And the Colfax stop on RTD's new R-Line is well within walking distance.
The park's owner, Shawn Lustigman, intends to close the park next June. That would affect around 100 families who live in Denver Meadows, which residents describe as a tight-knit community that's relatively affordable.
But residents say they are not giving up the park without a fight.
Residents Organize
Earlier this month, resident Luz Galicia put together a Children's Day event in her role as president of the park's homeowners' association — Denver Meadows Vecinos Unidos. The day included face painting and the dismemberment of a monkey-shaped piñata.
Besides being a set of Sunday activities for neighborhood families, Galicia said the event was also a show of strength.
(Sam Brasch/CPR News)
"The stronger we are as a community, the more powerful we can be when we say the best option for us is to keep the park," she said.
Park managers have told residents they no longer wish to run the park and plan to retire. Residents don't buy it. They think the closure is part of the owner's plan to sell the park to a developer.
Lustigman, a local businessman, also owns Berkeley Village Mobile Home Park in Arvada and A-1 Mobile Village in Colorado Springs as well as other parks around the country.
In December of 2015, he applied to rezone to Denver Meadows to allow construction of high-rise apartments, new shops and hotels — but not mobile homes. Notices went up around Denver Meadows last spring. With the help of 9to5 Colorado, a local advocacy group, residents showed up en masse when Aurora's zoning commission and city council considered the zoning decision.
(Nathaniel Minor/CPR News)
Last July, the council voted to table the request, citing poor relations between the management and residents. But the decision has not shifted plans to close the park.
Lustigman declined multiple requests to comment for this story, but in a meeting recorded by residents, he was as clear as the eviction notices that have already been sent to residents.
"The park is closing," Lustigman said. "It doesn't make a difference. There's really nothing you can do."
Affordable Homes Threatened Across The State
Like most people who live in mobile or modular homes, the residents of Denver Meadows tend to own their physical shelters but not the land underneath. Esther Sullivan, an assistant professor of sociology at CU Denver who has studied mobile home parks, said the split-ownership model amounts to an affordable housing paradox.
Sam Brasch/CPR News
"Mobile homes are affordable because you don't have to go and purchase land. You can simply rent it," but Sullivan added that same land model makes the housing precarious.
That's because rising property values incentivize park owners to sell. The Corporation for Enterprise Development, a research and advocacy group, presented data in 2013 identifying about 100,000 units across the Colorado — the largest housing stock available to the state's low-income residents. The group estimates that 40,000 of the units could be lost to pressures like zoning changes or development.
Andrea Chiriboga-Flor, a housing organizer with 9to5 Colorado, said her office has become a kind of emergency helpline for endangered mobile home parks.
"This isn't just Adams County. I've gotten calls from Lake County, Eagle County, Summit County," she said.
Besides residents, Chiriboga-Flor often hears from local officials worried that if parks close, their communities could lose housing for low-income workers. Such concerns have pushed some Colorado communities to take action to preserve mobile home parks.
Models For Preservation
Boulder's Mapleton Mobile Home Park is likely the most well-noted model for mobile home preservation in the state. In 2004, Thistle Communities, a nonprofit, purchased the park as a part of a county-wide strategy to maintain affordable housing. The arrangement keeps the vast majority of land rents affordable for residents.
Longmont is currently looking into similar arrangements to maintain a mobile home park. Commissioners in Pitkin County purchased a park in December of 2016, which they say allowed 60 people to stay in their homes.
Denver Meadows residents thought they had their own answer, one that could set a precedent for the rest of Colorado. They would be the state's first mobile home residents to collectively buy the park for themselves.
(Nathaniel Minor/CPR News)
Resident-owned communities have caught on in a number of states, especially New Hampshire. ROC USA, a nonprofit that organizes financing for residents to buy parks, now has around 200 parks across the country.
Bailey Dotson, who works with Thistle Communities and ROC USA, made a market-rate offer on the park on behalf of Denver Meadows residents. Dotson expected that after appraisal, the sale price could come to roughly between $15 and $18 million. He said that in a private meeting over a month ago, park owner Shawn Lustigman declined.
"He was very clear with me that they don't intend to sell the park and close in 2018," said Dotson.
Christian Hendrickson, a lawyer who has represented other park owners through the Rocky Mountain Home Association, said the conflict at Denver Meadows does not represent the industry as a whole. He knows many owners who treat their residents as valued customers, sometimes even leaving out cookies in communal clubhouses.
(Nathaniel Minor/CPR News)
"That said, this is generally private property," he said. "People have rights on their private property, up to and including to sell it."
The Challenges Of Relocation
The conflict has stretched for over a year now. In that time, rents have gone up and residents say they have seen no park improvements in return. The community also has started to keep scrupulous notes on Fay Cline, a park manager who patrols Denver Meadows in a golf cart.
The residents say Cline has tightened park rules in response to organizing efforts in the park. If true, the actions would violate the Colorado Mobile Home Park Act, which forbids rule enforcement that is "retaliatory or discriminatory in nature." Cline declined to respond to the allegations.
As the clock runs down, residents are turning to the City of Aurora in a final attempt to hold onto the park. The HOA and organizers plan to ask the City Council to deny the owner's request to rezone. They hope to force Lustigman back to the table.
Without a deal or new action for the city, residents will have to relocate their homes in just over a year.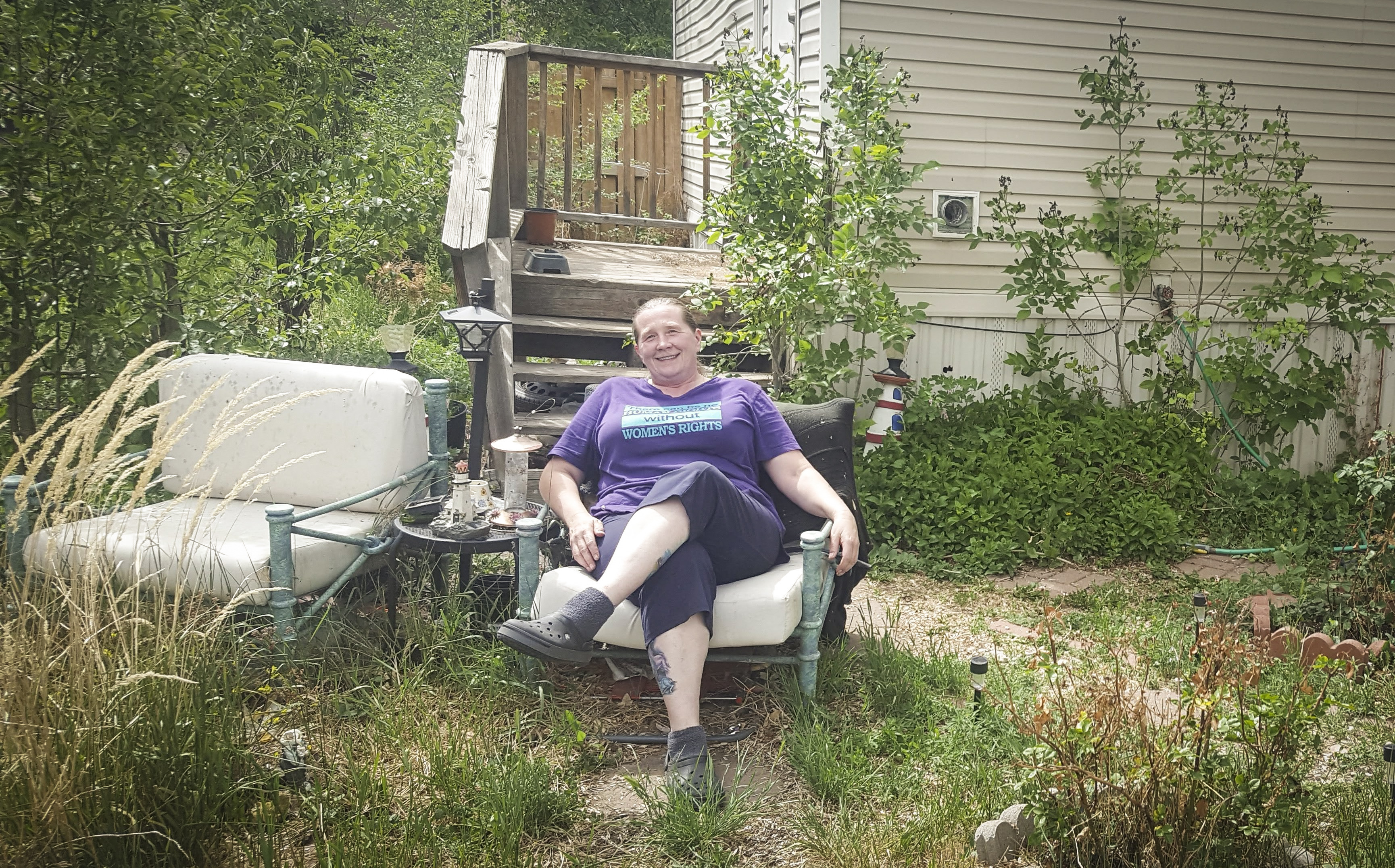 (Sam Brasch/CPR News)
Resident Petra Bennett said the prospect is more difficult than people might imagine. Vacancies are scant in the metro area. Even if you find one, the cost to move a home generally runs between $5,000 and $10,000, according to the Corporation For Enterprise Development.
In a walk across the park on a recent cloudy afternoon, Bennett pointed out a number of trailers that likely can't be moved at all. Many were made before 1976 when the federal Department of Housing and Urban Development set standards for manufactured homes. Most parks refuse to accept pre-1976 structures.
Beyond those practical limitations, Bennett can't imagine letting go of her home tucked in a grove beside an overpass.
"It's cheaper living than a 'house house,' but it really is the same thing. You raise your family here. You make your memories here. You put all of your money and pride into these homes."
That's clear from looking at her yard. With the help of her sons, Bennett dug ponds and lined them with berry bushes and fruit trees. She said the landscaping was a way to create an oasis in her backyard.
And while she succeeded, it remains an oasis built on someone else's land.
You care.
You want to know what is really going on these days, especially in Colorado. We can help you keep up.  The Lookout is a free, daily email newsletter with news and happenings from all over Colorado. Sign up here and we will see you in the morning!