Sustainability Careers Have Gotten A Trump Bump — At The Local Level
Over the last five years, Colorado universities have created graduate student programs focused on sustainability. They've popped up at the University of Colorado, Western State Colorado University and Colorado State University.
Millennials like Ben Robinson have certainly taken notice.
He loves numbers and cares about climate change. Those two things inspired him to leave Florida and move to Fort Collins, Colorado, to pursue a master's in Greenhouse Gas Management and Accounting at CSU. And he had a plan for the future.
Robinson initially thought, "Maybe I'll work for the EPA in doing something like this," but President Donald Trump's election and a shift in federal policies made him think again.
"Now I'm like, 'Maybe I'll work for the California Air Resources Board,'" he said.
Growth in the relatively new career field of sustainability has shifted. It's not the federal government hiring anymore. Now local governments and companies are bringing on specialists.
Across this specialized field, deep action and jobs are driven by policy and expectations of policy, said Greenhouse Gas Management Institute founder Michael Gillenwater. After Trump announced his intention to pull out of the Paris Climate Agreement, "we're seeing a retrenchment of that at the domestic level."
Rich Conant, an ecosystem science professor and founder of CSU's greenhouse gas program said "the growth is going to be in other places."
Many cities and states are still working toward carbon reduction goals thanks to efforts like the We Are Still In Pledge. Colorado itself has pledged to uphold the Paris accord.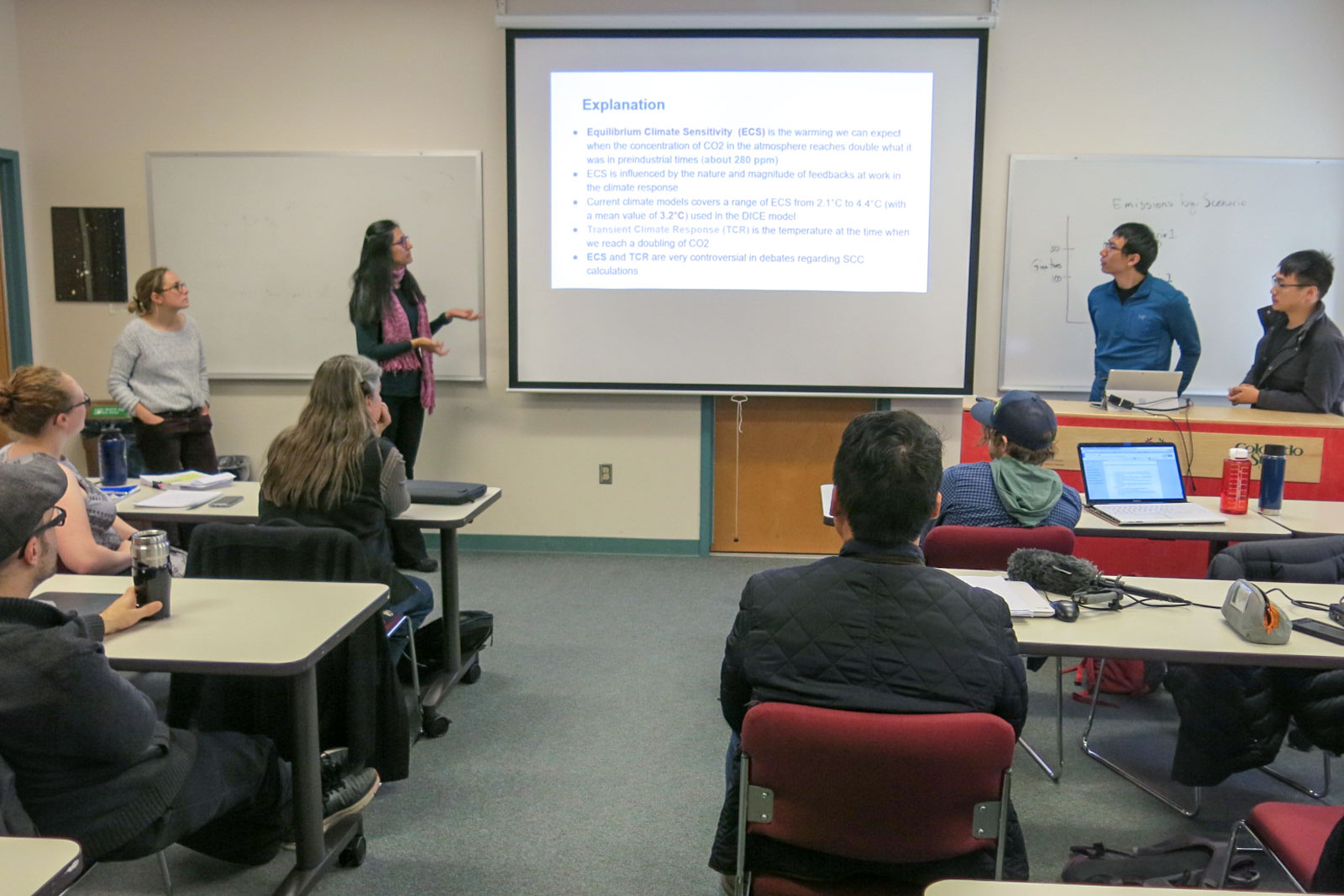 Conant shepherds a few students each year through the graduate program focused on the business of quantifying and reducing greenhouse gases. Down the road in Boulder, at the University of Colorado, a few dozen students are in another type of environmental program. Applications for a Masters of the Environment are up 40 percent heading into 2018.
"The forces behind the development of wind and solar, the demand coming from commercial and industrial customers, this created a momentum that couldn't be stopped," said current CU graduate student Lauren Berger.
The job outlook for environmental scientists and specialists is expected to grow 11 percent over the next decade compared to average. Environmental Studies professor and director Joel Hartter said sustainability is a popular topic with millennials. And yet, just five out of the 33 students graduating this winter have secured jobs.
Hartter pointed out that they'll need to compete in a field that's still maturing.
"You already have people filling the niche who are 'Oh, I'll have a policy person or a government affairs person,'" he said. "But what we need is really a person who really thinks across these different disciplines. And that's the type of person that we're putting out."
The CU program encourages students to create a final project working with a local company or government agency. Some students like Lauren Berger can combine MBAs with the master's degree.
Even still, landing an entry level job in the green sector can be a challenge, especially in Colorado.
Jeff Yorzyk, a past president of the International Society of Sustainability Professionals' Board of Directors, noted that businesses know they need to hire for sustainability, but "they don't quite know how to staff for it. And they don't always even know how to scope out what the position is."
Yorzyk said hundreds have gotten a new certification offered by ISSP to distinguish their work. In Colorado he sees workers getting into this field with a company where sustainability starts as a side interest. For example, one fiber optics worker ran a recycling program on the side. When that got attention for the company, it created a new job to communicate that program and other efforts to the public.
"Individuals are not quite at the right place at the right time, but they're doing things internally within companies that when the need comes internally at companies, they're well positioned to capture it," he said.
Fortune 500 companies and larger governments on the East and West Coasts have already created some of these jobs. It's a picture that gets CSU Greenhouse Gas Accounting student Jensen Morgan excited. He's already flown out to Washington state for a job interview.
"There's many more [jobs] than I expected there to be in the short time I've been looking," Morgan said.
The sustainability field barely existed 10 years ago. Now it's growing. That's what really enthuses Morgan. As new technology makes data collection easier he said the field will continue to change in exciting ways.
Editor's Note: An earlier version of this story connected Michael Bloomberg to the We Are Still In Pledge. Bloomberg is affiliated with America's Pledge, an effort that seeks to quantify the greenhouse gas reduction work of groups like We Are Still In.
You care.
You want to know what is really going on these days, especially in Colorado. We can help you keep up.  The Lookout is a free, daily email newsletter with news and happenings from all over Colorado. Sign up here and we will see you in the morning!