Denver Mayor Apologizes After Detective Says He Harassed Her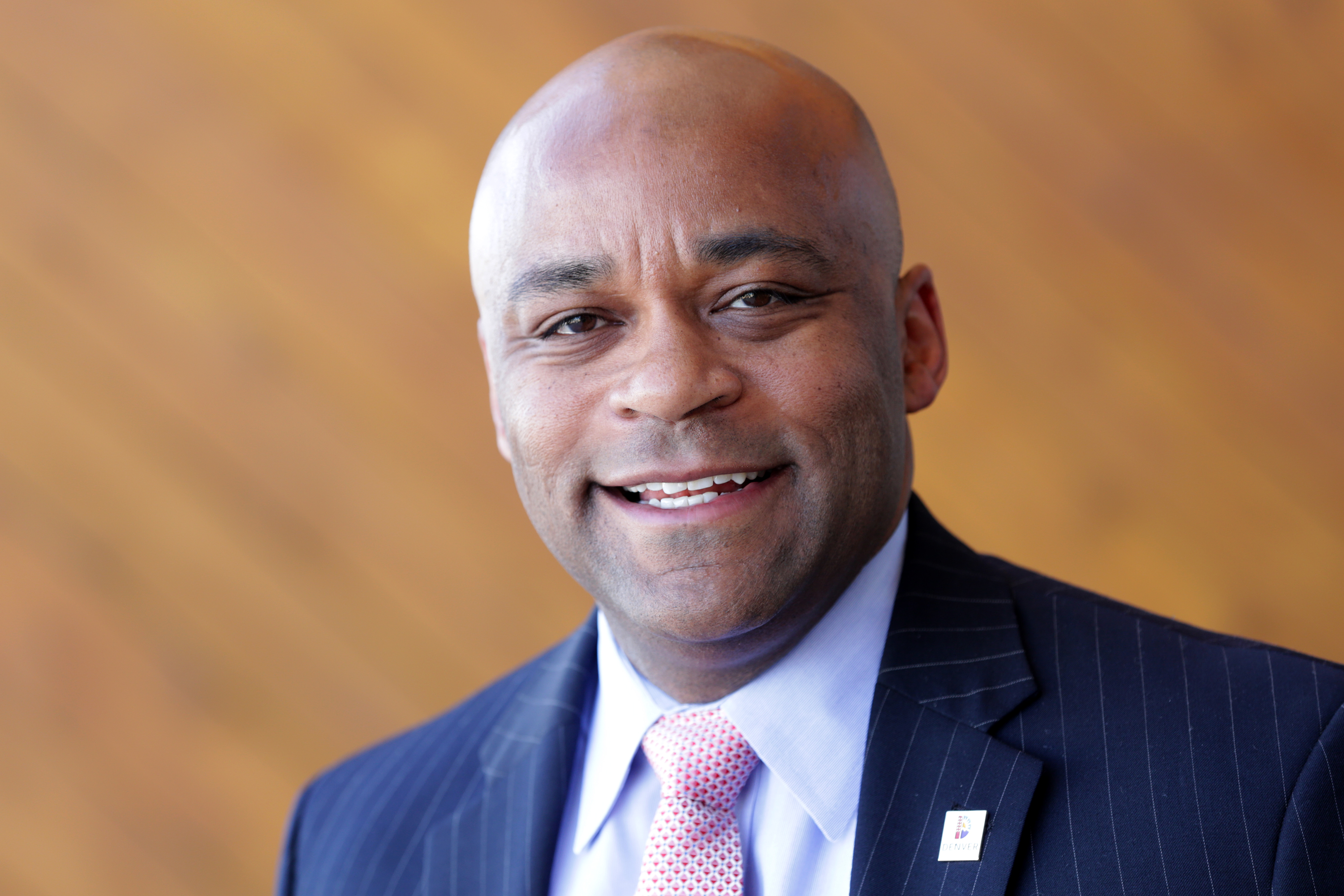 Updated 4:45 p.m. -- Denver Mayor Michael Hancock has apologized after a former member of his security detail accused him of making inappropriate comments and sending her harassing text messages in 2012.
Police Detective Leslie Branch-Wise told KMGH-TV that in one text, Hancock complimented her haircut and wrote, "You made it hard on a brotha to keep it correct every day." In another text, he mentioned that he spotted her on television in the crowd at a Denver Nuggets basketball game and said, "You look sexy in all that black."
"I just want people to know that I'm a woman, I have children and I'm a victim of sexual harassment," said Branch-Wise, who was on the security detail in 2011 and 2012. "It made me physically sick. It was extremely scary."
Hancock told KMGH he doesn't think his behavior constituted sexual harassment, but he now realizes it was inappropriate. He also apologized to Branch-Wise, his wife, his children and to the city of Denver, saying he was wrong to send the messages.
"Six years ago, when Detective Leslie Branch-Wise was on my detail, we became friends and I blurred the lines between being a friend and being a boss," he said. "Our text exchanges became too casual, too familiar, and last week I learned, after six years, that they hurt her and offended her. ... I am here to accept the responsibility for that and to apologize."
As the story spread, some on the Denver City Council said they were troubled and disappointed by the news, but none so far have called for the mayor to suffer any consequences.
"I take these issues very seriously and am committed to fostering an environment that is professional, respectful, and free from workplace  harassment and discrimination," said Councilwoman -at-Large Debbie Ortega. "It is never appropriate to subject a woman or any person in the workplace to sexual comments, innuendo or harassment, especially when they are a sub ordinate."
Denver's human resources department will launch mandatory sexual harassment prevention training next month.
The chair of the Denver Democrats, Mike Cerbo, said the executive committee is following the situation closely. 
"Just this morning I heard of the allegations about the text messages from the mayor to the police officer," he said in a statement. "I support and commend the woman who came forward with her story. Political leaders are being held to a high standard in the area of sexual harassment, as well they should. If leaders do not understand the legal boundaries of professional behavior in the employment relationship, they should not be serving in government."
Council member Albus Brooks said on his Facebook page, "My heart hurts for Detective Branch and families this impacted. The Mayor has rightfully apologized, and I trust that he and his administration are taking the appropriate steps to learn from this lesson so it won't happen again."
Brooks also added that, "In this situation, Denver City Council has no legal authority to take any action on behalf of this employee or against the Mayor."
Branch-Wise, who said she does not intend to file a harassment claim, first raised allegations of sexual harassment in 2012 against one of Hancock's aides, who was fired four days later. The aide then sued for wrongful termination and ultimately settled with the city for $200,000.
Branch-Wise, who reached a $75,000 settlement with the city, now says she regrets not holding the mayor accountable as well.
"If you are down here and your boss is up here and he's showering you with these inappropriate texts and sayings and making you feel uncomfortable, who do you tell if he's at the top?" she said. "It's crushing."
She said that she also worries about retaliation in her current job as a Denver police detective, although Hancock indicated that she has nothing to fear.
"She has served our city well as a Denver police officer. She continues to serve our city well," he said. "There's no revenge here. I hope to apologize to her, if she will allow me to do that. The city is not interested in retaliation. I'm interested in taking responsibility."
Hancock has been Denver's mayor since 2011.
You care.
You want to know what is really going on these days, especially in Colorado. We can help you keep up.  The Lookout is a free, daily email newsletter with news and happenings from all over Colorado. Sign up here and we will see you in the morning!