Lebsock Expelled From Colorado House Following Marathon Harassment Debate
Published 2:16 p.m. | Updated 5:32 p.m.
At the end of a dramatic day full of tears, personal revelations even some political maneuvering, Colorado legislators voted to oust one of their own over multiple allegations of sexual harassment.
House members voted 52 to 9 to expel Rep. Steve Lebsock. The vote required two-thirds of all the House to say "aye" — or 44 of the 65 members. At the start of the day, that outcome was not guaranteed. Eight Republicans were needed to join Democrats, sans Lebsock, to move ahead with expulsion. In the end, as the debate turned against Lebsock, the margin was much wider.
"I am just so happy that this chamber took action," said Rep. Faith Winter, one of Lebsock's accusers. "Today's vote was a courageous vote."
Lebsock becomes the first Colorado House member expelled since 1915, when Rep. William Howlett was ejected after he perjured himself in a bribery investigation.
However, just before the vote happened, Lebsock changed parties from Democrat to Republican. That may mean Republicans can form the vacancy committee to select a new representative.
"As far as Lebsock goes, the Republicans can have him," a Colorado Democratic Party spokesman said in a statement. "As far as the seat, we're looking into it. Either way, we're confident the district will be represented by a Democrat by the time the next session begins."
Even ahead of the vote, Democratic lawmakers knew expulsion would be a tough sell for Republicans. Many had complained the process leading up to expulsion lacked time and due process — opinions that Lebsock himself has echoed for months, and returned to multiple times Friday.
Nathaniel Minor/CPR News
"There has been a severe lack of due process since the beginning," Lebsock told the gathered lawmakers in his first opportunity to speak to the body.
But in his remarks, Assistant Minority Leader Cole Wist, R-Centennial, shifted the focus to Lebsock's own retaliation — not on the alleged assault. Wist argued that Lebsock opened himself up for expulsion when he sent each legislator a 28-page document with "his side of the story" on Jan. 8.
"There is a correct way to fight back, and an incorrect way to fight back," Wist said, adding that the decision in how to vote weighed heavily on him. "I don't know about you, but I didn't sleep particularly well last night."
Lebsock later took to the podium to address Wist's concern.
"Members, I stayed quiet for a long time hoping that the other side would not violate confidentiality. But that did not happen." He said he felt he had to distribute his document because a measure to expel him was to be introduced two days later, on Jan. 10.
The allegations against Lebsock, first reported in November by KUNC, were led by Rep. Faith Winter, D-Westminster. She said she's done her best to avoid Lebsock since the legislative session began.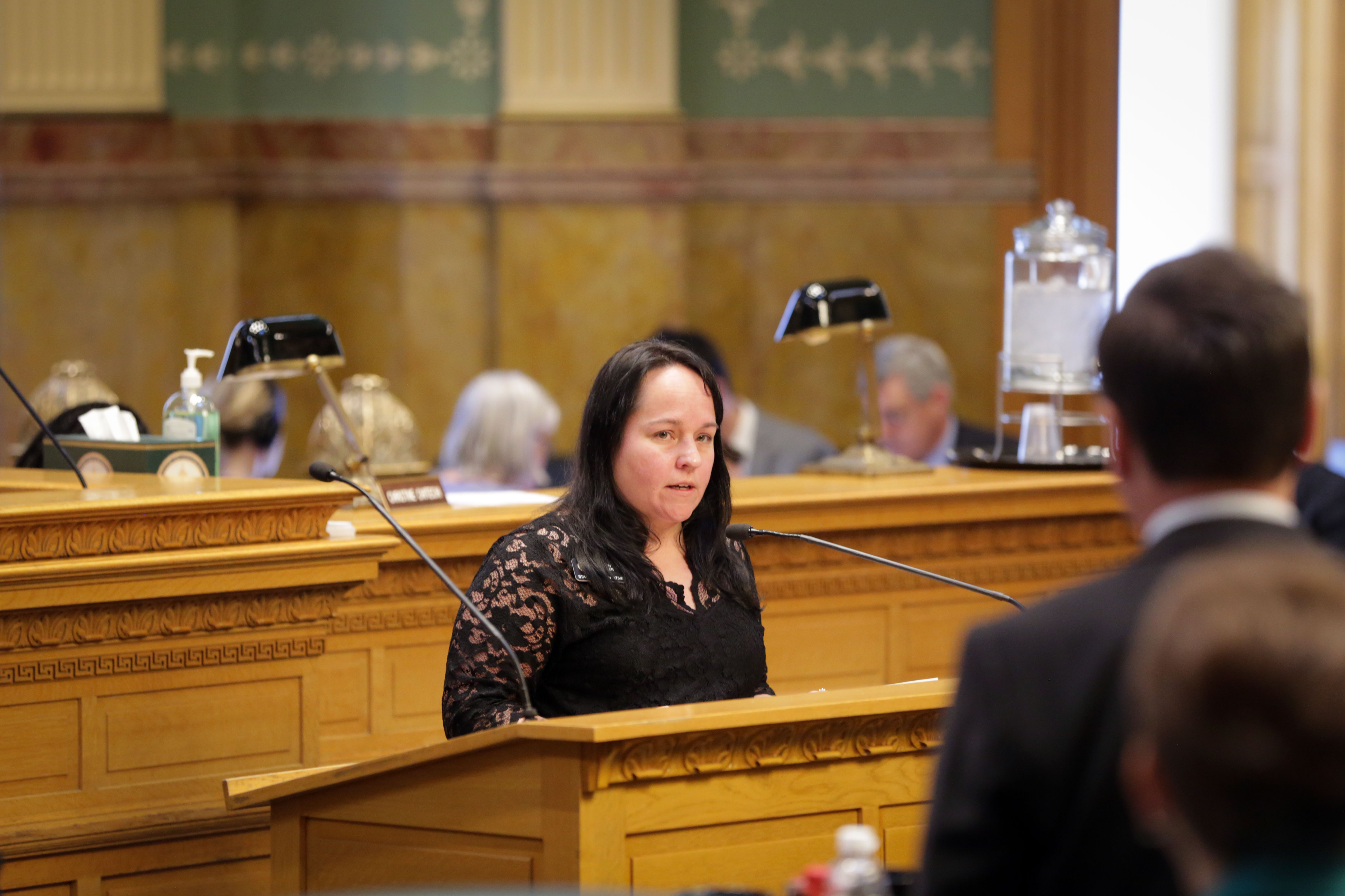 "I've showed up every day for three months, trying not to set him off," Winter said.
Winter started the debate early Friday by pleading with her fellow legislators to expel Lebsock.
"It isn't just a question of he said, she said, or even a question of he said, she said, she said, she said, she said, she said," Winter said from the House floor. "This is a question of how today in this body we are going to stand up for democracy."
Two other legislators, Reps. Alec Garnett and Matt Gray, said they've actually worn bulletproof vests to the Capitol in recent weeks out of fear of retaliation from Lebsock.
"I love my job, but I love my family more," Garnett said.
Democrat Leslie Herod — who revealed, when she spoke, that she was harassed in the Legislature by a staffer when she was a legislative aide — expanded on the question posed by Winter, invoking something she said her mother used to say: "My house, my rules. This is our House, it is the people's House and today it's up to us to decide what our rules our and what we accept and what we will tolerate."
House Speaker Crisanta Duran weathered an attempt by Rep. Dave Williams, R-Colorado Springs, to amend the bill to include an investigation into her handling of the Lebsock affair. It lost by a count of 45 to 15.
Winter's complaint, along with two additional formal complaints and other anonymous allegations, were investigated by the Employer's Council, an outside independent firm. That firm's report was criticized by both Republicans and Lebsock, though ultimately the focus on Lebsock's retaliation made the report less important.
Just moments after the vote was tallied, one young female aide turned to another and said that perhaps she would consider a career in politics after all.
Colorado Public Radio's Sam Brasch, Nathaniel Minor and Jim Hill contributed to this report.
You care.
You want to know what is really going on these days, especially in Colorado. We can help you keep up.  The Lookout is a free, daily email newsletter with news and happenings from all over Colorado. Sign up here and we will see you in the morning!