As Other Student Protests Shout Out, Columbine's Walkout Takes Somber Tone
At the dozens of other student walkouts around Colorado to protest gun violence in schools, students chanted, shouted, and even sang.
But the scene was different at Columbine High in Littleton. At 10 a.m. Wednesday, students silently filed onto the soccer field. They stood, hushed, for 17 minutes as balloons were released into a clear blue sky overhead — one for each victim of the Stoneman Douglas High School shooting in Parkland, Florida and the April 1999 Columbine massacre.
It was a notable event at the high school, which next year will mark the 20th anniversary of the deadly shooting that left 13 of its own dead. It's cast a long shadow over the school. One of the student organizers, 16-year-old Kaylee Tyner, said her school community has recovered by remembering, hoping, and finally, pushing for action.
"We must keep fighting and using our voices if we want to see change in our country," Tyner said. "In the end, we are Columbine. We're a community that has grown out of love and support of others, regardless of the tragedy that occurred here."
Tyner will head to Washington for the March 24 March For Our Lives event. She said growing up in a community that's been affected by a school shooting has made the problem more real for her.
"We just have to continue to talk about this," Tyner said. "And I want to keep this conversation in our school as well. Because although there was a shooting that happened here, we just have to keep talking about it."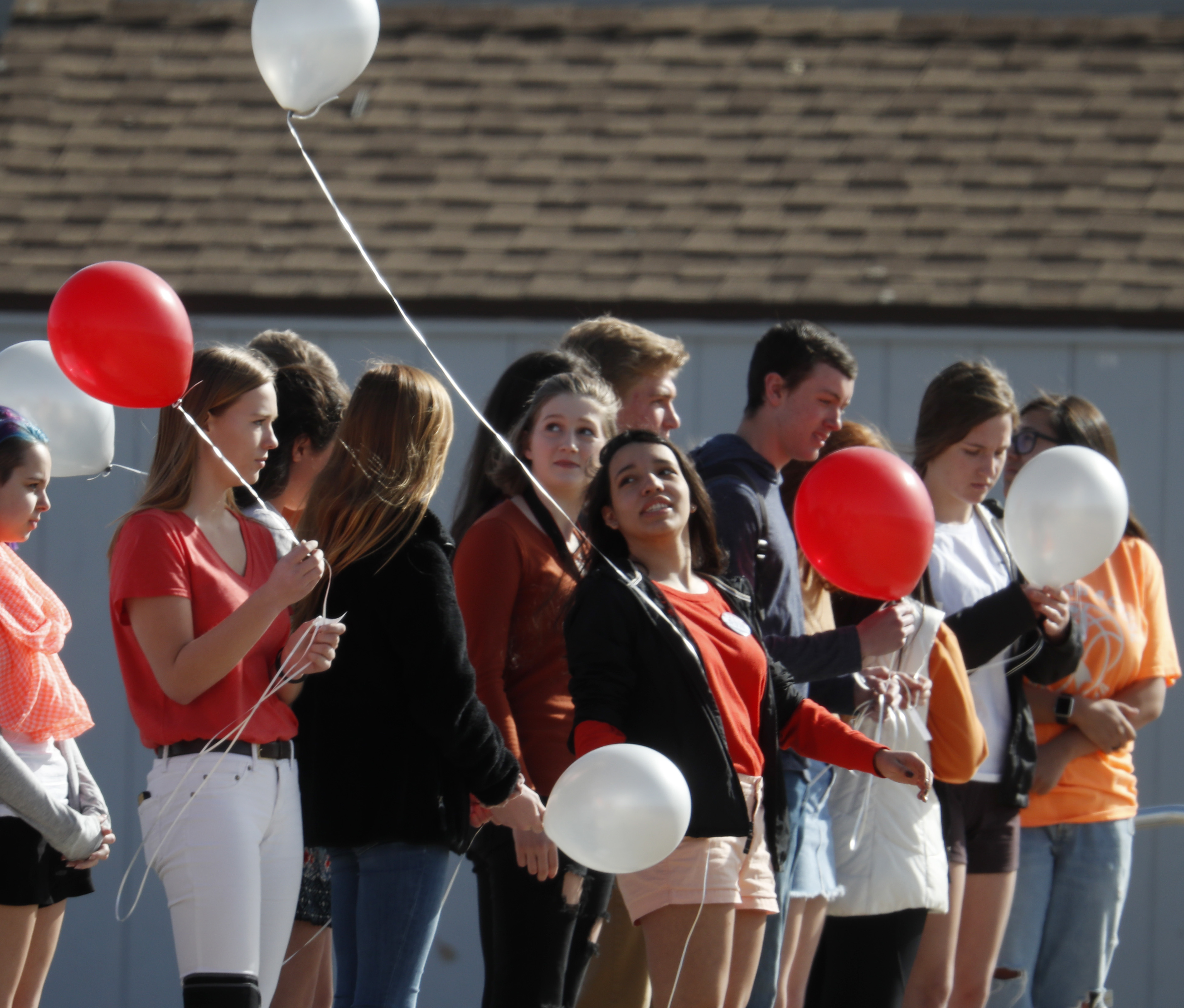 (AP Photo/David Zalubowski)
Senior Cole Hillyer, 18, said he participated in the protest because he thinks more should be done to prevent school shootings.  
"We're scared," Hillyer said. "It's not something that should be taken lightly and we're certainly not."
The Stoneman Douglas shooting changed the mood at Columbine, Hillyer said.
"I don't think there's a kid in the school that wants to see anybody get hurt, let alone something like that happen again," Hillyer said.
Former Columbine Principal Frank DeAngelis, who was in his third year when the attack on Columbine happened, said he's glad students today are speaking out.
"I could not be more proud to be a Columbine Rebel today," DeAngelis said. "I think as adults I think we've done a poor job of making changes after each school shooting."
As the memorial wound down, a single student holding a sign that read "Enough is Enough" approached a group of reporters.
"We can't go to school in fear anymore!" the student shouted, breaking an otherwise quiet atmosphere. "We're at the Columbine! We can't stand gun violence anymore. No more!"
You care.
You want to know what is really going on these days, especially in Colorado. We can help you keep up.  The Lookout is a free, daily email newsletter with news and happenings from all over Colorado. Sign up here and we will see you in the morning!