6 Ways SCOTUS Could Decide The Masterpiece Cakeshop Case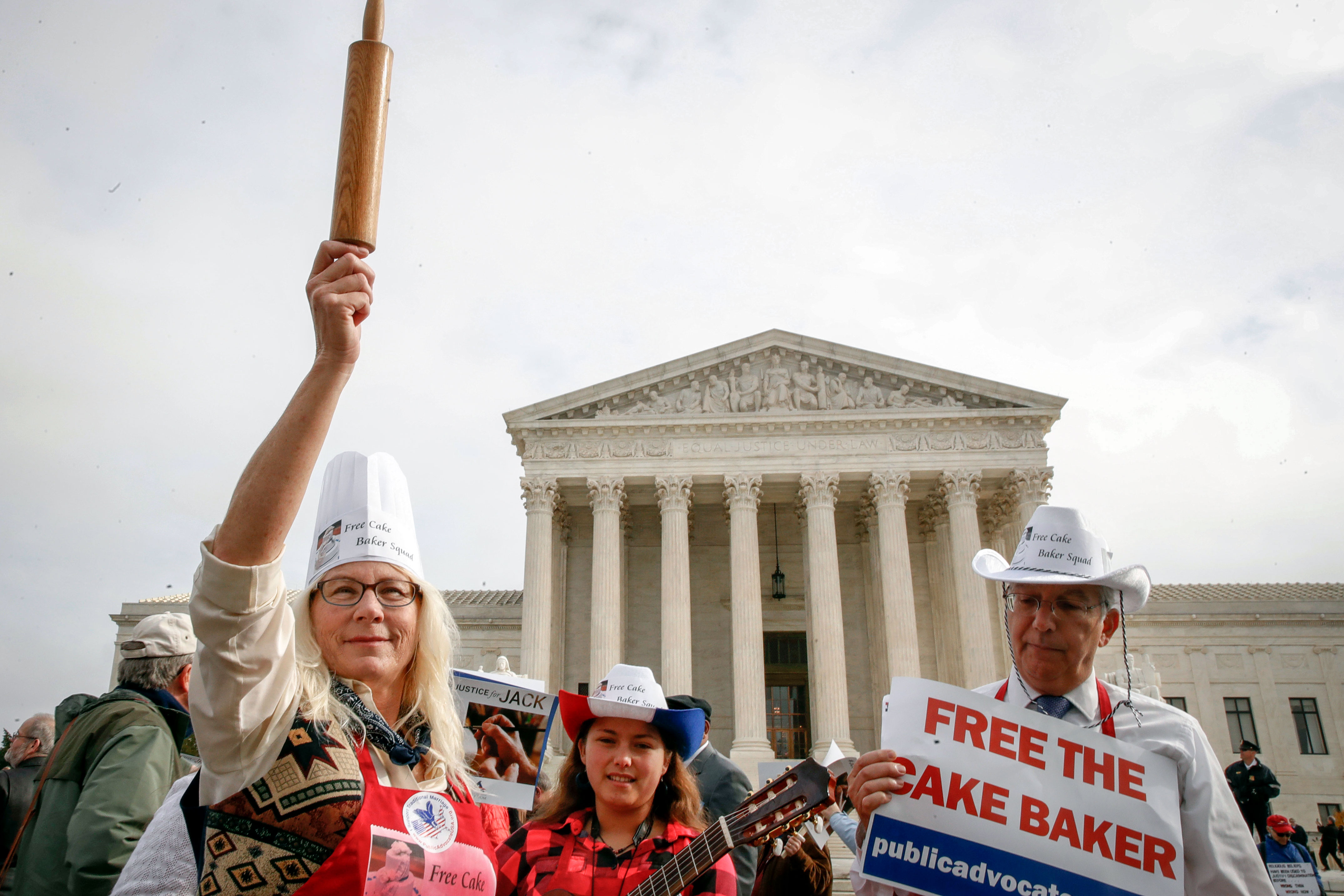 An opinion is due any day now in the Masterpiece Cakeshop v. Colorado Civil Rights Commission case currently in the hands of the Supreme Court of the United States.
The five-year legal battle between Lakewood baker Jack Phillips and Denver gay couple Charlie Craig and David Mullins started in 2012 over a wedding cake. As we reported in the lead up to December arguments before the justices, the details aren't in dispute. The couple went to Phillips' Masterpiece Cakeshop to order a wedding cake for a Colorado party to celebrate their marriage in Massachusetts.
When Phillips learned the cake was to celebrate a gay marriage, he declined the business and instead offered off-the-counter products, cookies or brownies. He contended that making the custom cake would be against his Christian belief that marriage is only between a man and a woman.
The central argument is whether Jack Phillips has a First Amendment right as a cake creator to refuse service on religious grounds or if Colorado's public accommodation laws against discrimination trump that position.
The October 2017 term for the court hasn't been short on high profile cases. Arguments were heard on Gerrymandering, sports betting (resulting in a win for New Jersey), the Trump administration's travel ban and over a multibillion-dollar dispute for online sales taxes. The Masterpiece decision potentially could have an immediate impact on simmering culture wars — or it may be limited in scope in certain cases.
Here are the possible outcomes that could be decided by the nation's highest court:
Explicitly Finds No Exemption For Religious Belief
Court rules in favor of the Colorado Commission on Civil Rights broadly, explicitly spelling out that business owners have no right to turn away service, goods, etc., from LGBT people in any context across the country based on religious beliefs.
Targeted Ruling In Favor Of Religious Belief
Court finds certain businesses have a license to turn service and business away because of their religious beliefs. This ruling includes the bakery for the purposes of this case and could create an exemption from anti-discrimination laws for wedding-related services for LGBT people or for expressive businesses.
Calls All Anti-Discrimination Laws Into Question
Court finds all businesses have the right to turn away service and business based on religious beliefs. All anti-discrimination laws are called into question because the Court finds problems based on religion or expression that prohibits enforcement.
Broad Service Based On Religious Belief
Court finds a wider range of businesses have the right to turn service and business away from LGBT people, based on religious beliefs. The Court could find that any business has a license to choose who they serve based on religious beliefs, or where alternative vendors are available.
Leaves The Door Open For Future Courts
Court upholds Colorado's decision but leaves open the door for different results in future decisions – including cases involving different products with words or symbols and different businesses, including vendors who may be actively involved in religious ceremonies.
No National Impact
Court remands back to the Colorado state courts or finds for Masterpiece Bakery because of concerns about specific anti-religious bias at the commission. This ruling has no broader impact on law.
You care.
You want to know what is really going on these days, especially in Colorado. We can help you keep up.  The Lookout is a free, daily email newsletter with news and happenings from all over Colorado. Sign up here and we will see you in the morning!