Federal Regulator Threatens To Shut Down RTD's A Line to DIA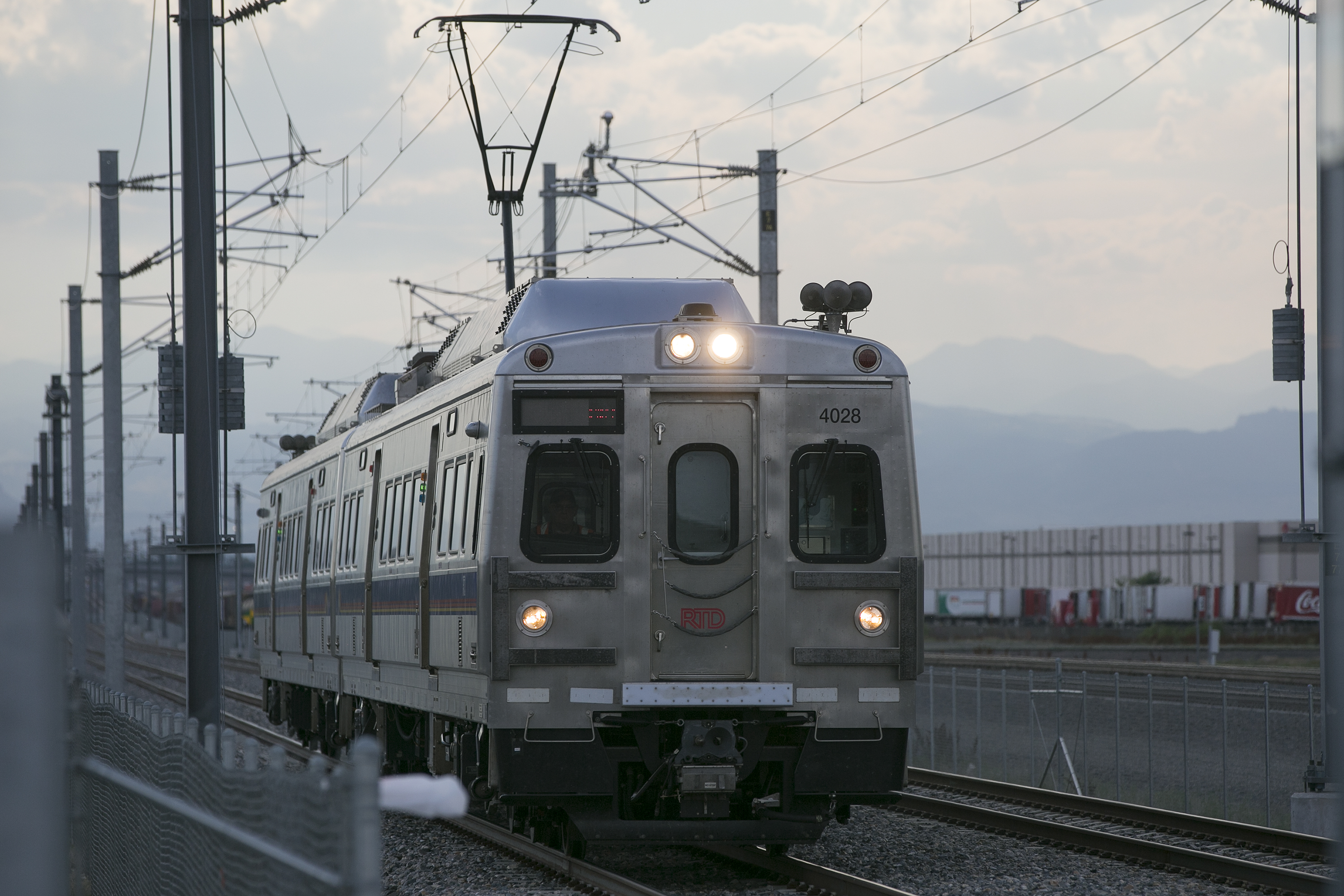 Federal safety regulators charged with oversight of the Regional Transportation District's A Line to Denver International Airport say they may shut it down if RTD does not develop an action plan to fix ongoing issues within a year.
At issue are crossing gates that, in some instances, come down too early and stay down too long. RTD and its private contractor, Denver Transit Partners, used new wireless gate-control technology that would meet new federal safety standards. But the Denver commuter trains are the guinea pig for the new wireless system, and the Federal Railroad Administration's letter said it still isn't working properly.
"This safety issue has existed since the commencement of RTD's Eagle Project, and FRA has expended considerable time and resources to support and assist RTD to come into compliance," wrote Robert Lauby, the FRA's associate administrator for railroad safety and chief safety officer.
Because of crossing gate complications, the FRA had to grant a waiver allowing the A Line to open as scheduled in April 2016. The FRA's waiver also required flaggers to be posted at every at-grade crossing. The costs associated with that are partly why RTD and Denver Transit Partners are now suing each other in district court.
But RTD has "not made substantial progress" in fixing those issues since then, Lauby wrote. In one week in August 2018, he continued, FRA inspectors found 63 instances where warning times did not meet the standards laid out in the waiver.
"This level of noncompliance with the conditions of the waiver is unacceptable," he said.
The letter pointed out that problems go beyond crossing gates. Signals near Union Station need modification, and the locomotive engineer qualification and certification program does not meet FRA's standards. CPR News published an investigative report in March that found train operators had made dozens of dangerous mistakes.
Overall, Lauby wrote, the FRA has identified and "initiated enforcement action" on more than 1,000 defective conditions on RTD's commuter rail lines since 2016. Those are the A Line to the airport, the B Line to Westminster, and the yet-to-be-opened G Line to Arvada and Wheat Ridge.
Now, the FRA threat is to modify or revoke the waiver that allows the A Line to operate. On Nov. 15, it gave RTD 30 days to develop and submit an action plan that shows how it will bring the crossing gate system into compliance within one year.
Lauby also rejected RTD's request to begin operation of the G Line, which was supposed to open in October 2016. Crossing warning times there "routinely" do not meet the FRA's standards, he said.  
"FRA encourages RTD and its partners to act with a sense of urgency to address these significant ongoing safety concerns," Lauby's letter stated.
RTD issued its response in mid-November, but the FRA's letter was made public only this week. RTD said it will work with Denver Transit Partners to develop the corrective action plan.
"RTD is also requiring DTP to identify and describe the technical resources to be employed to satisfy RTD's and FRA's concerns," an RTD spokesperson wrote, adding that "safe, reliable service" of the A Line will continue.
Denver Transit Partners' chief John Thompson, meanwhile, said the warning system is working "exactly as specified, designed and implemented." It cannot guarantee "precise" warning times, Thompson said, because speed is controlled by the operator and conditions can change quickly.
Thompson said the A Line has safely carried some 17 million passengers since it opened and has an on-time rate of 97 percent. He also took issue with the FRA itself, echoing a claim made in his company's lawsuit against RTD.
"Denver Transit Partners has shared with the FRA our position that there appears to be a misapplication of their regulations or a misunderstanding between the FRA and system designers," Thompson said.
You care.
You want to know what is really going on these days, especially in Colorado. We can help you keep up.  The Lookout is a free, daily email newsletter with news and happenings from all over Colorado. Sign up here and we will see you in the morning!