Democrats Are Ready To Tie ICE's Hands. But What Will Gov. Polis Do?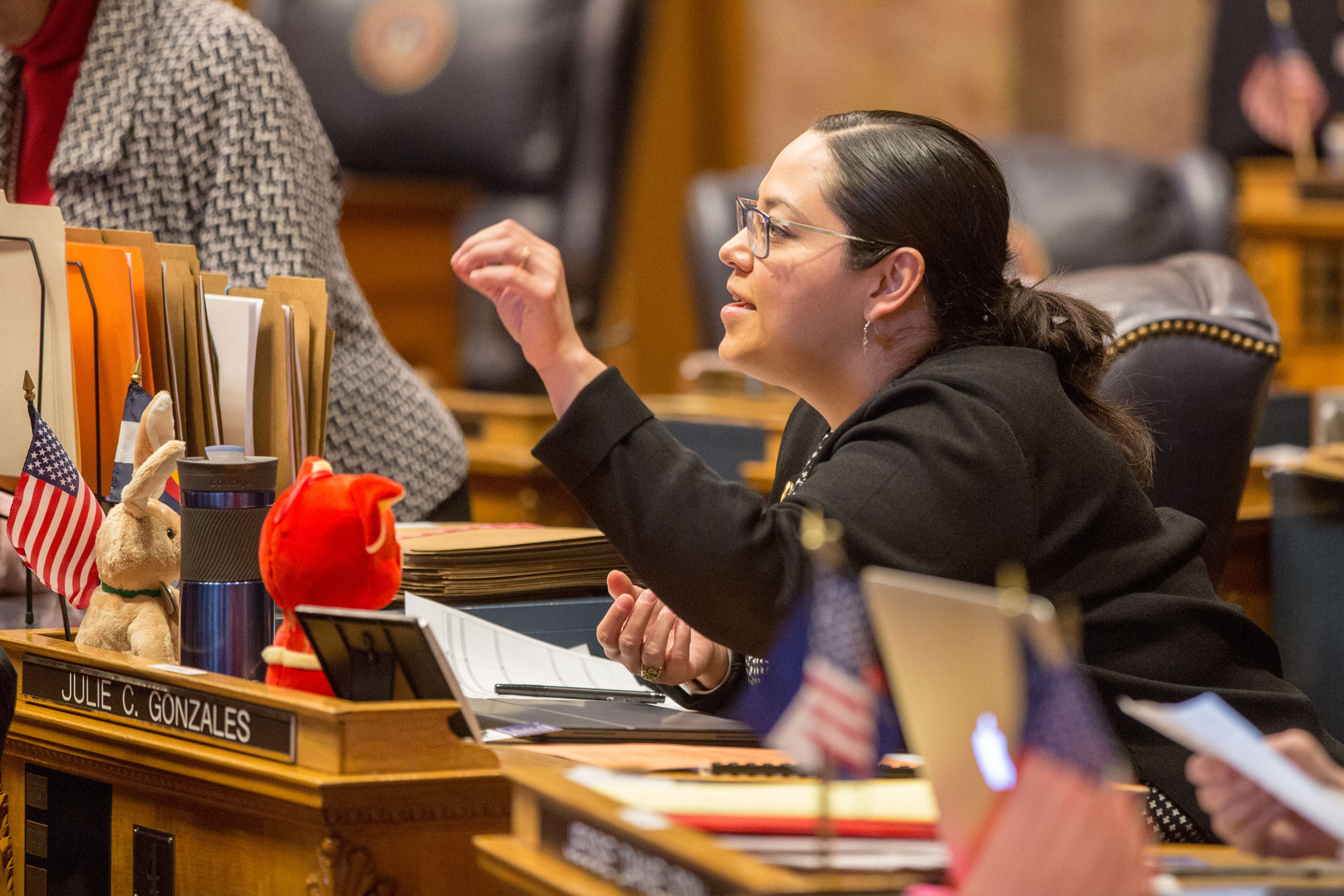 Some lawmakers and immigration advocates want Colorado laws to go farther in shielding undocumented immigrants from federal immigration authorities.
Legislation that will be introduced in the coming weeks would ban sheriffs from holding immigrants at ICE's request and prohibit agencies from entering into federal agreements that deputize local police as ICE agents.
Lawmakers also hope to ban a handful of semi-public entities — including hospitals, public universities, court-ordered alcohol treatment centers — from furnishing any information about their clients or students to ICE without a warrant signed by a judge.
State Sen. Julie Gonzales, who will carry the bill in her chamber, said under the Trump administration, lines between local police and federal immigration agents have blurred.
"It's really seeking to address where local law enforcement begins and ends and where ICE's duties begin and end," she said. "We believe we should clarify that if ICE is looking for someone's information, unless they have a valid warrant, they shouldn't be able to access that information just because they feel like it."
The legislation is supported by the American Civil Liberties Union, the Colorado Immigrant Rights Organization and other groups.
The question is what Democratic Gov. Jared Polis will do should it get to his desk.
In Congress, Polis was a champion of immigrant rights. His office was renowned for helping immigrants — even those outside his Boulder congressional district. He often spoke passionately on behalf of immigrant families and how deportation tears families apart.
But on the campaign trail in his quest for statewide office, Polis said he wouldn't sign any "sanctuary" bills.
In a recent interview with CPR News, Polis repeated that sentiment and noted he supports local control of law enforcement. Immigrant rights groups have had multiple meetings with Polis about the draft legislation in hopes of swaying him.
"We've been working really hard," Gonzales said. "This is not a sanctuary policy that we're crafting … Our local law enforcement shouldn't be doing ICE's job for them."
Claudia Valdez Sandoval is among the faces for their cause.
Five years ago, Sandoval was in an abusive marriage and was attacked by her husband. When police arrived, they arrested her because her husband had a bloody scratch on his nose — she had lashed out after he choked her. She was held in jail. When she was let out, she challenged that detention and eventually won a settlement from Arapahoe County.
But the story didn't end there.
Because local authorities called ICE, Valdez Sandoval is, five years later, still amid deportation proceedings — despite having no criminal record.
"We have a person who was a victim of domestic violence and the system completely failed her," said Hans Meyer, her attorney. "Claudia Valdez's case is a perfect example of why it's so important for us to pass this piece of legislation because we need to put those bright lines into place so we can rebuild that idea of trust in community policing and local and state government."
Valdez Sandoval is expected to speak on behalf of the bill. Her final immigration hearing is set for September.
"I thought the police were supposed to protect me," she said, in an interview.
Jeffrey Lynch, ICE's director of enforcement and removal operations in Colorado, said he doesn't believe that police cooperating with ICE stirs mistrust in the community. Lynch said the reason immigrants don't call police is because they often don't trust any authorities because of where they come from.
"Language barrier … immigrants' inherent fear of police," he said. "Lack of understanding the U.S. criminal justice system plays a role."
The proposed legislation would put a halt on detainers — the practice of sheriffs' deputies holding people for longer than their sentences, or after they've posted a cash bond, at ICE's request. The practice had long been abandoned in Colorado, but a couple of years ago after President Trump was elected, two sheriffs began honoring them again.
They were sued by the ACLU. One of those cases heads to the state's Court of Appeals later this year.
ICE's Lynch said detainers have been valuable in a state where some county jails are hard to reach quickly.
"It's very rare when we come across a sheriff who doesn't want to cooperate, who doesn't want to promote public safety. We enjoy the communication and the cooperation from the sheriffs," he said.
But, Lynch said, because so few sheriffs actually participate in detainers, they're accustomed to just healthy communication with sheriffs about when people of interest are going to be released.
"We are very careful about who we place detainers on," he said. "It's not random, it's not everyone."
The legislation would also ban sheriffs departments from entering into 287g agreements, which allows deputies to get trained to be ICE officers on the job. Despite a push from the Trump administration, some local sheriffs have decided not to participate.
The ACLU is challenging this policy, too, saying state law does not authorize local authorities to execute federal law.
Sen. Gonzales said she hopes the legislation promotes safer communities because everyone will be able to trust, not only police, but any public official.
"For us, this goes to all aspects where state government interacts with community, we're talking about schools, we're talking about hospitals, we're talking about safe spaces," she said. "We believe we should clarify that if ICE is looking for any kind of information, they shouldn't be able to access the information just because they feel like it."
You care.
You want to know what is really going on these days, especially in Colorado. We can help you keep up.  The Lookout is a free, daily email newsletter with news and happenings from all over Colorado. Sign up here and we will see you in the morning!