CDOT Answers Your Colorado Traffic Frustrations And Roadway Questions
In metro Denver, the average commuter spends 200 hours a year stuck in traffic. And pretty much every Coloradan has an I-70 story.
That may be why so many questions about traffic and highways come in through the CPR News project Colorado Wonders.
CDOT's chief engineer Josh Laipply answered a semi truck's worth of questions, ranging from why highway on-ramp lights trigger a drag race to the meaning behind weird road signs across Colorado.
Why do highway on-ramp lights turn green for both cars at the same time?
Laipply's answer to this is surprisingly simple.
"The technology that's there is kind of stupid," he said.
Yet to Laipply, the pressing issue isn't the impromptu drag race between Subaru Outbacks, but how those green lights are timed.
Right now, highway meter lights are on a one-size-fits-all timing cycle. The technology isn't smart enough to synch up with actual traffic volume. Yet.
CDOT plans to update the on-ramp systems so they will detect the flow of traffic and allow vehicles on accordingly.
"If they can be smarter, maybe we can get more cars through on the same amount of road that we have today," Laipply said.
The new tech rolls out this summer for a test-run on a stretch of I-25 northbound, from the C-470 to University Boulevard exits.
And as for Laipply's strategy when he's pitted against another car on the highway?
"As somebody that works at CDOT, I like to yield to the driver next to me to make sure I'm giving deference."
Why are I-70 mountain express lanes sometimes closed when traffic is horrific?
Because those lanes aren't technically lanes, Laipply said.
"We're actually using a shoulder."
Those shoulders are "on loan," effectively, from the federal government. CDOT has permission to use them as express lanes for only 100 days of the year.
Even if CDOT has federal permission to open up the shoulders to traffic, it may close them for safety. The shoulder is just 11-feet wide, narrower than the usual lane. When snow crowds the interstate, the shoulder isn't safe.
CDOT keeps track of I-70 mountain traffic and can request more days, but since peak volume on the interstate is actually during the summer, Laipply said there's no urgent need to do so.
Why did Colorado choose to dedicate part of I-70 to the Tuskegee Airmen?
Most requests for road name dedications originate in the state legislature and are paid for with private funds, Laipply said.
That was the case when Colorado lawmakers passed the 2006 resolution to name a stretch of I-70 through Denver after the trailblazing black World War II pilots, some of whom later lived in Colorado.
Why does C-470 back-up at the Morrison Road exit every day?
To understand why traffic hits a snag at this stretch of C-470, Laipply uses a metaphor.
"I think about it like water sometimes. When you have slow-moving water into fast-moving water, there becomes these eddies," Laipply said. "Kayakers love those things; traffic flow, not so good with eddies."
The C-470 eddy is created southbound when traffic is forced to merge into two lanes over the Morrison Road bridge because the right-hand lane becomes exit-only. The heavy traffic is made worse, and back-ups can become a mile long, Laipply said.
In the morning, C-470 northbound traffic is also snarled when cars merge from Highway 285. CDOT monitors all traffic, and when the agency observes consistently bad jams, it can look for a fix when the budget allows.
Why is C-470 not called I-470?
The idea to create a circular loop around the city originated in the late-20th century.
While popular with CDOT officials, it hit a major opponent in former Gov. Dick Lamm. The governor feared unbridled growth, and believed the new interstate would bring an unwanted spurt to the state.
"I think what we've found out over time is, we didn't totally build that, and they came anyway," Laipply said.
Without support from the state government, CDOT was never able to submit C-470 to the federal government for interstate designation.
C-470 remains a state highway and CDOT can spend federal funds to maintain it.
"It's kind of a purgatory for interstates," Laipply said.
What's the status of the "Jefferson Parkway," the remaining piece of the 470 loop puzzle?
In short: the Jefferson Parkway is on the table, but don't hold your breath.
After C-470's interstate dreams went unrealized, CDOT only built a piece of its original proposed loop, in the southwest Denver metro. Private financers got behind E-470, in the southeast metro and up to Denver International Airport, and the Northwest Parkway.
Funding for the Jefferson Parkway to connect the Northwest Parkway to C-470 through Broomfield and Arvada would also come from the private sector. Plans are in the works, but would remain many years off, Laipply said.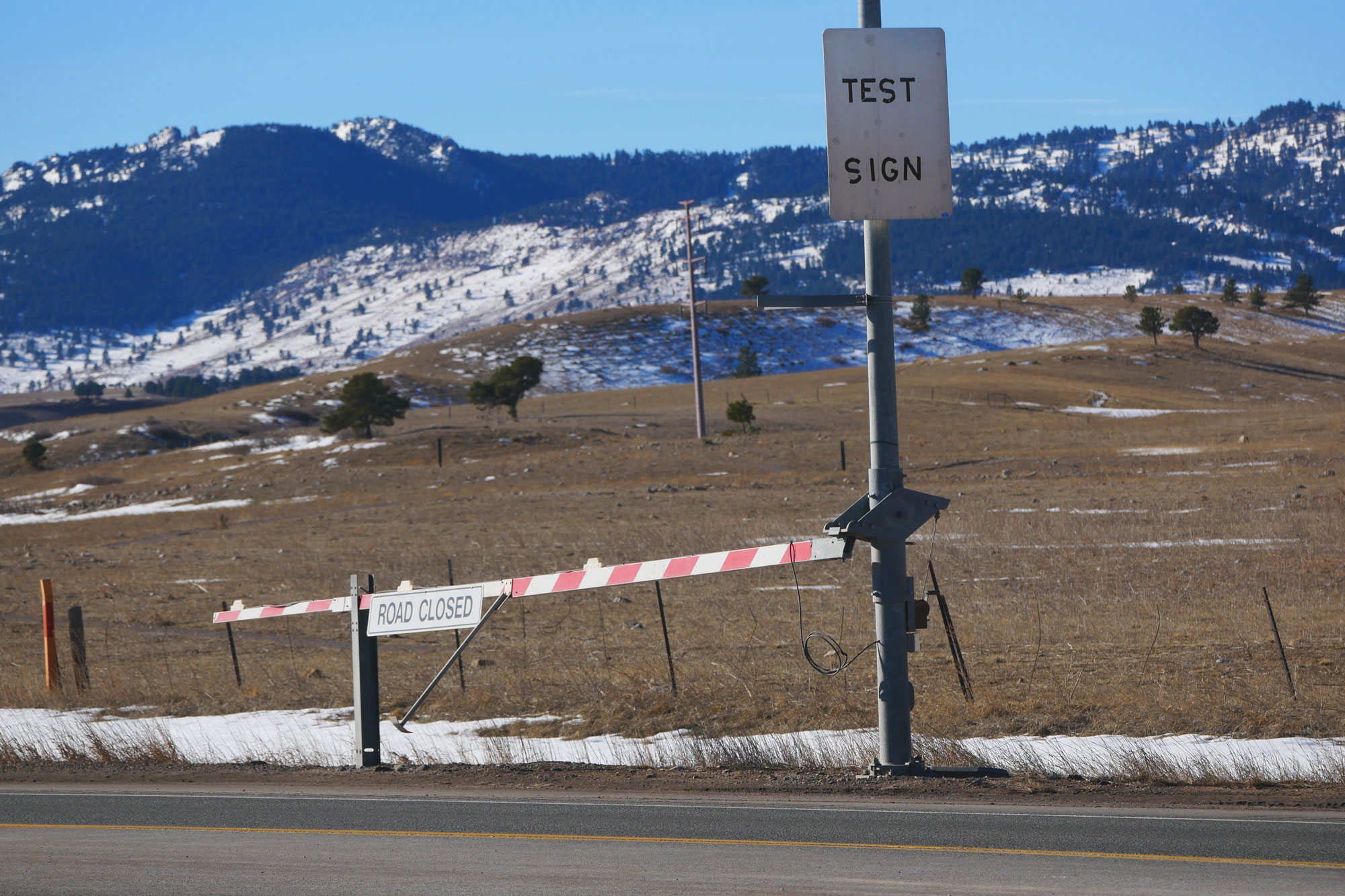 What's with the weird test sign on Highway 93 that faces southbound near the junction with Highway 128?
It took Laipply awhile to learn the purpose of this Boulder County test sign.
When the aging sign — an unremarkable, small white rectangle with "TEST SIGN" in weathered black font — was installed, it was to test "retroreflectivity." That's a civil engineer's way to saying "how will this sign reflect headlights?"
The Highway 93 test sign now demonstrates how reflective materials degrade over time.
What does it mean when a road has a "MEPDG Test Section" sign?
A MEPDG road is one paved with a new recipe of asphalt CDOT wants to test out. There could be more rock or more oil or any kind of chemical engineering variations.
The acronym itself stands for "Mechanistic-Empirical Pavement Design Guide."
"We love acronyms at our state agencies," Laipply said.
What are the "high voltage" panels on I-76 west of I-25 in Denver warning you of?
The panels themselves don't pose an electrical risk. They protect the light rail power lines below the highway.
The B Line runs below that stretch of I-76. The signs not only warn drivers, they also protect the high-voltage lines from slush, salt and other materials from the roadway above.
You care.
You want to know what is really going on these days, especially in Colorado. We can help you keep up.  The Lookout is a free, daily email newsletter with news and happenings from all over Colorado. Sign up here and we will see you in the morning!