Frustrated With Adults, STEM School Shooting Survivors Take Over Vigil in Highlands Ranch
A day after enduring yet another school shooting nearby, hundreds of members of the Highlands Ranch community gathered at Highlands Ranch High School for what was billed as a candlelight vigil organized by Team Enough, a student organization affiliated with the Brady Campaign to Prevent Gun Violence.
As the crowd filled the gym, organizers opened the top tier of bleachers, unwittingly setting a tense tone that would remain through the night: The seats unfolded with a loud bang and echoed through the gym. A startled student then ran from the room, sobbing.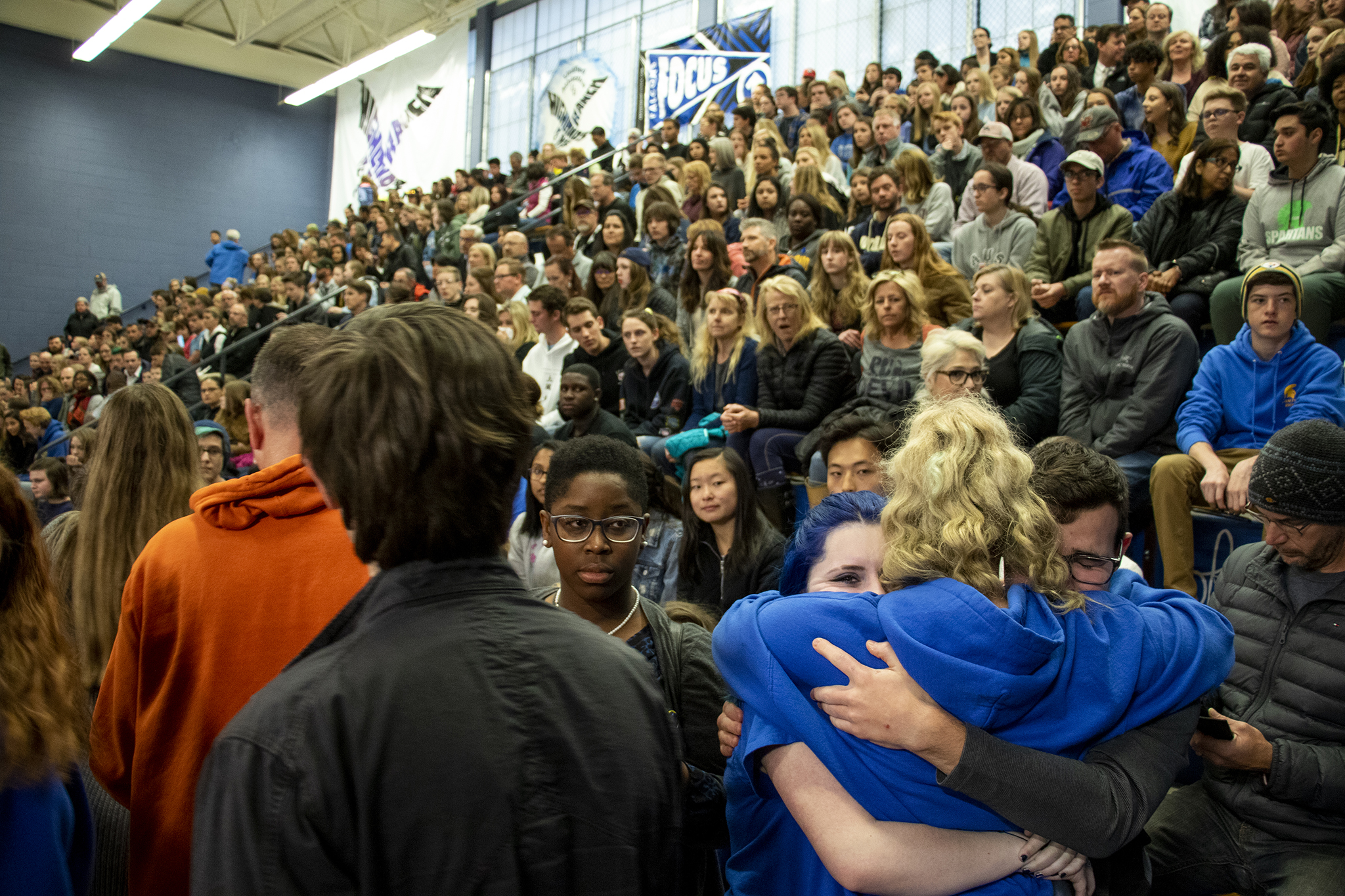 The event later turned tumultuous as students rebelled against a program that they believed gave too much time to politics and not enough to the students of STEM School Highlands Ranch who wanted to share their thoughts and to remember Kendrick Castillo, their 18-year-old classmate who was killed in the attack.
"They were just talking about Kendrick like he was a prop and that wasn't something I could handle," said Christopher, a 17-year-old senior at STEM School.
"We are pretty much really mad because they turned us into politics about gun control when we came here to respect our brother Kendrick," said Gavin, also a STEM student. "We are people, not a statement."
During a break after speaker Laura Reeves' remarks cited a need to elect "gun-smart politicians," a voice from behind event emcee Kallie Leyba shouted "Let STEM kids speak!"
Leyba thanked the student for speaking up and said organizers had not been able to connect with students — then she invited STEM students in attendance to organize in a hallway with a teacher if they wanted to speak. Soon, the hallway was filled with students holding their phones in the air, shouting about the event being politicized, and making pleas to "Remember Kendrick!"
In a chaotic quarter-hour period, kids and adults, many in tears, poured out of the building and back in while organizers apologized and said it was not their intention to offend anyone. Groups of STEM students began chants of "mental health." In smaller groups, anti-media slogans rose and fell. Inside the gym, a pastor began the scheduled interfaith prayer.
Some students who wanted time at the mic eventually got their chance, as several hundred filed back into the gym to take turns addressing one another, continuing the theme of being frustrated at how the event had been handled, and taking the opportunity to share memories of Castillo.
Zachary Vangelisti graduated from STEM School last year, where he knew Castillo from Student Government. He said Castillo was the sort of hard worker who always stayed after school events help clean and put away chairs.  
"He was just a compassionate, brilliant and kind kid, and I'm really sad that he was forced to do what he had to do yesterday," said Vangelisti.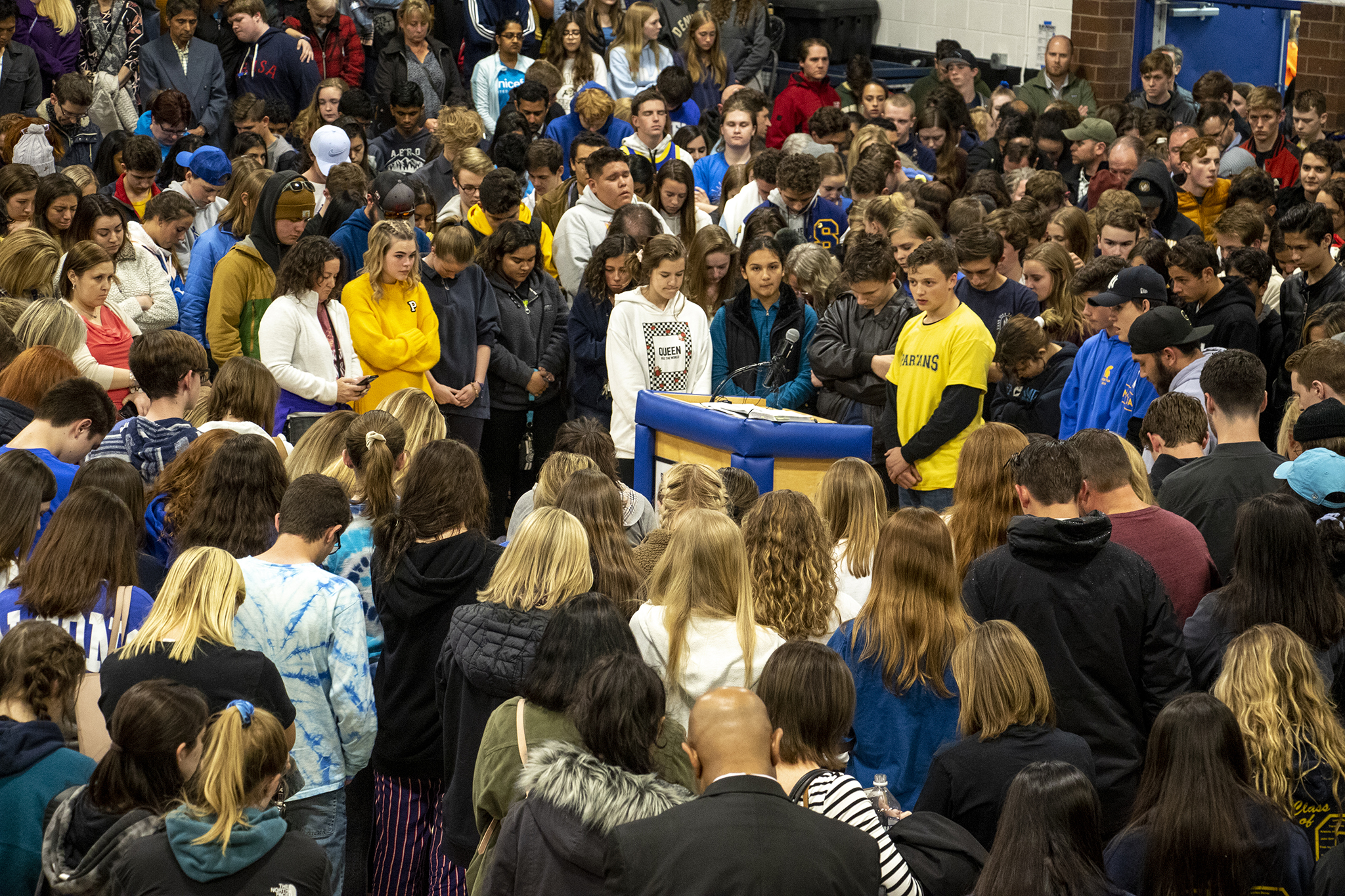 "The STEM kids had the microphone until they decided not to have the microphone anymore," Leyba said. 
"What I found out later was that the principal of the school had said to the kids, we want you to speak, please, go back in, take the microphone and speak," she said.
Gavin was the last student with the microphone. 
"Thank you all for coming, supporting, honoring, if you weren't here for politics," he said. "If you were, thank you for ruining it. And before we go, we want to say we love you Kendrick. We will remember you ever always." 
The speaking schedule for the night included U.S. Rep. Jason Crow, a Democrat representing the eastern part of the Denver metro area, and fellow Democrat U.S. Sen. Michael Bennet. Both had spoken in more general terms about a need for change than Reeves had.
"You and your children deserve more," Crow said. "You elected leaders to pass laws … our children deserve action."
"I know our kids already have enough to do," Bennet said. "Their job is not to fix America's broken gun laws. Their job is not, as Kendrick so selflessly did yesterday, to give up their own life for their classmates."
After the event, groups of STEM students were still talking about how upset they were by the programming. 
"We are profoundly sorry," said Emily Muellenberg, the teacher sponsor of Team Enough at Highlands Ranch. "We made multiple attempts to contact STEM families. We wanted STEM student speakers. We understand that we didn't get replies. We also wanted them to have their space … and we are glad at the end they had a space.
"We want to be behind them in whatever they need next."
Kevin J. Beaty, Jenny Brundin and Dave Burdick contributed reporting.
_
You care.
You want to know what is really going on these days, especially in Colorado. We can help you keep up.  The Lookout is a free, daily email newsletter with news and happenings from all over Colorado. Sign up here and we will see you in the morning!